Events in recent months have made it clear how important a professional conferencing experience is for business today.
Poly Trio C60 is the latest smart conference phone from the industry leaders.
If you want to bring people together to launch big ideas, Trio C60 gives you the answer — right at your fingertips.
Trio C60 is simple to use yet exceptionally powerful.
Poly refreshed the design language for timeless appeal: fabric covering and a light base.
The color touchscreen display is as familiar as a smartphone.
The classic three-point Poly design with three MEMS microphones enables 360° audio pickup out to 20 ft.
Everyone at the table will be heard.
Let's take a look at the standout features of Poly Trio C60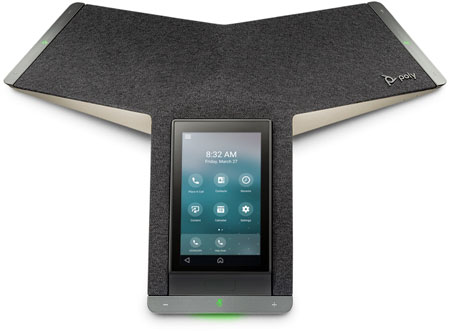 Poly Trio C60 Features
Improved performance — Poly Trio C60 is up to 4 times faster
Exceptional audio quality — Poly's signature audio, the best for conference calls
Native experience — consistent interface across services to reduce friction to enhance efficiency
Hybrid registration — connect to multiple phone services at same time and switch between them with a single tap
One-touch join — initiate a meeting with a single tap
Microsoft Outlook integration — simplify the scheduling process
Bluetooth — wireless connection to mobile devices
Wi-Fi — connect to your network via Wi-Fi
SIP Interoperability — seamless integration with on premise or cloud phone services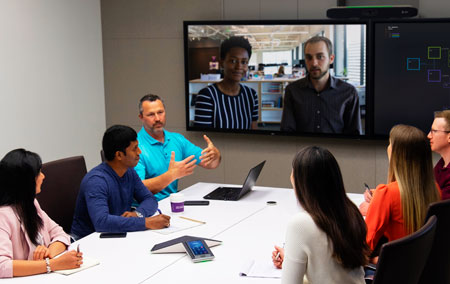 Video Conferencing with Poly Trio C60
Poly Trio C60 also functions as a control center for video conferencing and content sharing.
Use the conference phone with a Poly Studio X30 Video Bar, Poly Studio X50 Video Bar or Poly G7500 Video Conferencing System: options from small to large conference rooms.
These systems support SIP and H.323 video conferencing and work with a huge range of Video Conferencing as a Service (VCaaS) solutions, including Microsoft Teams and Zoom.
Control the video call from the conference phone. It also acts as an elite microphone and speaker.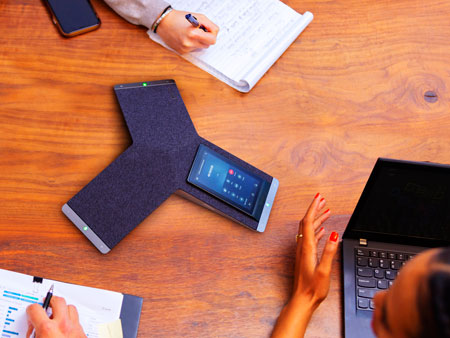 Poly NoiseBlockAI
Another standout feature of Trio C60 is NoiseBlockAI. C60 is the first Poly Trio conference phone with NoiseBlockAI.
When no one on your team is talking, you still broadcast sound: keyboard tapping, background conversations. You know those noises.
NoiseBlockAI eliminates sound without eliminating speech. It intelligently mutes the microphone when no one on your end is speaking.
The result is that speech flows naturally, without interruptions.
In addition, Poly Acoustic Clarity improves sound quality on full duplex conversations with advanced noise suppression and more.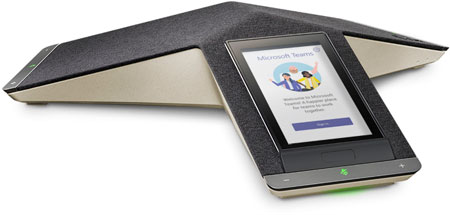 Microsoft Teams and Zoom Integration
Poly Trio C60 will be certified for Microsoft Teams and Zoom Rooms (certification is pending as of the posting date of this blogpost).
Trio C60 will be Zoom Phone and Zoom Rooms certified.
When you use Trio C60 with Zoom, you have a frictionless experience. It displays the familiar Zoom interface and makes it as easy to use as a smartphone: one touch Zoom meetings.
Same for Teams. Check out Poly Trio C60 Microsoft Teams Edition IP Conference Phone.
The conference phone gives you a native Teams experience, down to user interface and scheduling integration.
This reduces friction and simplifies the Teams conferencing experience.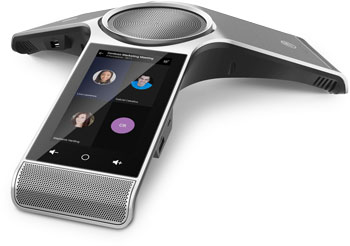 Other Microsoft Teams Conference Phone Option
Another conference phone option for Microsoft Teams that we like and is readily available is Yealink CP960:
Related Blogs