Sometimes it feels like everything is a subscription service today. Not just streaming TV and movies and music, but meals and snacks and games and toys and even psychiatry.
Subscriptions have entered the business world in a major way: video conferencing as a service (VCaaS), cloud-based telephony, and more. And it makes sense, because they offer a lot of advantages: fixed costs, cross-device support, less administrative overhead, and more.
But what if you want a simple professional video conferencing solution without being locked into a subscription?
Why not use the Polycom Studio USB Video Bar with Polycom RealPresence Desktop?
Polycom RealPresence Desktop is an HD video conferencing and content sharing application for Windows and MacOS.
Polycom Studio is an integrated 4k video camera with HD stereo audio and plug-and-play connectivity via USB-C. It includes speaker tracking to follow the active speaker, a more natural experience. It also includes automatic group framing to see everyone with maximum detail. To learn more about Polycom Studio, read our blog on Polycom Studio USB Video Bar >
The two work seamlessly together! To use Studio with Desktop, all you need to do is connect Studio to your computer. It will act as both video camera and microphone.
Let's take a closer look at Polycom RealPresence Desktop.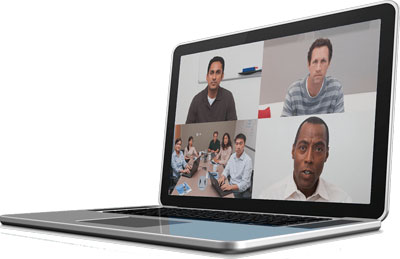 Polycom RealPresence Desktop Video Conferencing Software
Polycom RealPresence Desktop is a powerful yet lightweight application that enables business-class video conferencing and content sharing.
It works for two people in their home offices. It also works for up to 50,000 people across distributed enterprise campuses. And it works for any size between.
You can use Desktop at work, in your home office, on the go — anywhere you want professional video collaboration on your desktop or laptop. More than business: it works just as well for connecting teachers with students, putting on webinars, and more.
The application supports both H.323 and SIP communications. It's interoperable with a huge range of standards-based video conferencing systems and endpoints.
Beyond Studio, Desktop also supports built-in cameras and microphones, USB cameras and headsets, and 3.5mm headsets.
Polycom Audio Quality
Because RealPresence Desktop is a Polycom product, you know that audio quality will be peerless. It supports up to 20 kHz audio, which means you can hear all the subtleties in people's voices.
Desktop also gives you class-leading noise reduction: Acoustic Fence and NoiseBlock.
Polycom Acoustic Fence sets a virtual perimeter around your conversation. It then blocks noise beyond that perimeter. Polycom NoiseBlock is a set of technologies that further reduce distractions.
These noise-reducing technologies are particularly important in open-plan offices and public spaces where background distractions are numerous.
Polycom MusicMode
RealPresence Desktop includes the unique Polycom MusicMode technology.
MusicMode is specifically developed to enable the accurate reproduction of live music. You get both instruments and voices with their true sound.
MusicMode is especially useful for streaming live concerts and teaching music via video conferencing.
For example, let's say you're a guitar teacher who wants to offer lessons to a distant student. Enable MusicMode in Desktop, call the student, and then offer the lesson knowing that the student will be able to hear your guitar as it's supposed to sound — not just some tinny, noisy plucking.
Video Quality
RealPresence Desktop offers HD video with automatic backlight compensation.
One big problem that many video conferencing users face is proper lighting. Rather than forcing you to worry about lighting, Desktop does it for you. It automatically adjusts for poor lighting with backlight compensation. You'll always look your best.
Each user is identified in the conference is identified with a TV-quality nametag with user, location, and title.
Desktop gives you HD video resolution for detailed, lifelike conferencing. It encodes video at up to 720p HD and can decode video at 1080p Full HD.
Content Sharing
More than a simple video conferencing platform, RealPresence Desktop is also a collaborative solution with integrated content sharing.
All you need to do is select the content you want to share: presentation, spreadsheet, picture, and more. Then share it with the group.
It's that simple.
It sends and receives content at 1080p Full HD resolution.
Polycom SmartPairing
You can integrate RealPresence Desktop with Polycom Group Series Video Conferencing Systems using SmartPairing.
SmartPairing lets you do two things:
Share your computer's display with the video conferencing system
Use your computer as a remote control for the video conferencing system
RealPresence Desktop Licenses
To use RealPresence Desktop, you need to purchase an individual license per device, which you can find at IP Phone Warehouse.
Or you can register via Polycom RealPresence Resource Manager, which enables Microsoft Active Directory integration, simplified extension dialing, centralized provisioning, and streamlined software updates.