Advanced IP surveillance: NVRs, remote access, video analytics and thermal sensors.
Axis Communications introduced the first IP camera in 1996. Nearly 20 years later, IP-based surveillance is everywhere. From small WiFi webcams in homes, to powerful IP cameras in businesses, these solutions are providing unparalleled peace of mind. The number of manufacturers joining the IP camera revolution is growing every year.
In part one of this blog series, we explored the basics about IP cameras:
IP (Internet protocol) versus analog
HD video quality
Wide field of view – 360 degrees possible
Multi-streaming and image cropping
Pan, tilt and zoom (optical and digital)
Infrared LED lights for nighttime
We could call this "IP Cameras 201," instead of just part two in the blog series. It's time to dive into more advanced topics. The benefits of an IP camera go far beyond image quality, hardware functionality and the ability to leverage your existing Ethernet infrastructure. IP technology is leaps and bounds beyond the analog technology used in CCTV cameras. On the outside, the cameras may resemble each other; but on the inside, they're entirely different breeds.

Q&A: Supercharged Security
Q) Where does the IP cameras' video and audio go?
IP cameras can transmit video and audio to a network recording device for processing and storage, or perform both operations internally.
Q) What kind of data is retrieved?
Data provided by the cameras includes video analytics like motion detection and auto tracking, and advanced features like facial recognition and tampering detection.
Q) How do I watch my cameras?
Monitoring the cameras is accomplished on-site through a network recording device or a computer with camera management software. The cameras' feeds and management options can also be accessed through a computer or mobile device, via a secure IP address or cloud service. When you're not actively monitoring the cameras, they can issue alerts to your email or text inbox.
Q) What else can IP cameras do?
For specialized surveillance, IP cameras fitted with thermal sensors can retrieve heat signatures from the environment, and map all of it into a readable visual.
We'll answer these questions and more. To start part two of this blog series, we'll look at the two most common types of surveillance networks—centralized and decentralized—and the importance of network video recorders.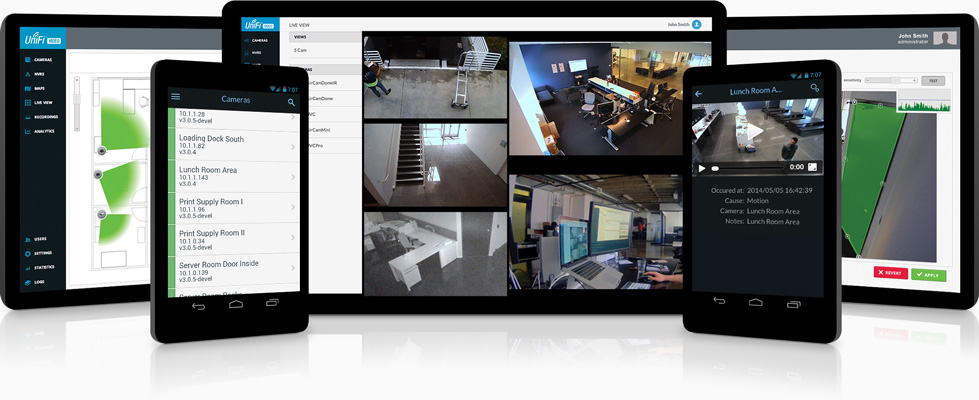 Centralized and decentralized cameras
There are two ways to set up an IP camera network: either centralized or decentralized. "Centralized" means that a network video recorder (NVR) is communicating with the cameras, processing the raw video feed and recording it. "Decentralized" means that the cameras are processing the video and recording it to an internal storage device for later retrieval.
Network video recorders provide a centralized point for managing your IP cameras. An NVR sets recording schedules for all of your cameras, archives video to expandable storage, and provides comprehensive management and monitoring of your IP surveillance network.
An NVR like the Grandstream GVR3550 supports an external display and is manageable with the included remote control.
The Panasonic WJ-NV200/NV300 network video recorders have ports for connecting a mouse and keyboard directly to the appliance.
IP cameras with an SD card reader or another built-in storage method can process all of the video and audio internally. The processed video and audio is saved to an SD card or other onboard storage. Download the video later, rather than continually streaming it to an NVR—there is no central network device required. The benefit of this decentralized setup is reduced strain on your network's bandwidth.
Random fact: Mobotix released the world's first decentralized IP camera in 1999.
If you only have one or two IP cameras installed, an NVR is not always necessary. Software for managing the cameras and recording video can be downloaded to your computer or a capable server. For larger deployments, NVRs make it easy to fully automate your surveillance network.
Compared to analog cameras…
Analog camera networks require that every camera be connected to the digital network recorder individually. Each camera is connected to the DVR through its own cable, so a deployment of 20 cameras would require 20 separate cable runs.
Transitioning from a large analog camera network to an IP camera network does not mean ripping out all of your existing cabling. Encoders transform analog signals into IP-based communications. The analog cabling goes in, and a single Ethernet cable comes out and to the NVR or network switch.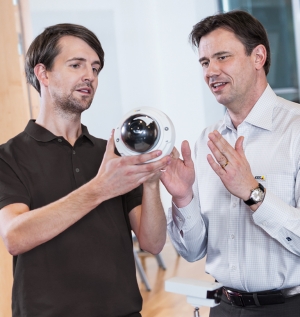 Access an IP camera from anywhere
Pretend that you're a storeowner. The shop is closed for the day or you're out of town—either way, you're not around—and you want to check in. You don't need to drive to the store or otherwise go out of your way. All that you need is a computer or (if compatible) a mobile device.
There's a growing trend to install IP cameras in homes or apartments. Homeowners and renters are enjoying monitoring their home from the convenience of their work computer or mobile device when they're away. IP cameras are becoming more affordable and easier to set up, helping to spur the trend.
Business owners have been taking advantage of IP camera technology for a long time. Rather than requiring that someone sit behind a bank of televisions and displays at your store or office, IP technology lets you view the cameras' video streams remotely.
Do you have a favorite public webcam at a zoo that you like to visit online? Or do you check the traffic through webcams mounted on the highway? It's the same basic premise, except much more secure and with many more controls.
By accessing a secure website or IP address, you can watch and manage your IP cameras. Pan and tilt the cameras, and zoom in on specific targets. Record video and capture still images, or just sit back and watch.
Manufacturers are developing more intuitive ways of letting you access your cameras from smartphones and tablets. Downloadable apps and mobile-friendly web pages are readily becoming available.
Another option is a multi-site network video recorder. The Ubiquiti UniFi UVC-NVR, for example, can receive video from locations such as satellite offices or small storefronts that don't require their own individual NVR. Rather than trying to access several sites remotely and simultaneously, straining your network resources, this NVR conveniently brings them all together.

Video analytics and alerts
Actively monitoring a network of IP cameras is time consuming and tedious. We're also human, which means we make errors. Video analytics put automation into your security and video surveillance.
Motion detection: movement identified by the camera. If someone walks in front of the camera or an object within the field of view creates a noticeable motion.
Auto tracking: when an object or person is in motion, the camera uses its pan, tilt and zoom capabilities to track the live event.
Audio detection: sounds and audible noises identified by the camera. The camera requires a built-in microphone or line-in port with external microphone.
Tampering/vandalism detection: attempts to damage the camera, such as by blunt force or through tools, are detected. The camera might also possess the ability to detect when the image sensor is purposely blocked.
Cameras support a wide range of video analytic applications. The ones listed above are commonplace among most of the brands. Manufacturers like Axis support many third-party applications, allowing complete customization of your surveillance strategy. Some of these third-party applications include loitering detection, explosion detection, people counters and other specific functions.
So what do cameras do with this information? When an event such as motion or audio detection begins, a camera or network video recorder can release an alert. Receive the alert on your computer or mobile device through email, text or any other supported means. Video analytics applications and means of alerts may vary by camera type and manufacturer.
An IP camera can also start recording when an event is detected, either to a network video recorder or to its internal DVR (or installed SD card). If you are receiving alerts on your smartphone, your camera might be able to send you screenshots and stills.

Thermal IP cameras
Last, but not least: thermal IP cameras. Thermal cameras are essential for many forms of nighttime and industrial surveillance.
So far in this blog series we've focused on audio and visual surveillance. Heat and thermal imaging technologies let you see what your eyes or a camera's visual image sensor cannot, and offer specialized video analytics.
Nighttime surveillance
Infrared LEDs can discreetly illuminate an area, bouncing infrared light off of the environment and into the image sensor, without anyone noticing that the LEDs are active. The problem is that the LEDs illuminate a small area, and video is in black and white. Details can be difficult to pick out unless you are watching a small space.
Motion detection and video analytics are also limited by nighttime surveillance with infrared LEDs. The image sensor might miss details that it could otherwise see in daylight, when further distances and color images are possible.
An IP camera with a thermal image sensor can read heat signatures. The heat signatures are mapped into distinct forms. What you see is a colored readout of the environment, with different colors representing different temperatures. It's easy to pick out the form of a person or animal, or a recently heated object like a vehicle or electronic equipment.
Thermal and visual cameras can be deployed simultaneously. Comparing heat maps and live video can give you a real picture of what's lurking in the dark. Motion detection and other video analytics are also possible.
The Mobotix M15D-Thermal camera supports two sensor modules. Choose from a thermal sensor and image sensor, and view both through the same camera—either at the same time or separate.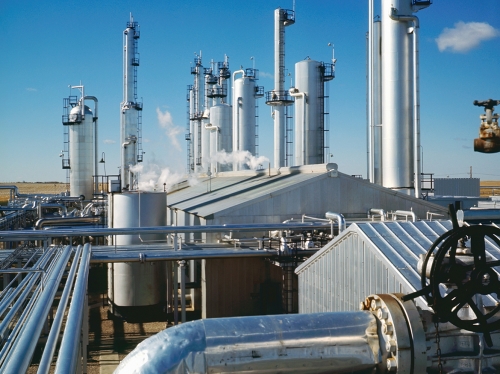 Temperature alarms
Security means protecting your premises. That doesn't always mean watching for intruders or criminal activity. The Axis Q2901-E camera uses its thermal sensor to monitor temperatures.
In an industrial setting such as a plant or factory, temperature changes can trigger immediate danger. If a boiler is too cold, a vat of chemicals is not the correct temperature or a machine becomes too hot, you could be risking an explosion or other deadly incident.
The camera watches up to six different zones for temperature changes above or below a preprogrammed point. An alert can be sent to your phone, computer or paging system. Of course, the camera can also be deployed to detect heat signatures from people.
---
IP cameras are more than a single device. They include your network, your personal devices and anything else you use to communicate. Today's security solutions can really be everywhere at once, whereas analog solutions limit you to sitting in front of a monitor all day long.
Beyond the IP cameras described in this blog, there are also devices built specifically for installation on vehicles or front doors. Indoor and outdoor models, miniature and full form factors, and different shapes are also available.