Microsoft Teams is one of the fastest growing services in their long history.
And it's no secret why: more and more work is done remotely but workers still need to be connected.
Teams has developed from being a workplace chat app to a full featured unified communications solution. Over the past couple of years, Skype for Business has been folded into Teams, making it a VoIP phone system as well.
Microsoft has been working with the leading vendors to provide a business class Teams experience across a range of IP phones.
And the Richmond giants are adding features to improve productivity on Teams regularly.
They recently released Update #5 for Microsoft Teams phones. In this blog, we're going to take a look at a few of the new features.
Note: To access all the following features, the phone must be running Microsoft Teams app version: 1449/1.0.94.2020071702.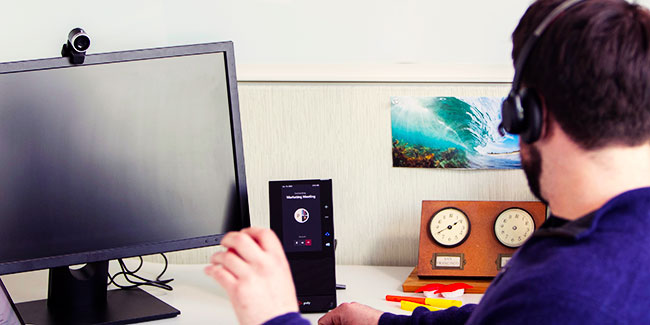 Customize Your Home Screen Display
Because Teams incorporates so many features and because not every worker has an identical workflow, Microsoft is improving the customizability of Teams on phones.
These customizations work for Teams phones with touchscreen displays either in landscape view, like Yealink MP56, or in portrait view, like Poly CCX 400.
Set the onscreen buttons to your preference, so you can launch your desired feature with one touch — calls, contact, calendar and voicemail.
You can set the home screen to show reminders, like missed calls, scheduled meetings, voicemails and more. Reply to these notifications directly from the home screen — simple.
Or you can set the notifications to be hidden and just have the time and the quick action buttons displayed.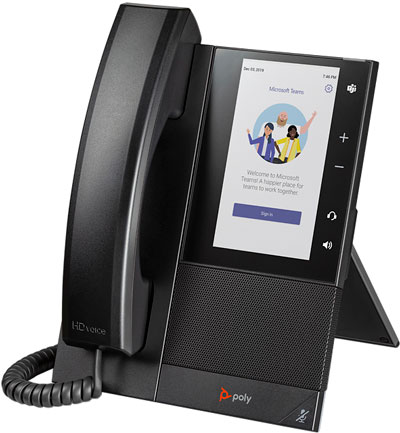 Customize Default Call View
When you want to call someone, you might not always want to see a dialpad.
With Update #5, you can set your call view to automatically show speed dial, dialpad or recent call history — your choice.
Auto Accept for Joining a Meeting
To streamline the conferencing process, you can now set a Teams video phone to automatically accept a request for you to join a prescheduled Teams video conference — no tapping Accept.
One particularly important use-case for this feature is healthcare. A doctor is able to check in on a patient without the patient having to accept the request.
Don't worry: Microsoft secures the feature thoroughly. The video phone must be signed in and previously invited to the meeting. To enable the feature, the user must have the phone's admin password.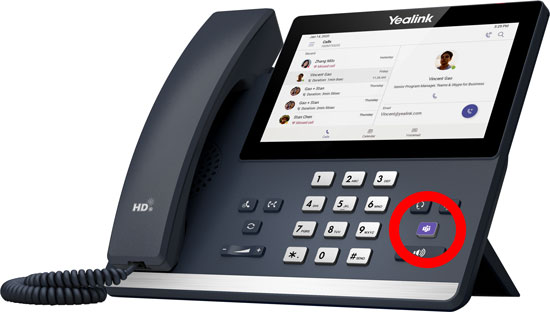 Teams Button
Many new Teams phones have a dedicated Teams button, which you can see on the Yealink MP56 above.
This button launches the Calling app by default or you can configure it to launch the home screen. When you have a call, notification, voicemail or similar, pressing the button lets you access the appropriate app or page.
With Update #5, this button is operational.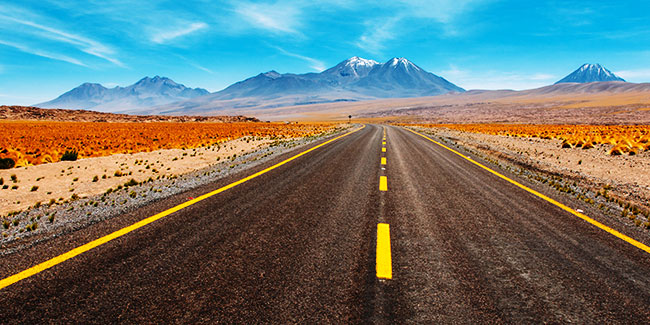 On the Horizon
To finish up, we wanted to flag a couple of things to keep an eye on.
First, Microsoft will be working with vendors to launch a new line of Microsoft Teams devices: Microsoft Teams Displays. These will be dedicated touchscreen displays that are all in one Teams devices — usable hands-free with the Cortana voice assistant.
One important features of a Teams display will be the personizable ambient display, so you'll always be able to check on notifications, status and so on without having to switch between work modes.
Microsoft Teams Gateways are also on the horizon. These will enable you to integrate SIP phones into Microsoft Teams routing policies, giving you core calling features and emergency calling support.