USB-C is the latest USB standard. First codified in 2014, USB-C is now considered the future of computer connectivity.
Because USB-C will become the industry standard and because you're going to need professional audio no matter what connector you use, we thought it'd be worthwhile to take a look at USB-C headsets.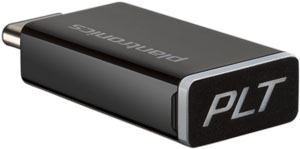 What Are the Advantages of USB-C?
Why is USB-C being pushed forward as the future? Here are six reasons:
Reversable plug — No more having to worry about which way to insert the plug as with USB-A. USB-C has a symmetrical design, which means you can insert it any way and it will work.
Increased data rate — USB-C is capable of much greater speed than USB-A. The recently announced USB4 standard enables USB-C cables to have a data rate of 40 Gbit/s, 4 times faster than the fastest USB-A cable.
Multiple technologies in one — USB-C can integrate numerous technologies in a single cable: DisplayPort, HDMI, Thunderbolt, and more. This makes USB-C useful in more situations than USB-A.
Smaller size — The USB-C plug is about half as tall as USB-A plugs and two-thirds as wide. Because USB-C is so small, it can be used for devices like smartphones.
Smartphone and tablet compatibility — Most newer Android phones and tablets have a USB-C connector. Even the new iPad Pro has a USB-C connector.
Power delivery — USB-C cables are capable of delivering sufficient power to power computers, monitors, and similar devices.
The primary disadvantages of USB-C are two. Because it's capable of so much but not everything is mandatory, there is confusion about what any given USB-C cable or plug is capable of. Adoption has been slow because it's taking time for manufacturers to produce reliable USB-C devices.
Headset manufacturers are now producing professional-quality headsets with USB-C connectivity.
A USB-C headset has all the same advantages of a standard USB headset: plug-and-play functionality and interoperability with cloud-based services and softphones.
If your smartphone has a USB-C connector, you will be able to use your headset for professional audio quality on mobile calls. Some headsets give you hi-fi stereo audio that work beautifully for listening to music or movies on your phone, too.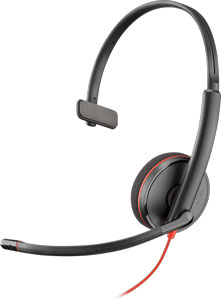 Recommended USB-C Headsets
Here are four USB-C recommended headsets:
Plantronics Blackwire 3210 Mono Wired USB-C Headset
Plantronics Voyager 4220 UC Stereo Wireless Bluetooth & USB-C Headset
Jabra Evolve 40 UC Mono Wired USB-C Headset
Jabra Engage 50 Stereo Wired USB-C Headset
Plantronics Blackwire 3210 Mono Wired USB-C Headset
Plantronics Blackwire 3210 Mono is a USB-C headset for everyday use in the office. Blackwire 3210 proves that "USB-C" doesn't mean "more expensive."
Plantronics brings the quality, too. Blackwire 3210 has a noise-canceling microphone and wideband audio. Dynamic EQ dynamically optimizes audio for voice or media.
The headset comes with an inline controller that you can plug the USB-C cable into. The controller has a 3.5mm cable, a second option for connecting to devices.
The combination of metal headband and soft leatherette earpad balances durability, portability, and all-day comfort.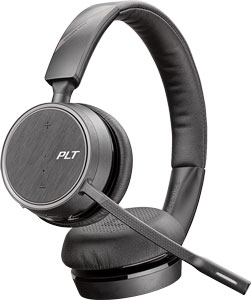 Plantronics Voyager 4220 UC Stereo Wireless Bluetooth & USB-C Headset
Plantronics Voyager 4220 UC Stereo is an elite Bluetooth headset. Plantronics includes a BT600 USB-C Bluetooth Adapter in the package to connect to USB-C computers.
It gives you amazing, crystal-clear audio quality, plus desirable features like an on-call indicator light and dynamic mute alert. It has an up to 98ft wander range.
Voyager 4220 is highly portable: the speakers fold up and there's a carrying case in the package.
Let's just take a moment to talk about the Plantronics BT600 USB-C Bluetooth Adapter:
If you want to connect almost any Plantronics Bluetooth headset, including the one you already have, to a computer with USB-C ports, use this tiny adapter. All you need to do is plug it in. In fact, it's so small you can just keep it plugged in.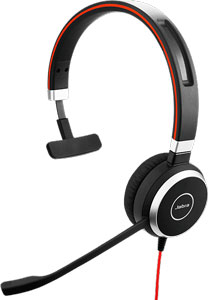 Jabra Evolve 40 UC Mono Wired USB-C Headset
Jabra Evolve 40 UC Mono offers a productive, high-quality headset that lets you stay in touch with your surroundings. It can connect via USB-C or 3.5mm.
You know Jabra's audio quality is top-notch.
The comfortable earpad provides passive noise cancellation to let you hear conversations. The integrated busy light indicates when you're using it or you can manually activate the busy light as a Do Not Disturb signal.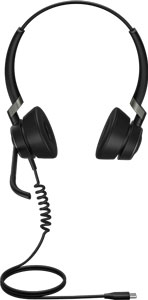 Jabra Engage 50 Stereo Wired USB-C Headset
Jabra Engage 50 Stereo helps you focus. Designed for the call center and the office, Engage 50 is a digital headset with a powerful processing chip to deliver advanced analytical data.
It has a 3-microphone array with intelligent noise cancellation that provides excellent noise reduction.
The headphones provide super-wideband audio quality, making it as good for music as it is for calling. The dual earpads are soft and provide passive noise cancellation.
Related Blogs