Hybrid work presents businesses with new challenges. Primary among these is adapting to the changing requirements for communications solutions.
What does "hybrid work" mean? Hybrid work is when you split time between working from the office and working from home. In other words, you have a hybrid work environment.
As technology improves, hybrid workers are increasingly common. However, the standard desk phone doesn't work for a hybrid worker to use in both locations, because they're not built to be portable, and most companies, understandably, don't want to pay double to have a phone in both locations.
That's why many hybrid workers choose to use a headset with a softphone, rather than use a physical phone. "Softphone" is short for "software phone," and refers to the telephony application you use instead of a physical phone, like Microsoft Teams, Zoom Phone, RingCentral, GoTo, Google Voice by Google Workspace, and so on.
Softphones are used on desktop and laptop computers, tablets, and smartphones.
To ensure professional audio when using a softphone across devices and in different locations, a hybrid worker needs to use a Headset.
Alternately, a hybrid worker could use a deskphone — with or without a headset — in one location, and a headset with softphone in the other location.
In this blog, we guide you through the considerations when shopping for a hybrid worker headset. In particular, we focus on two topics: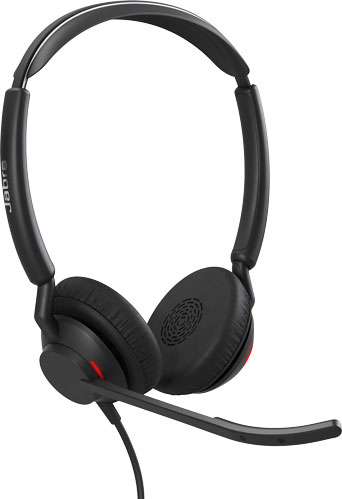 Connectivity for hybrid work headsets
When it comes to headsets, connectivity is one of the most important considerations. And for hybrid workers, that goes double. What devices are used in the various locations?
There are three types of headsets that provide good connectivity solutions for many hybrid workers:
USB headsets
Bluetooth headsets
DECT headsets
USB headsets for hybrid workers
USB headsets are wired headsets with USB-A or USB-C connectivity. First off, you must get a headset with the correct version of USB for your devices. USB-A is the older one with a larger, non-reversible, rectangular plug. USB-C is the newer one with a smaller, reversible, pill-shaped plug.
USB headsets like Jabra Engage 50 II are plug-and-play devices with desktop and laptop computers, as well as many VoIP phones, making them extremely attractive for many workers. However, while some USB-C headsets might work with mobile devices that have USB-C ports, many USB headsets don't work with smartphones or tablets, or at least without some sort of adapter.
So if you're a hybrid worker who uses a softphone on a device that has USB ports, a USB headset can be a good choice.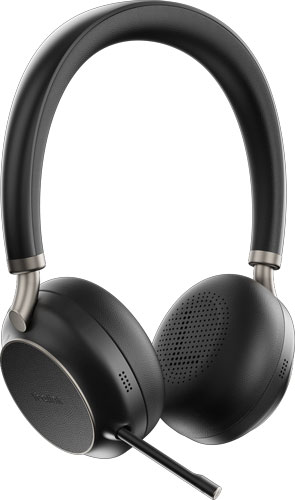 Bluetooth headsets for hybrid workers
Bluetooth headsets are wireless headsets that use the common Bluetooth protocol to connect to devices. Beyond the undeniable convenience of wireless connectivity, the advantage of a Bluetooth headset is compatibility: it'll work with essentially every smartphone and tablet out of the box.
Using one with a desktop or laptop computer, however, requires the use of a USB dongle. You plug the dongle into the computer to be able to connect the headset to the computer. Many Bluetooth headsets, like Yealink BH76, come with a dongle. Just make sure you get the right version of USB for your devices!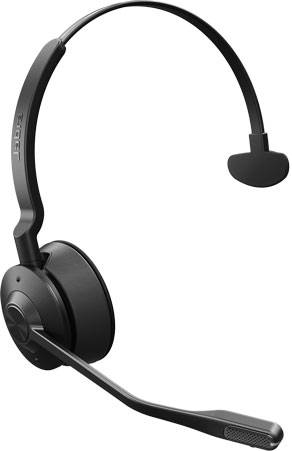 DECT headsets for hybrid workers
DECT headsets are wireless headsets that use the well-established DECT protocol, rather than Bluetooth (or Wi-Fi). Why would people go with DECT? It offers an extended wireless range compared with Bluetooth. A DECT headset often offers two to three times the wireless range that a comparable Bluetooth headset will offer. Many headsets support secure implementations of DECT to protect your communications. For example, Jabra Engage 55 exceeds the Secure DECT Level C standard, providing military-grade 256-bit AES encryption.
DECT headsets can't connect directly to any common work device, because no common work device supports it! Until relatively recently, this has meant that DECT headsets connect to a base station, which in turn connects via cables to a computer, VoIP phone, etc. Not very portable.
But in the past couple of years, manufacturers have started offering portable DECT headsets like Yealink WH63 Portable UC, which come with USB dongles that the headset communicates with. In other words, by using one of these portable DECT headsets with a dongle, you get the same experience as using a Bluetooth headset with a computer via a dongle, thus making the DECT headset much more flexible. Of course, these still require the devices to have USB ports, so the same considerations in regards to mobile devices that we discussed under USB headsets apply.
Base station for one location only
One possibility we haven't considered yet is using a headset with base station in one location, and using the same headset without the base station in another location.
Take Yealink BH71 Pro with Workstation, which is an earhook Bluetooth headset with base station. The base station lets you use the headset with multiple devices simultaneously. It has a touchscreen display to switch between devices with just a tap. This setup is ideal for working in the office, where you might want to take calls from your deskphone and from the softphone on your computer using the same headset.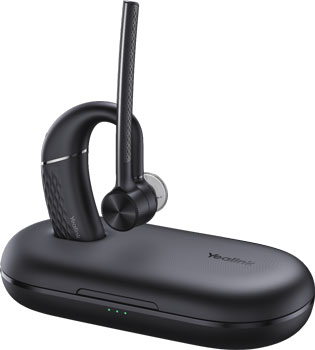 But the base station isn't the most portable device. However, BH71 is perfectly usable as a standard Bluetooth headset without the base station, which means you can use it both locations: one with the base station, one without.
This arrangement gives the hybrid worker a complete setup in the office, and a still professional setup at home.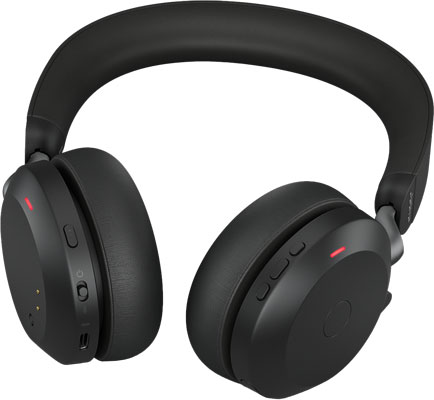 Portability for hybrid work headsets
By definition, a hybrid worker works from at least two different locations. In terms of what headset to use, there are two options when approaching the problem:
Have a headset for each location
Have a portable headset
Let's be honest: most businesses and most workers aren't going to want to pay for multiple headsets when one works just fine. So we're going to assume most workers are going to select Option 2 above.
What makes a headset portable? There are several factors to take into account, including dealing with ambient sound, durability, and weight.
If you use your hybrid worker headset in public spaces like coffee shops and airports, you'll want Active Noise Cancellation (ANC). ANC means that the headset is using microphones to sense ambient sounds, then producing counter-sound that effectively masks it from being audible to you. It's essentially auditory camouflage. Jabra Evolve2 75 is an on-the-ear Bluetooth headset designed specifically for hybrid workers, which is why Jabra has developed Advanced ANC, which puts to use four microphones and a triple chipset for exceptionally good noise cancellation. And you can choose the level of ANC you want to adapt to various locations.
The opposite of ANC is audio pass-through technology, which is called many things by many companies. For example, Jabra calls the feature HearThrough for the Evolve2 75. Audio pass-through means the headset uses microphones to sense ambient sound, then broadcasts that sound into your headphones. It lets you hear what's happening around you without requiring you to remove your headset.
Both of these technologies help hybrid workers deal with changing environments.

A carrying case helps with durability, so you can put the headset in your bag without worrying about damaging it. Many headsets come with a carrying pouch of some sort, but some go further. Yealink BH71 Pro is an earhook Bluetooth headset that's designed for portability. It comes with a rigid charging case that protects the headset and charges it at the same time. Together, the headset and charging case give you up to 30 hours of talk time. If you're concerned about the pounding that a headset can take in transit, BH71 is a great choice.
BH71 is also ultra-lightweight, clocking in at 18 grams, which is roughly the weight of three US quarters. Weight is a consideration for many hybrid workers, because you don't want to be lugging around extra pounds all the time.
We hope this guide has helped you find the headset for hybrid work that best fits your needs!
If you'd like a complete breakdown of what to look for when shopping for a headset, check out our clear, expert Headsets Buyer's Guide.
Related Blogs