Yealink is building out a portfolio of affordable Microsoft Teams Certified video conferencing systems for every size of space, from huddle rooms to extra-large conference rooms.
Yealink Microsoft Teams Room Systems are all-in-one bundles that include an appropriate camera, speaker, microphone, touch display and more depending on room size.
Because they're keeping the systems up to date, it can be confusing to keep up with what devices are included in which package.
Yealink MVC840 and MVC800 are intended for use in large conference rooms. But how are they different?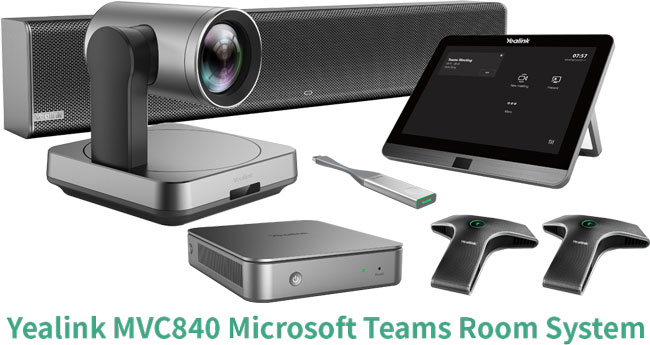 Yealink MVC840 vs Yealink MVC800 II
The Yealink MVC840 Microsoft Teams Rooms System comes with an impressive new camera: UVC84 vs UVC80.
UVC84 is a 4K Ultra HD PTZ video conferencing camera with automatic framing, 12x optical zoom, full pan-tilt functionality and plug-and-play USB connectivity. UVC80 is a 1080p USB camera with a more constrained field of view and tilting range.
Otherwise, the two bundles are the same.
Here's a chart breakdown of what comes with the two systems:
Yealink
MVC840
Yealink
MVC800 II
Camera
UVC84:

4K Ultra HD
12x optical zoom
Automatic framing

UVC80:

1080p Full HD
12x optical zoom
Automatic framing

Mini-PC
MCore:

Intel Quad-Core i5 CPU
128 GB SSD
Wi-Fi support
Bluetooth support
HDMI video output

Touch
Display
MTouch II:

8-in color touchscreen
Human motion sensor
Wired and wireless content sharing support

Microphone
VCM34:

Package comes with two VCM34s
3-microphone array
20-ft 360° voice pickup
Can cascade up to 6

Speaker
Soundbar:

100 Hz to 20 kHz audio frequency range

Wireless
Presentation
Pod
WPP20:

802.11 ac Wi-Fi support
One-click content sharing
Related Blogs