Yealink designs innovative products for VoIP communications.
With Yealink W80B IP Base Station, the VoIP leaders have built an easily scalable system for using wireless VoIP phones in LARGE SCALE deployments. W80B increases mobility while retaining HD audio performance and communications security.
What do we mean by "LARGE SCALE"?
Anywhere you need a lot of coverage for a lot of people. Here are some examples:
Warehouses
Hangars
Factories
Hospitals
Box stores
Office buildings
Corporate offices
Hotels
Arenas
Let's take a deeper look at W80B.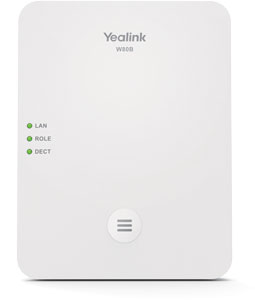 Yealink W80B IP Base Station
Yealink W80B is a multi-cell base station that provides real advantages over base station + repeater systems.
A single W80B system supports 30 base stations with 100 wireless handsets and 100 simultaneous calls. Each base station supports up to 8 simultaneous calls.
The system supports wideband HD audio, so you get rich, natural sound quality.
Yealink has made sure that handoff between base stations is a seamless experience, which means you can roam freely around the warehouse without worrying about the call dropping.
It supports a full range of VoIP features, including access to multiple phonebooks, caller ID, voicemail, speed dial, and much more.
Yealink makes it simple to provision and manage the system with an onboard DECT Manager and secure auto-provisioning.

What handsets are compatible with Yealink W80B?
The base station connects to the IP network using Ethernet and supports the open SIP protocol. Yealink has ensured compatibility with 3CX, BroadSoft, and Metaswitch. It is powered using PoE (Power Over Ethernet).
W80B connects to Yealink wireless handsets using DECT.
DECT vs Wi-Fi or Bluetooth?
Using DECT offers advantages over Wi-Fi or Bluetooth.
It lets W80B support an extended wireless wander range of up to 50m (164ft) indoors or 300m (984ft) outdoors, which is far beyond what Bluetooth can do.
Yealink's implementation of DECT includes encryption, which secures your communications.
Because there tend to be many more Wi-Fi and Bluetooth devices like laptops and smartphones and headphones in a given area, the spectra for the two wireless technologies can become clogged. This problem is called spectrum density.
DECT uses a separate spectrum from those two. Because so few other devices will be using DECT, it will reduce spectrum density, leading to better Wi-Fi and Bluetooth connectivity in the office.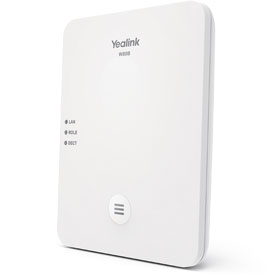 Why not just use a base station with repeaters?
There are quite a few "DECT handset + IP base station" solutions on the market that use repeaters to expand coverage, what we're going to call here a "repeater system."
What differentiates the W80B?
If you use a repeater system, you will be much more limited in how many handsets you can use and how many calls you can receive. W80B can also cover a much larger space.
With a repeater system, all the handsets are configured with a single base station and all the calls flow through a single base station.
For example, Yealink W60B IP Base Station supports 8 handsets and 8 simultaneous calls. Those numbers don't change with repeaters, which simply extend the reach of the one base station. The base station supports up to 6 RT30 repeaters, which is great coverage but doesn't compare with W80B.
W80B supports 100 handsets and 100 simultaneous calls using up to 30 base stations.
So if you only need a few handsets and want more extended coverage, we definitely suggest you check out a repeater system, like a Yealink W60B base station with RT30 repeaters and W60H handsets.
But if you want LARGE SCALE coverage, go with Yealink W80B.