If you're familiar with cordless VoIP phones, you probably picture something like Yealink W73P Wireless IP Phone System or Grandstream WP810 Wi-Fi IP Phone. These phones are excellent solutions for offices, retail stores, hospitals and many other environments.
Unfortunately, there isn't a tailored solution for Microsoft Teams at the moment, but there is a VoIP phone that offers some similar features.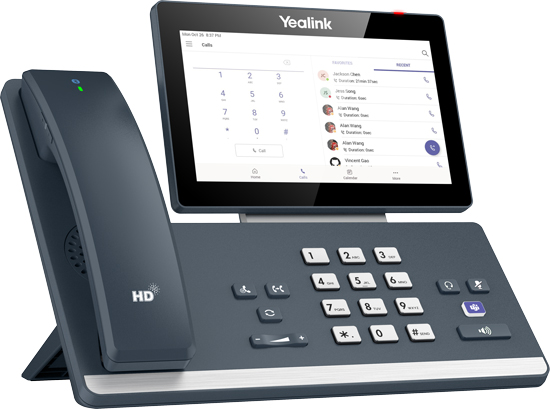 Yealink MP58-WH-Teams Phone
Yealink MP58-WH Microsoft Teams Wi-Fi IP Phone comes with a BTH58 Bluetooth Handset, which replaces the corded handset with a convenient cordless handset.
The BTH58 handset is perfect for when you need to get up and do something around the office and not be tied to your desk. You can answer and end calls straight from the handset.
In other words, this Yealink phone provides a similar experience to a cordless phone, giving you the flexibility you need to be more efficient in your everyday activities.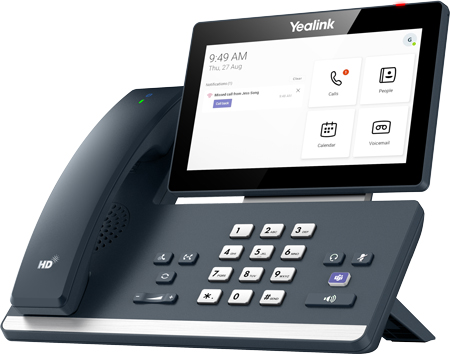 MP58-WH-Teams has many other great features such as a 7-inch touchscreen display, built-in Wi-Fi support, OS based on Android 9.0, dedicated Teams button and exceptional audio performance with Optima HD Voice and Noise Proof technology.
When using MP58-WH, you may find yourself away from your desk but with handset on you. Since the handset doesn't have a caller ID display, you can customize the ringtone to give you a better idea of who the caller is and how you should address the phone call. You can do this by changing your ringtone for internal and external calls. To learn more about this feature, check out our blog: Setting Up Custom VoIP Phone Ringtones >
We'll update you if a new wireless solution for Microsoft Teams is released, so check back here for the latest on everything VoIP.