Let's get the answer out of the way quick: yes, some VoIP Phone Systems will also support video conferencing. Some, but not all. Now, the rest of this blog is going to explain this answer in more depth. We're going to cover both on-premise VoIP phone systems and hosted (or cloud-based) VoIP phone systems.
If you want to learn more about VoIP phone systems in general, check out our clear, detailed VoIP Phone Systems Buyer's Guide.

VoIP phone systems and video conferencing
At its most basic level, a VoIP phone system is an internet-based replacement for the traditional analog phone system or POTS (plain old telephone service). Instead of sending calls through telephone lines, you send them using Internet Protocol (IP).
However, because VoIP phone systems work using internet technologies, they're capable of much, much, much more than a traditional phone system. And so VoIP phone system providers integrate new features into their systems, like video conferencing. When a bunch of different communications technologies are brought together into a single solution, it's called unified communications (UC).
Not too long ago, video conferencing used to be a science-fiction technology. Now, you can walk around outside while video chatting in real time with relatives on the other side of the world. It's an essential and growing part of business today.
If you want a VoIP phone system that integrates video conferencing, there are a few questions we recommend you ask when shopping around:
Does video conferencing come standard or is it an add-on? Does it cost extra to add video conferencing support to your VoIP phone system? Most of the time, you'll have to pay extra for video conferencing. How much? Does it fit your budget? Will you actually use it often enough to justify the extra cost?
How many parties are supported? Will everyone who will use video conferencing regularly be supported by the system?
Does the system support video conferencing on a mobile app? Many solutions now include mobile support, which is particularly useful for attracting and retaining hybrid workers and home workers. Similarly, you'll want to check if desktop video conferencing is done via a dedicated app or in a browser using WebRTC (or similar protocol).
What devices work with the system? Compatibility is always a key issue with VoIP phone systems and video conferencing systems alike. You'll want to make sure whatever VoIP phones and video conferencing equipment you select are compatible with the system.
Do on-premise VoIP phone systems support video conferencing?
Yes, there are on-premise VoIP phone systems that support video conferencing.
On-premise VoIP phone systems are ones that you run yourself, either as an IP PBX device or by running a software PBX like 3CX on your own servers. They give you more control over your system and can eliminate the subscription fees associated with cloud-based solutions.
In fact, 3CX does, offering secure browser-based video conferencing using WebRTC. If you want an IP PBX solution, there are options like the Grandstream UCM6300 Series. For example, Grandstream UCM6304 supports up to 2000 users, 300 concurrent audio calls and 1080p Full HD video conferencing for up to 60 parties using H.264. Impressive!
If, however, you don't need video conferencing, Grandstream also offers an audio-only version of their IP PBX: the Grandstream UCM6300 Audio Series, like Grandstream UCM6304A.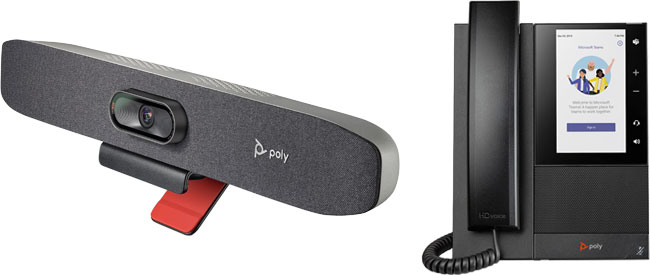 Do hosted VoIP phone systems support video conferencing?
Hosted VoIP phone systems are cloud-based, subscription solutions. They're very popular because you don't need to manage the system yourself. They tend to be more scalable, get new features quicker and be better with mobile integration, although this isn't a hard and fast rule.
Many hosted VoIP phone systems and cloud phone services have video conferencing as part of their offerings. Or you can also think of this in reverse: many video conferencing services offer VoIP telephony.
For example, Microsoft Teams, which many people still think of as a text and video chat application, is also a complete VoIP phone system solution, too. That's why they work with manufacturers to offer Microsoft Teams Certified VoIP Phones as well as Microsoft Teams Certified Video Conferencing Equipment.
Similarly, Zoom, the extremely popular video conferencing platform, offers Zoom One, a plan that integrates its business video conferencing (Zoom Rooms), VoIP phone system (Zoom Phone) and other solutions. As with Microsoft, they work with manufacturers to offer Zoom Certified VoIP Phones and Zoom Certified Video Conferencing Equipment.
When you're looking to add video conferencing to a VoIP phone system, there are a lot of options!
Related Blogs