The new Grandstream UCM6300 Series IP PBXs give you professional control over your communications — including video conferencing. What's better, you get 1080p Full HD video conferencing with no extra licenses or fees.
Grandstream video conferences are simple to schedule, join, manage and host — and you can do it from anywhere using the Grandstream Wave app.
To learn more about the whole UCM6300 VoIP ecosystem, see our blog "Grandstream UCM6300 Series IP PBXs: The New Standard for On-Premise Unified Communications" >
In this blog, we're going to explain how to use UCM6300 systems for video conferencing. Let's get started!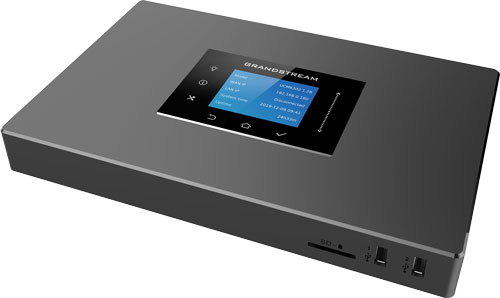 Grandstream UCM6300 IP PBX Video Conferencing
The UCM6300 Series offers video conferencing as part of its VoIP ecosystem offerings. The different models offer support for different numbers of rooms and participants:
The series uses WebRTC technology for video conferencing. What is WebRTC? WebRTC is an open standard for real-time communications. It is supported by all major browsers. Because of this, team members will likely not have to download any extra application or plugin to join a secure video conference.
To setup and manage video conferences, you can go to the Grandstream UCM Series web GUI. The admin panel will allow you to enable extensions, configure settings, schedule meetings, set email reminders — and much else.
One of the primary advantages of using an on-premise IP PBX is having such granular control. But most users won't have to worry about this.
End users can use Grandstream Wave.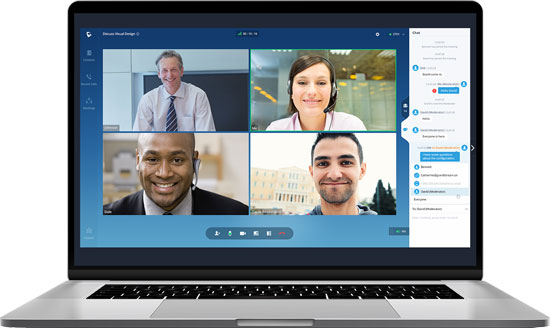 Using Grandstream Wave for Video Conferencing
Along with their new IP PBX series, Grandstream has released an updated version of Wave: a smartphone app for Android and iOS and a web app for Chrome and Firefox for use on PCs or Macs.
The app integrates seamlessly with the UCM ecosystem, so you'll have all your contacts, presence, call history and more — including enterprise class encryption.

Grandstream UCM6300 Series Video Conferencing FAQ
Here's a brief FAQ that will hopefully answer some of your questions regarding the new series:
Do I have to be in the office to use Grandstream video conferencing?
No. You can securely join or host video conferences from anywhere using the Grandstream UCM6300 Series. You don't even need to be logged in to join a meeting.
Does the Grandstream UCM platform support screen sharing during video conferences?
Yes. The platform supports screen sharing, so you can, for example, give a full webinar presentation using the system.
Can I use my own webcam for Grandstream video conferencing?
Yes. You can bring use your computer's or smartphone's built-in camera for video conferencing. Or you can use an external USB webcam like the Grandstream GUV3100 — or from whatever brand you choose.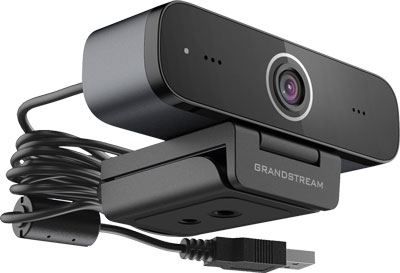 Can I use a headset for Grandstream video conferencing?
Yes. Any USB or Bluetooth headset should be compatible with the system. Just plug it into your computer or connect wirelessly to a smartphone or tablet. Using a headset will improve audio quality — important for professional communications.
Does Grandstream UCM6300 video conferencing work over Wi-Fi?
Yes. You can connect to a video conference over Wi-Fi. Just remember that Wi-Fi is typically less stable that a wired Ethernet connection. And if you're using a public wireless network, make sure it's a secure one.
Does Grandstream UCM6300 video conferencing work over cellular networks?
Yes. Just like FaceTime, Zoom or Skype — or any other video conferencing smartphone app — you can use Grandstream Wave for video conferencing using your cellular connection. Just make sure you have a strong, fast connection — and be careful of data usage.
If you need configuration support or help setting up your UCM system, whether or not you purchased it from us, we offer expert remote Grandstream UCM Phone System Tech Support >