Grandstream continues pushing the envelope when it comes to combining everything you want in a VoIP phone: high-quality manufacturing, open standard interoperability, excellent audio performance, enterprise-class security, and affordability.
Meet their latest entry: Grandstream GRP2615 IP Phone.
Part of the GRP2600 Series of Carrier-Grade IP Phones, GRP2615 is an elite IP phone with Wi-Fi and Bluetooth support, 40 customizable multipurpose keys, and more. It has the same unified firmware as the other models in the series, making it very easy to deploy as part of a fleet.
If you want to know more about the other phones in the series, check out our blog on Grandstream GRP2600 Series of Carrier-Grade IP Phones >
In this blog, we're taking a closer look at the new Grandstream GRP2615.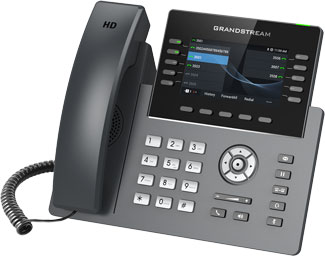 Grandstream GRP2615 IP Phone
Grandstream GRP2615 is a high end desk phone at an approachable price.
With GRP2615, you get professional HD audio performance, meaning voices sound rich and natural.
It has a nice 4.3" color display with 10 line keys and 5 soft keys. The phone supports 16 SIP accounts.
You can customize your phone to use the 10 line keys across 4 screens. In other words, you get 40 customizable multipurpose keys with multicolor LEDs to indicate status. Set the keys for speed dial, quick action, BLF, and more. It's like having a built-in expansion module.
GRP2615 supports progressive features like Opus audio compression, which is adaptable, offering both wideband and narrowband audio depending on the situation, making your communications as good as can be.
It has dual Gigabit Ethernet ports with support for PoE (Power Over Ethernet). Gigabit Ethernet future-proofs your telephony investment.
Grandstream is stepping up security with the GRP2600 Series.
GRP2615 features enterprise-class security, including secure boot, dual firmware images, firmware upgrade via HTTPS, encrypted data storage, unique security certificate for each phone, 802.1x authentication control, 256-bit encrypted config file, and more. Layer 2 and Layer 3 QoS (Quality of Service) support lets admins optimize data traffic to improve stability of the communications.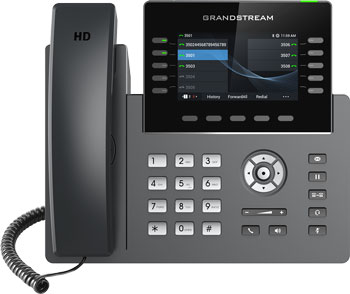 Hands-Free Communications
GRP2615 gives you two options for using headsets, plus a speakerphone.
Bluetooth lets you connect a wireless headset, increasing mobility in the office. It supports the latest Bluetooth 5.0 standard, so you won't have to worry about compatibility.
You can also connect a wired headset using the dedicated RJ9 port. This port supports Plantronics EHS (Electronic Hook Switch) cables, which gives you an additional option for a wireless headset.
The speakerphone gives you wideband audio with acoustic echo cancellation. The phone has a dedicated button for the speakerphone.
Integrated Wi-Fi
GRP2615 has a built-in Wi-Fi radio for wireless connectivity. The radio supports dual-band 802.11ac Wi-Fi and is backward compatible with older versions.
Why do you want Wi-Fi on a VoIP phone?
Wi-Fi gives you the freedom to position the phone anywhere your wireless reaches while retaining professional audio performance.
However, when using Wi-Fi you can't use PoE but don't worry: Grandstream provides a 12V power adapter in the package.
If you're not using Wi-Fi, the phone supports PoE, so you can power it using the same Ethernet cable that connects it to the network using a PoE switch or injector.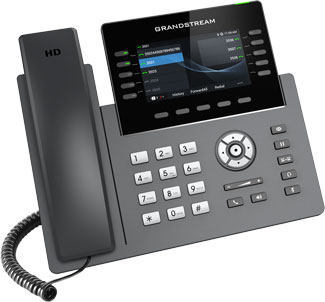 Grandstream GBX20 Expansion Module
As said above, Grandstream GRP2615 comes with 40 multipurpose keys. However, 40 keys aren't enough for many power users and receptionists.
If you need more keys, check out the Grandstream GBX20 Expansion Module (available soon).
This expansion module offers an additional 40 keys.
You can daisy-chain up to 4 expansion modules together, which means you can have a maximum of 200 multipurpose keys.
Power users, you're free to smile.