Grandstream keeps pushing the envelope in the VoIP world. With the new GRP2600 Series of carrier-grade IP phones, Grandstream has engineered desk phone options from entry-level to elite that simplifies management and deployment while improving user experience.
In this blog, we're going to take a look at the brand new Grandstream GRP2600 Series.
Grandstream Carrier-Grade VoIP Phones
What does Grandstream mean when they say "carrier-grade" phone? All the GRP2600 Series phones share features to streamline deployment and improve security.
The GRP2600 Series phones share unified firmware, making it much simpler to push updates and maintain security for the entire deployment.
Carrier-grade also means enterprise-class security: secure boot, dual firmware images, encrypted data storage, 256-bit AES encrypted config file, and more.
GRP2600 phones use the Grandstream Device Management System (GDMS) as a centralized interface for integrating the phones with cloud-based services. Using GDMS, you can configure, provision, manage, and administer a whole fleet of phones.
Use Grandstream's zero touch provisioning for a dead simple method of mass deployment.
Finally, you can easily change the faceplate to customize the logos on your phones for your business or for your clients.
All the GRP2600 Series phones share these features.
Let's take a closer look at the phones themselves.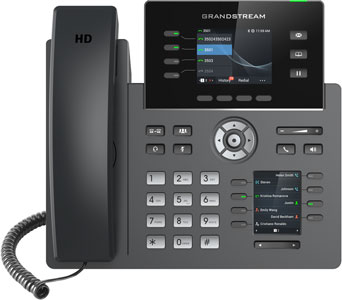 Grandstream GRP2614 IP Phone
Grandstream GRP2614 is a full-featured VoIP desk phone for advanced workers. It comes with HD wideband audio via handset or speakerphone. An open SIP phone, it supports 4 lines.
The stand out feature of GRP2614 is the secondary display that provides a dynamic menu for up to 40 virtual multipurpose keys. The 2.4" display has 8 dual-color LED buttons for simple operation and presence at a glance. You can flip through virtual pages of feature or speed dial keys using the left/right keys.
To connect to your network, GRP2614 offers dual Gigabit Ethernet ports with PoE support, or you can use 802.11n Wi-Fi for more flexible placement.
It also has a built-in Bluetooth radio for connecting wireless headsets. Or you can connect a wired headset using the dedicated RJ9 port. This port supports Plantronics EHS headsets to improve workplace convenience.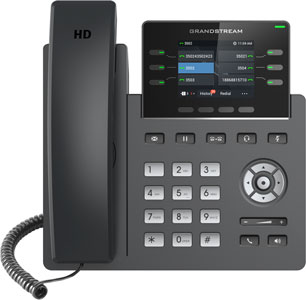 Grandstream GRP2613 IP Phone
Grandstream GRP2613 is a mid-range VoIP desk phone for everyday use in the office. It gives you HD wideband audio from handset and speakerphone.
The 2.4" color display gives you familiar control over 6 multipurpose line keys expandable to 24 virtual multipurpose keys that you can customize as your workflow dictates.
You can connect a wired headset using the RJ9 port, which supports Plantronics EHS options.
It connects to your network via Gigabit Ethernet to give you lots of headroom for bandwidth.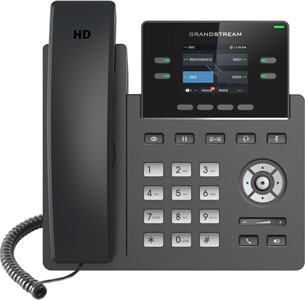 Grandstream GRP2612 IP Phone
Grandstream GRP2612 is an entry-level VoIP desk phone that supports 2 SIP accounts. It provides HD wideband audio via handset and speakerphone. It has an RJ9 headset jack with support for Plantronics EHS models.
The 2.4" color display distinguishes it from other entry-level options, giving basic workers a premium interface. The phone supports 2 SIP accounts and has 4 line keys with up to 16 virtual multipurpose keys.
GRP2612 comes in three models:
The models are distinguished as follows:
GRP2612P supports PoE but doesn't have a Wi-Fi radio. It doesn't come with a power supply.
GRP2612W has a built-in Wi-Fi radio but doesn't support PoE. It comes with a power supply.
GRP2612 doesn't have Wi-Fi radio and doesn't support PoE. It comes with a power supply.
Having three models lets you optimize your deployment so you're not paying for features you don't need. If you require flexible placement, using Wi-Fi helps a lot. If you have Ethernet drops with active PoE, why wouldn't you go for the PoE model?
With the new GRP2600 Series of carrier-grade IP phones, Grandstream has provided your business with a full line of VoIP phones for mass deployment and enterprise-class security without compromising user experience and audio quality.
Related Blogs