The importance of CPC disconnect in ATA's.
When a phone hangs up, how does the other end of the line know? Calling party control (also called "forward disconnect" or "CPC disconnect") is a signal sent from an ATA, phone system or other capable device, telling the line that one of the ends has hung up.
Calling party control is particularly useful in an ATA/analog telephone adapter. A lot of ATA's are deployed to facilitate communications from an IP PBX or hosted VoIP service to an analog paging system. For example, in this set up, a user could issue a page from the VoIP phone at their desk.
Without calling party control, after the user has hung up, the paging system is still listening to the line. Some paging systems can automatically disconnect when there is no audible noise after a certain period of time, but without CPC disconnect, the paging system's resources are tied up for a while.
The analog paging system also needs to support calling party control or otherwise have the ability to interpret the CPC disconnect signal. A paging system telephone adapter like the Bogen TAMB2 can interpret the signal from the ATA.
Here's how this set up looks (the arrow indicating the page's direction):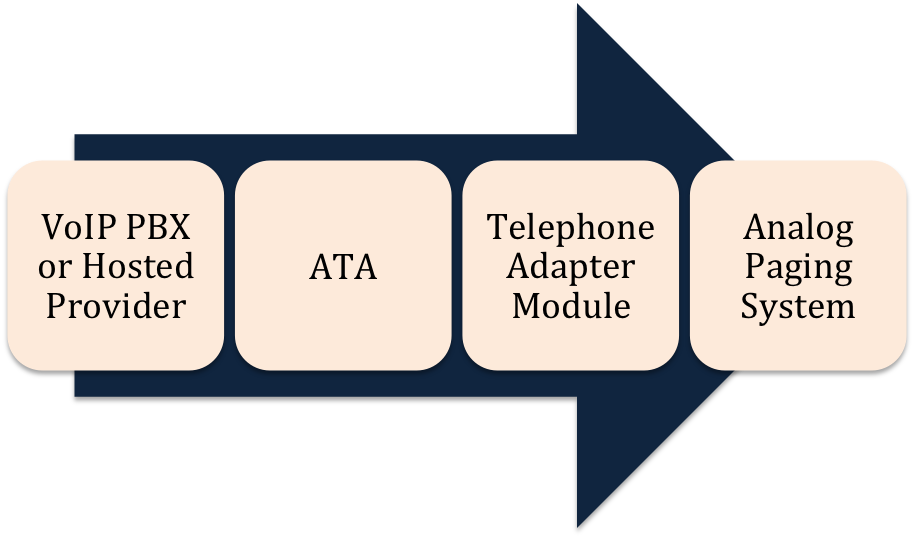 Calling party control also notifies answering machines to stop recording, tells conference bridges that a participant has left and can remove disconnected callers from a queue.
Two popular analog telephone adapters with CPC disconnect are the Cisco SPA112 ATA and the SPA122 ATA. These adapters are SIP compliant and support T.38 fax, letting you deploy them in a number of scenarios. The Cisco SPA122 ATA also includes routing capabilities through a dual Ethernet switch.
---
Integrating an existing analog paging system with a new VoIP solution can be incredibly cost-effective, letting businesses leverage their current equipment with IP-based telephony. Like any hybrid system, making sure everything is interoperable is the key to complete functionality. Calling party control is one very important feature to not overlook.