Video conferencing is the standard for business communications at a distance. Why wouldn't you choose the most natural method of communications on the market today?
Now a mobile worker can join video conferences on his smartphone. Now someone running a one-person business out of her home can send and receive live HD video feeds the same as the biggest enterprise.
This rise has the knock-on effect of making standards rise.
It's no longer enough to have a pixelated Skype call using your laptop microphone and speakers. Your voice sounds tinny. Echoes make it hard to follow your words. Background noise ruins the conversation.
This is where headsets come in. When you're using a cloud-based service like Zoom or BlueJeans, you'll want a headset to deliver professional audio on your video conference or web conference calls.
In this blog, you'll find 5 recommended headsets for video conferencing.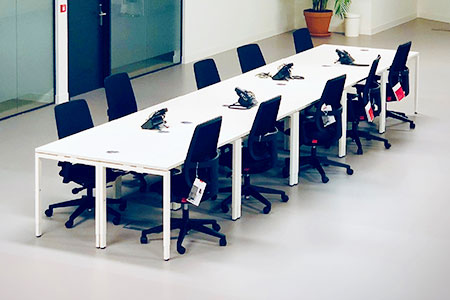 Web Conferencing Headsets
Headsets are especially important because of their microphones. A business headset has a microphone near your mouth, improving sound quality greatly. Our recommended headsets all offer excellent audio.
Plantronics and Polycom have joined to become Poly. Poly headsets include excellent options for video conferencing, including stereo and mono audio, wireless or USB connectivity, and active noise cancellation.
Jabra headsets are some of the most widely recommended by experts on the market today. And there's a reason for that: excellent audio combined with professional features
Here are 5 professional headsets for video conferencing:
Plantronics Savi 8210
Plantronics Voyager 5200 UC
Plantronics Blackwire 5210
Jabra Evolve 75
Jabra Engage 50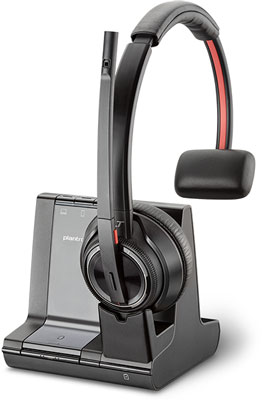 Plantronics Savi 8210
Plantronics Savi 8210 is a powerful and versatile headset with rich monaural audio and active noise cancellation. Savi 8210 connects to computers, smartphones, or desk phones.
Using a mono headset lets you be fully engaged in the video conference while retaining awareness of your surroundings, making Savi 8210 ideal for use in the office. Active noise cancellation means you transmit clear audio even in
The Savi 8210 headset uses the stable, secure DECT protocol to communicate with the base station. Using DECT not only gives you an extended wander range of up to 590ft — much farther than Bluetooth — but it also reduces spectrum density.
If you have too many devices using Bluetooth or Wi-Fi in one area, the signals will interfere with each other. DECT uses a different part of the spectrum, so you don't have to worry about spectrum density.
Savi 8210 can also connect to your smartphone or desk phone. You can switch between the connections seamlessly, and in fact even conference two of the connections together.
Savi 8200 Series headsets come in mono or stereo configurations: Savi 8210 or Savi 8220, respectively.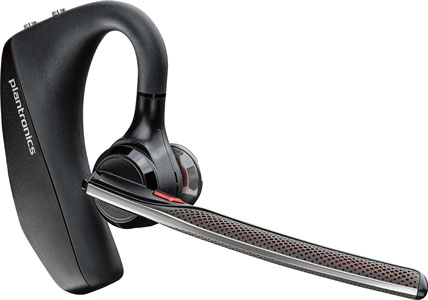 Plantronics Voyager 5200 UC
Plantronics Voyager 5200 UC is a Bluetooth headset that gives mobile workers professional audio. It pairs with your mobile phone or other Bluetooth compatible device, making it easy to join the video conference wherever you are.
Voyager 5200 UC uses a four-microphone array and adaptive digital signal processing to provide excellent sound quality.
It features WindSmart technology, which uses six layers of technology to automatically detect the direction of the wind and adapt. This greatly reduces noise on the call when you're speaking outside.
The headset weighs just 20 grams, yet offers a talk time of up to 7 hours. It comes with a compact carrying and charging case that gives you two full extra charges for 14 hours more.
The headset has a sweatproof nano-coating and is IPX4 rated for long-lasting protection.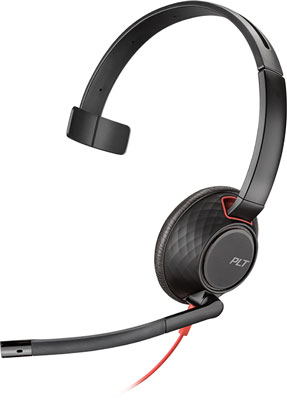 Plantronics Blackwire 5210
Plantronics Blackwire 5210 brings top-class audio at entry-level prices. Blackwire 5210 is a monaural wired headset with USB or 3.5mm connectivity. It comes in models with a traditional USB-A connector or the newer USB-C.
Blackwire 5210 features Dynamic EQ and enhanced digital signal processing to improve audio quality.
USB connectivity makes the headset plug-and-play with almost every video conferencing system there is, including cloud-based video conferencing platforms.
The Blackwire 5200 Series comes in mono or stereo: Blackwire 5210 or Blackwire 5220, respectively.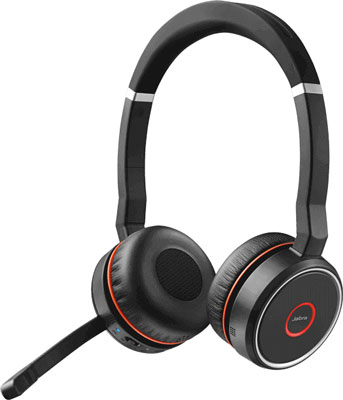 Jabra Evolve 75
Jabra Evolve 75 is a stereo Bluetooth headset with active noise cancellation and hi-fi speakers. It can connect to two devices simultaneously using Bluetooth.
Evolve 75 has an incredibly good uni-directional ECM microphone. The active noise cancellation technology creates a perceived drop of 17dB, which is roughly like changing human speech into the hum of a computer.
The headset offers hi-fi audio quality: it's as useful for music as it is for video conferencing!
Evolve 75 is a luxurious headphone with soft leather-feel earpads that provide passive noise reduction to make your sound much clearer.
It offers 15 hours of talk time for all-day use.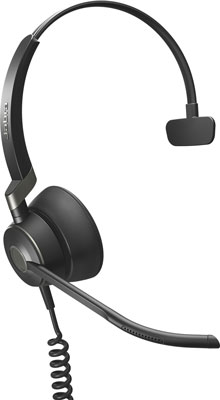 Jabra Engage 50
Jabra Engage 50 is a USB headset designed to enhance the focus of the user, important for when you're on a video call.
The headset uses a unique three-microphone array on a slightly curled end of the boom, which enables intelligent noise cancellation. By blocking out background noise and breathing sound, Engage 50 gives you audio quality you just don't find on other headsets in its class.
It's a USB-C headset, making it a plug-and-play solution for almost every cloud-based video conferencing service.
To improve call controls, use the Jabra Engage Link controller, which offers four buttons and a volume control wheel. The Link controller offers USB-A or USB-C connectivity options.
Engage 50 comes in mono or stereo.