Poly knows that collaboration is the future of business.
Video conferencing is the most natural form of long-distance business communications available today. But people demand more: they want integrated content. And they want a single interface to simplify their lives.
This is where G7500 comes in.
The system supports incredibly detailed 4k Ultra HD video and highly efficient H.265 (HEVC) video compression with an open, platform-agnostic foundation. People can share content wirelessly from any device.
Easy to deploy, G7500 provides enterprise-class video collaboration performance.
We offer Poly G7500 in three bundles for different size rooms:
We also offer the Poly G7500 Codec by itself.
If you want to know more about G7500, check out our blog on Poly G7500 >
In this blog, we're going to look at the options for installed audio solutions for Poly G7500:
Poly IP Ceiling Microphone
Poly IP Table Microphone
Poly Microphone IP Adapter

Poly G7500 Video Conferencing Codec
You know with any Poly device you will get incredibly good audio. The crystal-clear audio that was Polycom's calling card for a quarter century is as present in the new Poly G7500 system as ever.
To use it for conferencing, you'll need to connect a microphone. Each of the bundles above come with one IP Table Microphone, but that's not you're only option.
G7500 has three LLN ports, so you can connect up to three microphones directly to the codec.
LLN stands for "Link-Local Network." Instead of a LAN (Local Area Network) port, which enables connection to an IP network, an LLN port enables connection between devices.
In other words, G7500 uses standard Ethernet cables to connect with microphones. Using standard cabling instead of proprietary cabling saves you money and expands your options.
Poly IP Ceiling Microphone
Poly IP Ceiling Microphone provides the most elegant and unobtrusive HD audio coverage for professional video conferencing with G7500.
Elegant? The microphone cables are run through the ceiling, so all you see is a classy, globe-shaped microphone hanging above the conference table. It comes with a 50ft cable that is rated for installation in plenums.
The microphone has a 360° radius and covers a 24-foot radius. Because you can connect 3 ceiling microphones to G7500, you can cover even the largest board room.
It takes fullband audio, better than HD. A premier experience in every way.
You can configure the microphone for stereo mode for a more natural experience. It supports autorotation, which means the system will automatically assign stereo channels for the microphone based on the direction of the audio it senses.
To configure microphone settings, go to Audio/Video > Audio > Audio Input in the web-based user interface for G7500.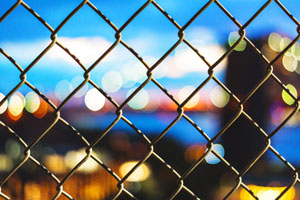 Acoustic Fence
You can use Acoustic Fence with the ceiling microphones (when used in mono mode).
Acoustic Fence is a class-leading background noise reduction technology.
The system intelligently interprets sound to delineate a virtual "fence" around a speaker or group of speakers. Noises beyond that fence are eliminated when no one is speaking within the fence or reduced by 12 dB when someone is speaking within the fence. Speakers are muted when they leave the fence.
To use Acoustic Fence with G7500 you need to have at least two microphones: a primary microphone to pick up voices and a second "fence" microphone to define the boundary.
You can configure which microphone plays which role in the G7500 web-based user interface: Audio/Video > Audio > General Audio Settings .
On that page you can also adjust Acoustic Fence sensitivity on a scale from 0 to 10 with 10 being the most sensitive. We strongly recommend you test the settings before using Acoustic Fence in a conference.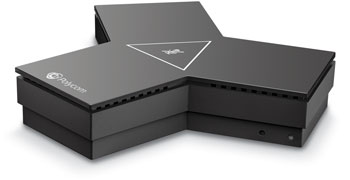 Poly IP Table Microphone
Poly IP Table Microphone gives you excellent audio performance with the convenience of flexible positioning.
With the table microphone, you can put a microphone in front of a group closer to speakers than the ceiling microphone.
The microphone is highly compact but still takes HD audio in all directions.
When someone is not speaking, they can press the mute button. Like the ceiling microphone, IP Table Microphone also supports Acoustic Fence, as detailed above.
It is a wired microphone, coming with a 25-foot Ethernet cable.

Poly Microphone IP Adapter
If you already have Group Series microphones, Poly offers the Poly Microphone IP Adapter. This adapter lets you continue to use the microphones you already have.
It has a Walta port and an Ethernet port. Walta is the connector used by older Poly microphones. You connect the microphone to the Walta port, then connect the adapter to G7500 using a standard Ethernet cable.
The system automatically configures the adapter when you connect it.
You can daisy chain up to three additional microphones to the microphone connected to the adapter, giving you incredible reach.
There are, however, a couple of limitations. The microphones connected using the adapter do not support Acoustic Fence or stereo sound.