Welcome, Poly G7500! The Poly G7500 4k Ultra HD Video Conferencing System sets a new standard for professional video conferencing. G7500 puts content at the center of the conferencing experience.
In this blog, were going to explore the new video conferencing system to show what it can offer for businesses and enterprises who want the best video collaboration solution now on the market.
G7500 comes in three bundles:
Or you can buy the Poly G7500 Video Conferencing Codec by itself.
With the release of the G7500, Poly is also releasing two new microphone arrays — Poly IP Tabletop Microphone and Poly IP Ceiling Microphone — and a Poly G7500 Microphone IP Adapter, which integrates the new codec with existing Polycom microphone systems.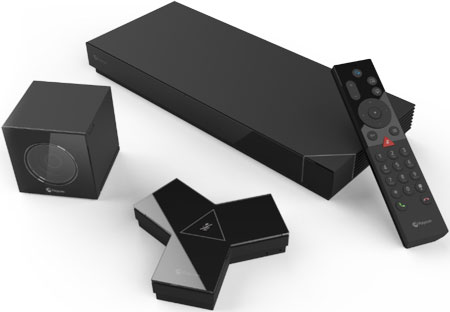 Poly G7500 Video Conferencing System
Poly G7500 combines support for three collaboration technologies in one: video conferencing, wireless content sharing, and digital whiteboarding. All three are available to users using the same interface, reducing friction and confusion.
The device supports 802.11ac Wi-Fi and Bluetooth 5.0 for convenient wireless connectivity. It also has a Gigabit Ethernet port for connecting to your LAN for futureproof speed.
Three Collaboration Technologies in One
As a video conferencing solution, G7500 offers up to 4k Ultra HD resolution by default, giving you maximum detail without paying for licenses (in software version 2.0). Increasing detail enhances the natural feeling of the conversation and leads to deeper collaboration.
As a wireless content sharing device, G7500 allows users to share up to 4k Ultra HD content using their personal devices. It supports Apple AirPlay, Miracast, and the Polycom Content app. To keep your wireless devices and content secure, G7500 uses two separate networks: an internal and a guest wireless network.
As a digital whiteboard, G7500 provides an infinite canvas for collaborative ideation. Every member of the conference can add their ideas, no touchscreen devices needed.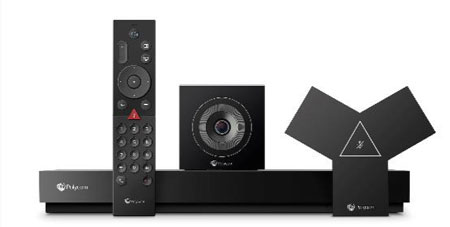 Polycom Audio Quality
Over the past quarter century, Polycom has proven again and again that they build superior business conferencing devices. The foundation of their success is impeccable audio quality.
Now that Polycom has joined Plantronics to become Poly, they're continuing that legacy of achievement.
Poly G7500 gives you incredible wideband audio. It supports NoiseBlock, which greatly reduces background noise distractions. It also supports Acoustic Fence, which creates a virtual perimeter around speakers, blocking out extraneous noise.
Poly G7500 has three dedicated RJ45 ports for connecting up to three Poly IP Tabletop Microphones. These ports support PoE, so you can power the microphones through the cable that connects them to the codec.
For installed audio spaces, Poly also offers a new IP Ceiling Microphone.
If you already have Polycom microphones and want to extend their lifetime, use the Poly IP Microphone Adapter. The adapter bridges between the codec and the existing microphones. It is compatible with the following microphones:
Polycom RealPresence Group Tabletop Microphones
Polycom RealPresence Group Ceiling Microphones
Polycom SoundStructure Microphones
The codec is also compatible with Polycom EagleEye Producer and Polycom EagleEye Director II.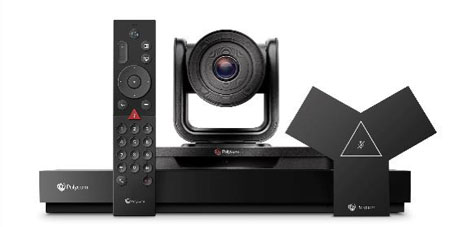 Designed for Simple Deployment
Poly G7500 was designed not only with users in mind, but also with admins. For example, you can integrate legacy audio equipment, as mentioned above.
The system utilizes industry-standard cabling to save on infrastructure costs. And it has a wealth of ports to connect all your peripherals, including three HDMI ports, three USB-A ports, one USB-C port, and an HDCI port.
By having one device for multiple functions, you streamline deployment and, more importantly, need less time for training users on how to operate the system.
Poly's powerful web-based interface makes the whole system simple to administer. REST APIs let you customize the system and provide security for room control.
Poly G7500 Bundle for Small Groups of 4-8 People
The bundle for small rooms includes the G7500 codec, along with a Poly EagleEye Cube USB camera, one Poly IP Tabletop Microphone, a Bluetooth remote control, and a full selection of cables, including two HDMI cables.
The newly announced Poly EagleEye Cube USB Camera provides plug-and-play connectivity for a professional video experience. It uses a 4k video sensor to provide 1080p Full HD video with 5x digital zoom. The wide-angle 120° field of view captures all the faces in small rooms.
EagleEye Cube has dual microphones that enable automatic speaker tracking. On top of which, it offers automatic group framing to perfectly frame the conversation for maximum detail.
Poly G7500 Bundle for Medium Groups of 6-10 People
The bundle for medium rooms includes the G7500 codec, Polycom EagleEye IV 4x camera, one Poly IP Tabletop Microphone, Bluetooth remote, and cables.
EagleEye IV 4x uses a 4k image sensor to produce crisp 1080p Full HD video with 4x optical zoom. A professional PTZ camera, EagleEye IV 4x gives you a 200° panning range and 50° tilting range to position is correctly.
Poly G7500 Bundle for Large Groups of 8-14 People
The bundle for large rooms includes the codec, microphone, remote control, and cable, as well as the Polycom EagleEye IV 12x Camera.
EagleEye IV 12x is a high-powered camera for video conferencing with 10x optical zoom plus 12x digital zoom. It uses a f/1.2 aperture to provide bright video with autofocusing to make it effortless.
No matter the size of your workgroup, Poly G7500 will work for you.