Poly continues to impress with their solutions for business communications.
With the Blackwire 3300 Series, Poly has designed a stylish collection of plug-and-play wired USB headsets that work with almost any softphone. All you need to do is plug it into a Windows or macOS computer — you have professional audio.
Because the series includes USB-C headsets, you can use those models with smartphones that have a USB-C jack.
If you want to connect to a smartphone or tablet, the series also features models with 3.5mm connectivity.
For users of Microsoft Teams or Skype for Business, all the headsets in this series come in versions that are Microsoft certified. The inline call controls for these models have a dedicated Microsoft Teams button.
The Blackwire 3300 Series consists of 16 models, distinguished by mono or stereo, USB or USB-C, and with a 3.5mm jack or not.
Here's a full breakdown with part numbers:
Model
Part
Number
Audio
Connectivity
Microsoft
Certified
Poly Blackwire 3310
213928-01
Mono
USB-A
No
213929-01
Mono
USB-C
No
212703-01
Mono
USB-A
Yes
214011-01
Mono
USB-C
Yes
Poly Blackwire 3315
213936-01
Mono
USB-A, 3.5mm
No
213937-01
Mono
USB-C, 3.5mm
No
214014-01
Mono
USB-A, 3.5mm
Yes
214015-01
Mono
USB-C, 3.5mm
Yes
Poly Blackwire 3320
213934-01
Stereo
USB-A
No
213935-01
Stereo
USB-C
No
214012-01
Stereo
USB-A
Yes
214013-01
Stereo
USB-C
Yes
Poly Blackwire 3325
213938-01
Stereo
USB-A, 3.5mm
No
213939-01
Stereo
USB-C, 3.5mm
No
214016-01
Stereo
USB-A, 3.5mm
Yes
214017-01
Stereo
USB-C, 3.5mm
Yes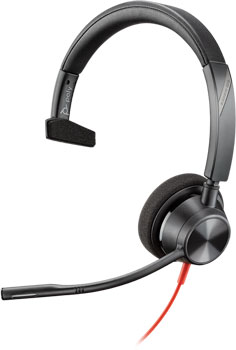 Poly Blackwire 3300 Series Headsets
Blackwire 3300 is a series of entry-level headsets for contact centers and general use in the office.
Instead of cheaping out on looks, Poly designed this new series with a sleek, modern style that means workers will want to use it.
They'll also want to use it because it's so comfortable. The ear cushions are pillowy soft. The adjustable headband is padded.
And it's lightweight. The mono headset weighs just over 100g — with the cable. The stereo model weighs only 130g.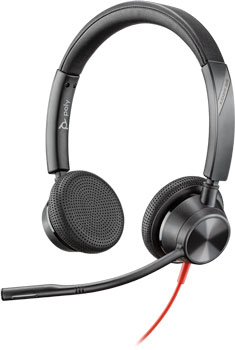 Sound Performance
Blackwire 3310 and 3315 headsets are monaural, meaning they only have one headphone. Mono headsets let users stay in touch with their surroundings.
Blackwire 3320 and 3325 headsets are stereo with two headphones. Stereo headsets provide passive noise cancellation and improve focus. The stereo models support hi-fi audio for multimedia like music and movies.
The noise canceling microphone clarifies the user's voice. It has been optimized for wideband audio, so your voice will sound more natural
The microphone boom rotates 180° so the headset can be used on either side of your head.
The headsets also support advanced features, which you can adjust using Plantronics Hub, a free, lightweight app for Windows or macOS.
Dynamic EQ automatically adjusts the sound for communications or media to provide the best sound quality possible.
SoundGuard protects the user's ears by limiting loud sounds.
Tone alerts let the user know when the microphone is muted/unmuted and when volume is at maximum/minimum.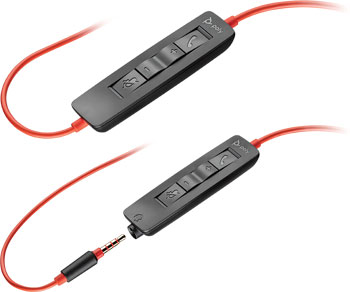 Inline Controls
The headsets come with a convenient inline call control.
The standard models have buttons for call answer/end, volume, and mute.
The Microsoft models have call answer/end, volume, mute, and a dedicated Microsoft Teams button for instant access to the Teams app.
For the USB/3.5mm models, the 3.5mm plugs into inline controls. The inline controls then connect via USB. This means that when you use the headset with a smartphone, you don't have inline call controls.
Related Blogs