Axis Communications is well-known for engineering superior network cameras for a very wide range of surveillance scenarios.
With the recently announced Axis M42 Series, the Swedish security giants have designed a discreet mini-dome IP camera that offers better than Full HD video resolution and remote zoom and focus.
And the cameras come in at excellent price-points for everyday surveillance in a variety of applications, including:
Retail stores
Kiosks
Office buildings
Public displays (e.g., at entryways)
Schools
Healthcare facilities
There are two models in the Axis M42 Series so far:
Let's take a closer look!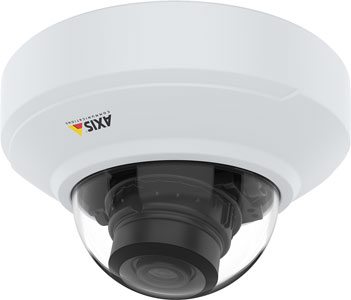 Axis M4206 IP Cameras
Axis M4206-V is a mini-dome IP camera.
What does "mini" mean in this context? The camera fits in the palm of your hand. It's less than 5" in diameter and less than 3" in height.
Axis M4206 is designed for indoor installation, but that doesn't mean it's weak.
The camera is IK08 rated against impacts and IP42 rated against dust and water entry. The electronics are encapsulated for additional protection.
It is vandal resistant with a polycarbonate and aluminum casing and hard-coated dome. (An optional Axis M42 Smoked Dome is available.) Axis is an eco-conscious company, so the camera is PVC free and made from 43% recycled plastics.
The camera is installed with just two screws. Axis offers a variety of optional mounts for specific installations, including a lighting track mount, a tile grid mount for drop ceilings, and a recessed mount for ultra-discreet surveillance.
Video
Axis M4206 takes video at up to 3MP resolution at a 4:3 aspect ratio and 1080p Full HD resolution at a 16:9 aspect ratio.
It supports the ultra-efficient H.265 (HEVC) video codec, which can save up to 50% more on bandwidth and storage compared with H.264, which the camera also supports.
On top of that, M4206 comes with Axis Zipstream technology. Zipstream means the camera lowers resolution in unchanging parts of the scene while retaining full resolution on the moving parts. This saves even more on bandwidth and storage while keeping your security at the highest level.
The camera offers two options for storing video evidence:
You can insert a microSD, microSDHC, or microSDXC card into the camera itself, which can then store video locally. Axis offers microSDXC cards with storage up to 256GB, which means you can store a lot of video locally.
You can use a network video recorder (NVR) or similar network-attached storage (NAS) solution.
The camera has an HDMI Type D connector for connecting directly to an HD display, which makes M4206 perfect for using with a public display, for example, at the entrance to a store. The camera supports up to 1080p Full HD resolution over HDMI.
Lens
Axis M4206 features a varifocal wide-angle lens with remote zoom and focus.
It has a 3-6mm lens with a wide f/2.0 aperture, which allows the camera to take full color video down to 0.26 lux and black-and-white video down to 0.05 lux. (To give you some idea of what that means, 1 lux is roughly the equivalent of moonlit night.)
You can zoom and focus the camera from a remote location.
For example, you could install a camera to monitor the cashier. The wide-angle lens gives you a general view of what's happening. When someone suspicious approaches the cashier, security could zoom in to more closely monitor the transaction.
When you install the camera, it has a full ±180° panning range, -40° to +65° tilting range, and ±105° rotation range. In other words, you can direct the camera in basically any direction.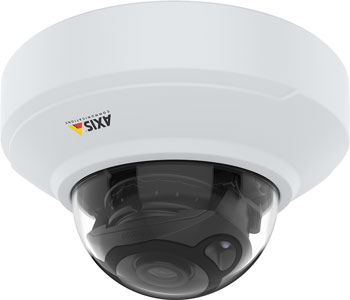 Infrared
Both Axis M4206-V and Axis M4206-LV share all the features mentioned to this point.
Axis M4206-LV adds built-in OptimizedIR infrared support. Infrared cameras give you usable evidence in zero-light conditions. The video is monochrome, but still detailed.
The camera has power-efficient 850mn IR LEDs. Because they're LEDs, they have a very long life.
The infrared lights have a range of 50ft (15m) or more, which is more than enough for most indoor installations.
OptimizedIR is a set of technologies that Axis has developed to get more out of infrared. It adjusts the intensity of the infrared lights based on where the camera is positioned.
Network Camera
Axis M42 Series IP Cameras are network cameras, which means they have numerous advantages over traditional CCTV cameras.
Axis Video Motion Detection comes installed on the camera. This free video application enables advanced on-board analytics.
You can define areas that will detect motion and trigger alarms, adjusting the settings to exclude small objects (like animals) or swaying objects (like plants) to greatly reduce false alarms.
It supports many more useful features, including Queue Monitor, Motion Guard, Loitering Guard, and People Counter. These features are all part of the Axis Camera Application Platform.
On top of native intelligence, the camera has a full arsenal of network security features: signed firmware, HTTPS encryption, centralized certificate management, and more.
Axis M4206 is ONVIF Profile S and Profile G compliant. This means that the camera is interoperable with other standards-based IP camera systems, not just Axis.