The Grandstream UCM6300A Audio Series is the latest addition to the popular Grandstream UCM6300 Series of IP PBXs, which provides enterprise class, on-premise communications and collaboration solutions for SMBs.
With support for up to 1500 users, extensive unified communications features and much more, UCM6300A gives you cost effective, robust and secure VoIP phone systems. To learn more about IP PBXs, check out our VoIP Phone Systems Buyer's Guide >
Here's a breakdown of the four models currently in the UCM6300A Series:
Model
Users
Concurrent
Calls
Meeting
Rooms
Conference
Attendees
FXS/FXO
Ports
UCM6300A
250
50
3
50
N/A
UCM6302A
500
75
5
75
2× FXS
2× FXO
UCM6304A
1000
150
7
120
4× FXS
4× FXO
UCM6308A
1500
200
9
150
8× FXS
8× FXO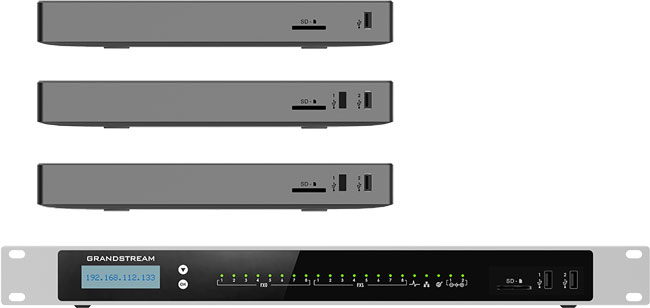 What's the difference between Grandstream UCM6300 and UCM6300A IP PBXs?
Grandstream UCM6300A IP PBXs give you everything Grandstream UCM6300 IP PBXs give you, except video conferencing. That means you get support for every other unified communications application:
Audio communications, including telephony, conference calls and web meetings
Corporate chat and instant messaging
Device integration, including mobile support via the free Wave app for Android and iOS
Centralized management of access control and intercom/paging systems
Automated NAT firewall traversal for secure remote communications
Auto provisioning of Grandstream SIP devices
Open SIP protocol support for use with standards-based, third-party devices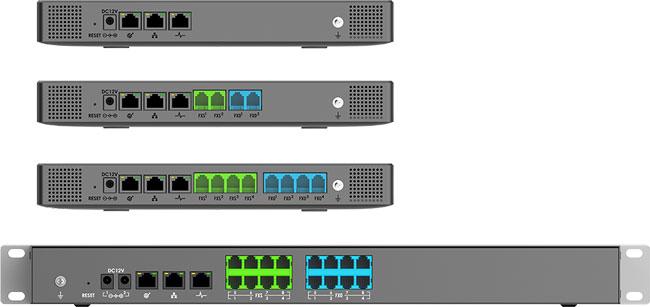 What are the benefits of Grandstream UCM6300A IP PBXs?
There are many video conferencing services on the market that businesses already subscribe to, like Zoom. The UCM6300A Series offers professional telephony control to businesses who wish to go with a separate video conferencing service, so you're not paying for features you don't need. Or maybe your business just doesn't use video conferencing, which is still a common situation.
Think of UCM6300A as part of a modular solution that allows you to build the communications system your business actually needs without paying for stuff you don't need.