Updated March 24, 2021
The brand new Grandstream UCM6300 On-Premise IP PBX Series acts as the center of a professional VoIP ecosystem. The series gives businesses centralized control over their communications — without compromise. UCM6300 IP PBXs are powerful and cost-effective — no license fees.
With UCM6300, you not only get professional VoIP telephony, but also video conferencing, mobile integration, detailed system reports and much more. You can even integrate your access control and intercom systems — greatly simplified infrastructure.
By choosing an on-premise IP PBX solution, you're choosing independent control over your business communications. If you want to know more about IP PBXs and how they can help your business, check out our VoIP Phone Systems Buyer's Guide >
But we're getting ahead of ourselves. Let's do introductions first.
There are four models in the UCM6300 Series. Here is a breakdown of the primary differences between the models. For a complete breakdown, see our easy-to-read Grandstream IP PBX Comparison Charts >
Let's take a closer look at the Grandstream UCM6300 VoIP Ecosystem.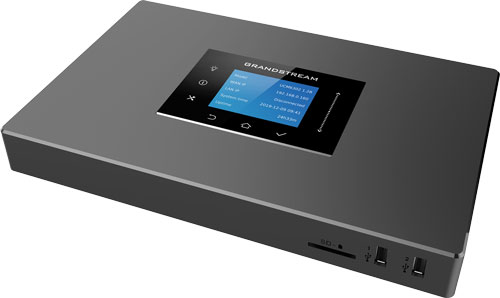 What is a VoIP ecosystem?
"VoIP ecosystem" refers to the entire VoIP communications, mobility, management and security package, as opposed to thinking of VoIP as part of a separate "telephone system."
The UCM6300 Series is an excellent example of a VoIP ecosystem.
For you, developing a VoIP ecosystem where all the elements work harmoniously together simplifies workflows, because admins and workers only need to worry about learning, using, securing, managing and troubleshooting one system.
Another aspect of a VoIP ecosystem is mobile integration. For example, the Grandstream UCM6300 works with Windows and macOS computers and Android and iOS smartphones and tablets — it works with everything. All your contacts, history and so on are carried over from device to device, so wherever you are, you are part of your business's professional communications ecosystem.
In addition, a unified VoIP ecosystem can streamline your accounts and save you real money, because you're not spending on multiple solutions from multiple vendors. And with the UCM6300 Series, you're not spending on license fees to enable the advanced features like video conferencing or content sharing — big savings.

What are the benefits of the Grandstream UCM6300 Series?
As a professional VoIP ecosystem, Grandstream UCM6300 offers many benefits for businesses. Here are a few reasons why Grandstream UCM6300 is for you:
Unified Communications. UCM6300 is a complete unified communications and collaboration solution for business.
Fullband Audio. With up to fullband audio support, voices will sound richer and more natural than ever — lifelike communications.
Scalable. As your business expands, it's easy to add new users — without paying extra fees.
System Integration. You can integrate numerous other parts of your IP system: network video surveillance, paging, facility access and more — simple.
Auto Configuration. If you use Grandstream endpoints, the system will automatically provision them — no worries.
Security. The series supports enterprise grade security with secure boot, unique certificates, random default passwords, SRTP call encryption and much more.
No Lock-in. Grandstream doesn't lock you into their system: it's an open SIP system based on Asterisk v16. And they offer an API for integrating third-party systems, including CRM and PMS platforms.
You can see more benefits when you compare UCM6300 with the series it replaces.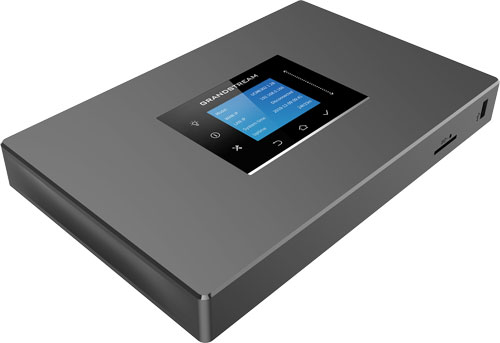 What are the differences between the UCM6200 and UCM6300 series?
The Grandstream UCM6300 Series replaces the UCM6200 Series. Across the board, Grandstream improved their on-premise IP PBX offerings. Not only do the UCM6300 feature an up-to-date style with more information-rich displays for ease of use, but there are real changes to the devices' capabilities.
Here are the primary differences between the two series:
Video Conferencing. The UCM6300 Series offers native 1080p Full HD video conferencing support for up to 60 participants — with no license fees.
H.265 Support. H.265 (also known as HEVC) means ultra-efficient video compression: bandwidth and storage savings up to 50%.
SIP Users. UCM6300 supports almost four times as many SIP users from a maximum of 800 to an amazing 3,000.
Concurrent Calls. In addition, the number of concurrent calls has been greatly expanded from a maximum of 100 to 450.
Automatic NAT Traversal. Using Grandstream RemoteConnect, the system will automatically setup the NAT traversal for connecting with remote users — enterprise grade security.
Cloud Management. Using the Grandstream GDMS service, you can setup, monitor and manage the VoIP ecosystem through the cloud — convenient. To learn more about GDMS, check out our blog: What Is Grandstream Device Management System (GDMS)? >
Mobile Integration. Using the updated Grandstream Wave app, you can use your business's secure phone system on either Android or iOS smartphones.
Let's take a closer look at the last point: Grandstream Wave.

What's new in Grandstream Wave?
Grandstream Wave has existed for a while. With the UCM6300 Series has updated the app significantly. (The old version of Wave is still available as "Grandstream Wave Lite.")
Wave is a free business class app for connecting with the Grandstream UCM6300 VoIP Phone System across devices.
Grandstream offers Wave for Android or iOS smartphones. Additionally, they offer the app for Google Chrome and Mozilla Firefox web browsers, which means the IP PBX is accessible for Windows and macOS computers as well. You can use Bluetooth or USB headsets for professional audio on a call, too.
Using Wave, workers can schedule, join and host meetings — including audio or video conferences — from anywhere using Wi-Fi or cellular connectivity. Wave supports up to 1080p Full HD video conferences with HD audio quality. It is ideal for collaborating with remote workers and dispersed workforces. Visit our blog: Professional Video Conferencing With Grandstream UCM6300 Series IP PBXs to learn more about using the UCM6300s for video conferencing.
And it's very easy to setup a new user. They just need to download the app and scan a QR code made by the UCM6300 IP PBX — simple.
Related Blogs