As hybrid work continues to increase in popularity, Headsets have become a business necessity. As more and more people use business-quality headsets, the demand for a headset that works with all their devices and across their communications platforms is increasing.
You'll want an office headset that you can use with your desktop computer, laptop, smartphone and tablet, even your desk phone if you can. You'll want a professional headset to use with Microsoft Teams or Zoom or GoTo or Google Meet or whatever platform your company uses.
Can you use your business headset with your mobile phone?
Yes. There are many headsets that are compatible with smartphones. Most importantly, you can use any Bluetooth Headset with any smartphone.
If you're looking for a wired headset to use with a mobile device, the situation is more complicated. Most Android devices now have USB-C ports, which means you will likely be able to use a USB-C headset with them. That said, always check the headset's compatibility before purchase. You may also be able to use a 3.5 mm headset. We're not aware of any office headsets with a Lightning plug to connect to an iPhone.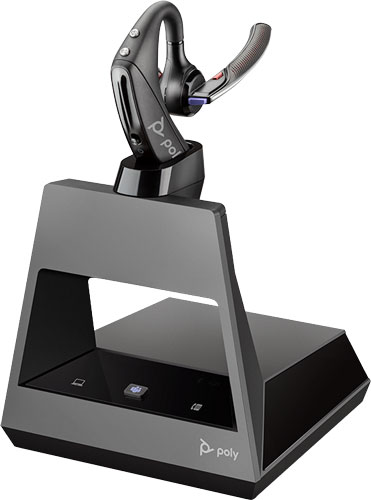 Will a Bluetooth headset work with an iPhone?
Yes. Every iPhone since the original one in 2007 has had a built-in Bluetooth radio. You should be able to select the Bluetooth headset as your audio peripheral from any softphone app, just like you can select it for the primary Phone app. (We can't guarantee compatibility in every case.)
Will a Bluetooth headset work with an Android phone?
Yes. At least, we're not aware of any Android phones that don't support Bluetooth! The same disclaimer stands for Android phones — we can't guarantee compatibility in every case — but using a Bluetooth headset with your Samsung Galaxy, Google Pixel or whatever you use should be fine.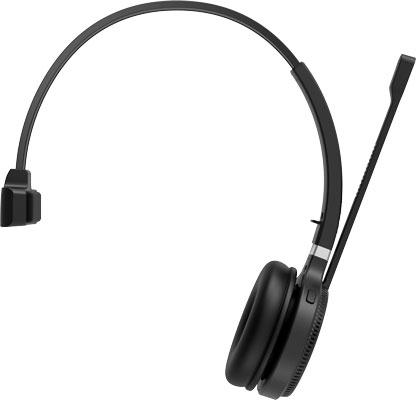 Recommended headsets for using with a smartphone
Here are a few recommended headsets to use with a smartphone based on common scenarios.
Do you use Microsoft Teams? Try Poly Voyager 5200 Office, Microsoft Teams Edition. This ultra-lightweight Bluetooth headset is Microsoft Teams Certified and has a dedicated button for launching the service. It has WindSmart technology to reduce noise when you use it on the go with your smartphone via Bluetooth. When you're in the office, it connects to its two-way base station, giving you connection to your computer and desk phone, too. Put another way, you can use this office headset to give you professional audio quality with hands-free convenience for your smartphone, computer and desk phone.
Do you love listening to music while you work? Try Jabra Evolve2 75. This Bluetooth headset offers incredible hi-fi audio quality with dual 40 mm speakers and supports for the latest AAC codecs. Advanced Active Noise Cancellation powered by a triple chipset gives you an ultra-professional headset experience. And it comes with a USB dongle that you can plug into a computer to give you seamless connectivity, so you can use it with a laptop no matter where you are. So you can use it with both your smartphone and a computer via Bluetooth.
Do you want device flexibility in the office? Try Yealink WH66 Mono UC. This DECT headset offers an extended wireless range compared with Bluetooth. However, you can't connect to your mobile devices using DECT. So this headset comes with a base station with touchscreen display that connects to your devices via Bluetooth and to other devices like the desk phone or computer via USB. It works wonderfully for hybrid workers who want a settled base station. Connect with whatever helps you get your work done best.
Related Blogs