Yealink BH71 is a brand new earhook Bluetooth headset that pushes the industry forward. It has a beam-forming microphone array and an ultra-comfortable adjustable wearing style in a headset that weighs just 18 g, which is less than four US nickels.
BH71 is a great headset for hybrid workers: an elite headset-plus-base setup in the primary workspace and a flexible Bluetooth headset for other spaces. Its ultra-lightweight construction and noise-reducing technology makes it an excellent headset for workers in the field, like a foreman on a construction site, or a mobile worker who needs a small, portable Bluetooth headset that works seamlessly with both their laptop and smartphone.
There are currently four models in the BH71 series:
Dylan has made an unboxing video of Yealink BH71 Workstation Pro. In this video, you get a close-up look at the headset, base station, and charging case. Check it out!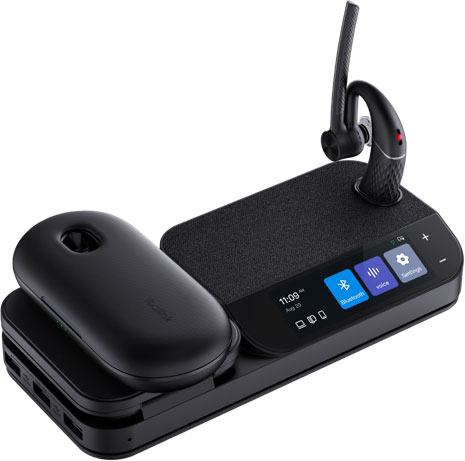 We just wanted to emphasize the BH71 base station a bit more, because it's a real game-changer for workers. "Base station" doesn't cover everything it does.
It can connect to multiple devices at the same time, including your computer and VoIP phone, allowing you to switch between them with just a tap on the base station's touchscreen display.
It has a speakerphone, which gives you a secondary hands-free communications option. It also sound pretty good for music and other media, too.
It has a Qi wireless charging pad, which lets you charge your smartphone while you work.
And it has a built-in USB hub, allowing you to power your other devices while you work!
As we said up top: Yealink BH71 is a new standard for headsets.
Related Blogs