Poly means professional audio communications. And they're not resting on their laurels. They keep on pushing the envelope, improving their headset offerings regularly.
With the new Voyager 4300 UC Series of Bluetooth Headsets, Poly has improved upon their popular Voyager 4200 Series. The new Poly headsets offer wireless convenience, excellent noise reduction with Acoustic Fence, extended wireless range and more.
There are 16 models of Voyager 4300 UC available. That may sound like a lot, but there are only a few differences for you to think about:
Mono or Stereo
Standard Edition or Microsoft Teams Edition
USB-A Adapter or USB-C Adapter
With Charging Stand or Without
Let's take a closer look!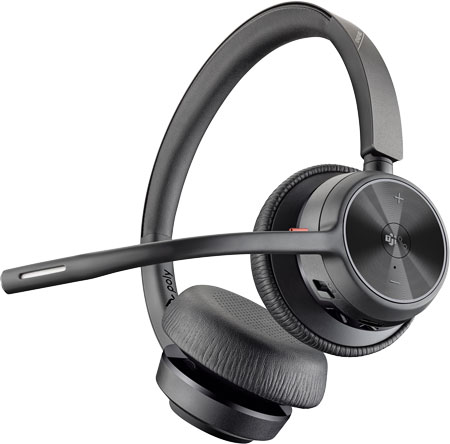 Poly Voyager 4300 UC Headsets
The Poly Voyager 4300 UC Series is a one-headset solution for professional communications in the office, at home and on the road.
They feature dual microphones on a flexible microphone boom. The two microphones allow them to support Acoustic Fence. This class-leading noise reduction technology detects how far away sounds are coming from and eliminates sounds coming from a set distance away. The effect is as if you're in a room by yourself, even if you're in the middle of an open office.
SoundGuard DIGITAL technology protects your ears both by limiting sudden noises and by monitoring loud sound exposure over time. Dynamic EQ adjusts the audio based on what you're listening to, voice or media, so the audio will always sound best.
Call controls are built into the headset: call answer/end, volume up/down and power. Mute is placed on the microphone broom. If you forget to unmute the mic and start talking, Dynamic Mute Alert lets you know.
It has an on-call indicator light that shows coworkers or family members when you're on a call by showing a red light, or when you're available by showing a green light. On-call indicators improve productivity by limiting unwanted interruptions.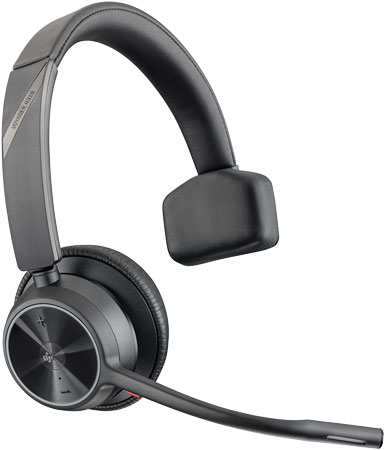 They're Bluetooth headsets that support v5.2. When used normally, they have a wireless range of up to 164 ft. When used with the optional Voyager Office Base, the maximum wireless range is 298 ft. They can connect to a computer and mobile device at the same time, making it much easier to switch between tasks.
The design has been updated to improve comfort with memory foam ear cushions. The padded headband is adjustable.
The headsets are designed for portability, so you can use them on the road or at home, just as well as in the office. The headphones fold flat, making them slimmer and less prone to damage. They come with a travel pouch.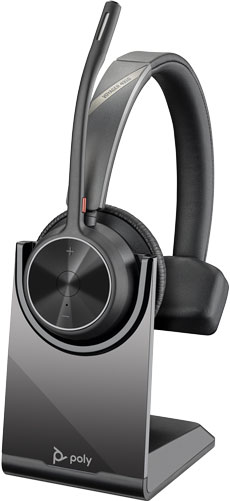 How are Voyager 4300 UC headsets different from Voyager 4200 UC headsets?
Voyager 4300 UC provide upgrades on the previous Voyager 4200 UC series in many ways.
First off, they offer twice the talk time: 24 hours vs 12 hours. Yes, Voyager 4300 UC headsets now offer up to 100% full day battery power.
The headsets support Acoustic Fence, which is a class-leading noise reduction technology that we described above.
The headsets now support Bluetooth v5.2 and offer a wireless range almost twice as far as the previous models when used normally: 164 ft vs 98 ft. When used with the Voyager Office Base, the range for both headsets is 298 ft.
The new headsets are compatible with the improved Poly BT700 USB Bluetooth Adapter when you want to use them with computers. BT700 is smaller and supports a greater wireless range. It can also enable features like controlling calls, showing battery levels on the computer and more.
The mute button is now placed on the microphone boom, making it easier to find and use. In addition, the boom has improved flexibility and stays in position better than the previous models.
Finally, the headset's charging port has been upgraded from Micro USB to USB-C.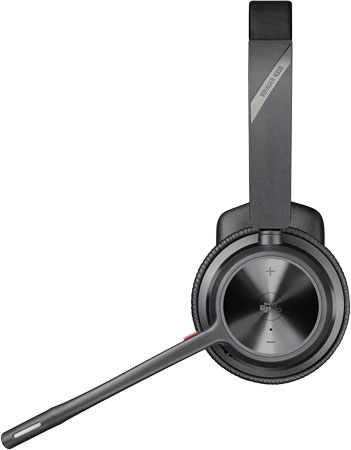 Can you use a Poly Voyager 4300 UC headset with Microsoft Teams?
Yes. There are Microsoft Teams versions of every model of Poly Voyager 4300 UC Headset. They are instantly recognized by Teams for a seamless experience. They also have a dedicated Microsoft teams button on the headphones to launch the service with just one touch.
Can you use a Poly Voyager 4300 UC headset with Zoom?
Yes. Poly Voyager 4300 UC are the latest edition to the incredibly deep portfolio of Poly headsets that are Zoom compatible. In fact, they're Zoom Certified. If you want professional audio for your Zoom Rooms video conferences either on a computer, tablet or smartphone, Voyager 4300 UC headsets are an excellent option.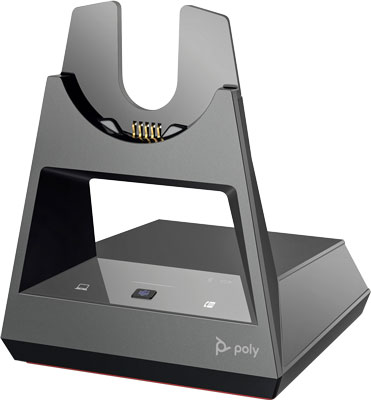 Can you use a Poly Voyager 4300 UC headset with a VoIP phone?
Yes, although you will need to get a Poly Voyager Office Base (sold separately), which also comes in a Microsoft Teams version. The headset communicates with the base via Bluetooth. The base connects via cables to a computer and phone. You switch between the two by tapping one of the capacitive buttons. Poly Voyager Office Base for Microsoft Teams also has a dedicated Microsoft Teams button for launching the service. The base also acts as a charging stand for the headset.
This means you can use one headset with your smartphone, computer and phone.
Do Poly Voyager 4300 UC include Active Noise Cancellation (ANC)?
No, they don't offer ANC.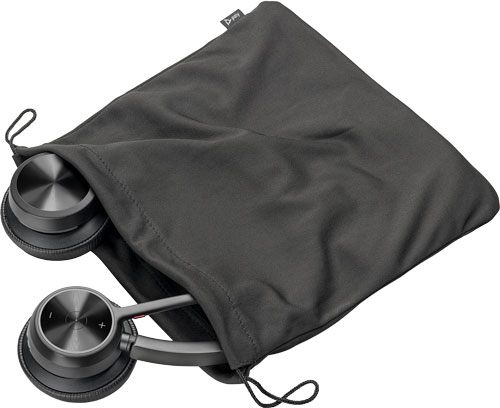 Is Poly Voyager 4300 UC a portable headset?
Yes, Voyager 4300 UC is portable. Its headphones fold flat and the package comes with a carrying case to protect them in transit.
Can you use a Poly Voyager 4300 UC headset as a wired headset?
Yes, you can use a Poly Voyager 4300 UC headset as a wired USB headset using the included USB cable. Sound enhancing features like Acoustic Fence and call controls continue to be functional when you use it as a USB headset. At the same time, the headset will charge, and the Bluetooth radio will turn off, which is great for reducing wireless spectrum load in locations with a high density of wireless devices.