VoIP Hotel Phones. VoIP hospitality phones. VoIP motel phones or VoIP bed-and-breakfast phones. Whatever you call it, VoIP is increasingly the norm across the hospitality industry.
What are the benefits of VoIP hotel phones? There are many advantages to using VoIP phones in hotels.
A primary advantage is system management. VoIP phones are centrally controlled through the network, which means that doing tasks like associating a room's phone with a customer is simple. Scheduling, monitoring and other necessary actions become much, much easier. You can even automate tasks like call billing, personalize greetings for customers, and more.
Depending on your VoIP phone system, you can integrate your phones with your property management system (PMS), giving you a holistic communications solution: better for your business, better for reception, and better for your customer.
It can even be better for staff: you can set room status via a VoIP hotel phone so everyone will know which rooms need to be cleaned and which ones are good to go. You can integrate facility management like door locks and surveillance cameras with your communications system.
Infrastructure can be streamlined, because traditional phones require separate cabling, while VoIP phones run over the same Ethernet cables and/or Wi-Fi system that you already use to provide internet access for your customers.
In this blog, we give a few features that you should look for when shopping for VoIP hotel phones. We're going to use the brand-new Grandstream GHP6xx Series of VoIP Hotel Phones as our examples.
With these phones, you can new create a fully integrated hotel VoIP phone system, an end-to-end solution using just Grandstream devices. With a Grandstream UCM63xx Series IP PBX as the control center and Grandstream hotel phones as the endpoints (plus Grandstream Wi-Fi access points or VoIP gateways, if you need them), you eliminate the need to cobble together a system. It's a bespoke, highly affordable solution for hospitality communications.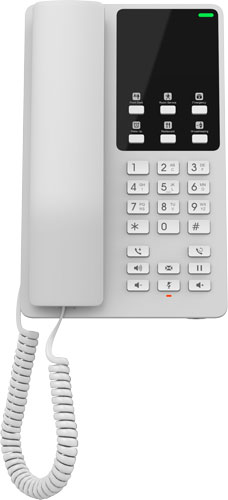 Basic features to look for with VoIP hotel phones:
Dedicated buttons. Strangely, the primary difference between a hotel phone and any other kind of phone is that a hotel phone has dedicated buttons for calling specific places like the front desk with just one press. These buttons are typically clearly labelled. For example, Grandstream GHP621W has clear buttons out of the box for calling the front desk, room services, wake up, and more.
Simple interface. Hotel phones are intended to be used by everyone, so they must have an ultra-simple interface. This is why clearly labelled, dedicated buttons still can't be beat!
Price-point. Because hotels have dozens if not hundreds of rooms, each of which requires a phone, price-point becomes vital. We offer dozens of professional-grade hotel phones that meet this condition. Take Grandstream GHP611, which provides exceptional HD audio and has everything you want in a basic VoIP hotel phone, and still costs less than what you'd spend on a meal for two in a restaurant.

Other features for VoIP hotel phones to think about:
Wi-Fi. Wi-Fi simplifies deployment, because you don't need to run Ethernet cable to the phone. It connects to the network wirelessly. It also lets you position the phone without worrying about the phone being near the Ethernet drop, which lets you use your furniture optimally. For example, Grandstream GHP610W is a slimline VoIP phone with integrated dual-band Wi-Fi.
USB port. The USB port of a hotel phone is used to charge devices like smartphones. For example, Grandstream GHP620 has a USB-C port, which meets the changing needs of travelers today.
HD audio. The average VoIP phone has the potential to sound much better than a traditional phone. Look for HD audio to give your customers a premium experience. All the Grandstream GHP6xx hotel phones, for example, support up to full-band audio.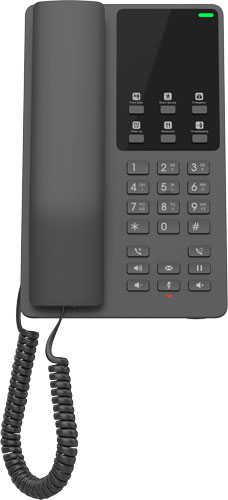 How to migrate to VoIP hotel phones
This is a big topic that we just wanted to touch on here. Many hotels already have a fleet of analog hotel phones and are interested in the advantages of VoIP.
Do you need to all your phones in one go? No. You can use ATAs or VoIP Gateways to integrate analog phones into your VoIP phone system. Essentially, these devices are adapters that translate between analog and VoIP signals. For example, the Grandstream GXW42xx Series of VoIP Gateways provide up to 48 FXS ports per unit, meaning you can integrate dozens of phones with just one device.
Related Blogs