Yealink Headsets are some of the most desirable office headsets on the market today, especially when you want a professional audio experience with Microsoft Teams. Why? Well take a headset like Yealink WH66 Dual Teams.
WH66 is an elite, Microsoft Teams Certified wireless headset that gives you two ways to connect: DECT and Bluetooth. The implementation of Secure DECT ensures exceptional security while offering an amazing maximum 525-foot wireless range. The headset offers stereo Super Wideband audio quality and Acoustic Shield noise reduction. It has a busylight and call controls on the headphones.
The headset itself connects via to the base station via DECT. The base station can connect to additional devices via Bluetooth, making the headset usable with a huge range of devices. The base has a 4-inch touchscreen display, making it simple to switch between devices. And it has a two port USB-A hub and speakerphone in it, too!
There's so much to talk about.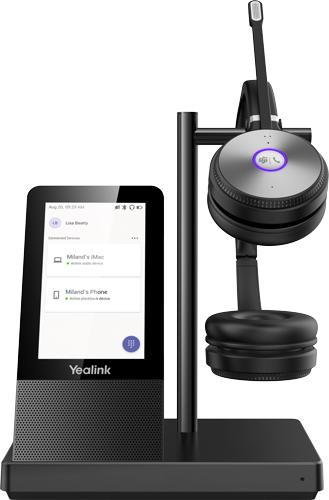 Yealink WH66 Dual Teams Unboxing Video
Check out our new Yealink WH66 Dual Teams unboxing video! Dylan takes you through what's in the box, how to use the headset, and much more.
Related Blogs