When it comes to wired headsets, it doesn't get simpler than USB Headsets. Plug. And. Play. Widely used for softphones with computers, they're increasingly used with VoIP phones, too.
In this blog, we answer the question: why are USB headsets for VoIP phones so popular? We then go into concerns that you should think about when buying a USB headset.
Advantages of USB headsets for VoIP phones
There are many reasons for the ever-increasing popularity of USB headsets. Here are four important ones:
Simple, simple, simple. USB headsets are the simplest wired headsets to use. Importantly for office phones, USB headsets are much less confusing than QD (Quick Disconnect) cables, which are specific to manufacturers.
Use one headset with multiple devices. USB headsets are more versatile than traditional wired headsets because you can also use them with your desk computer or laptop. Instead of buying a headset just for a desk phone, you get one that works across devices.
Firmware updates. USB headsets get better over time as manufacturers push updates to improve, for example, interoperability or noise reduction. Typically, all you need to do is plug it into a computer with a headset management application like Jabra Direct or Yealink USB Connect on it. The app will tell you if there is a firmware update available.
Industry trends. This is a bit of a macro point but because of all the reasons above and more, the industry is trending to using USB headsets for wired headsets. Newer VoIP phones increasingly have USB ports that support headsets. Because more attention is being paid to USB headsets, you get firmware updates, you get more choice, you get better competition. Now is the time to buy USB headsets for VoIP phones.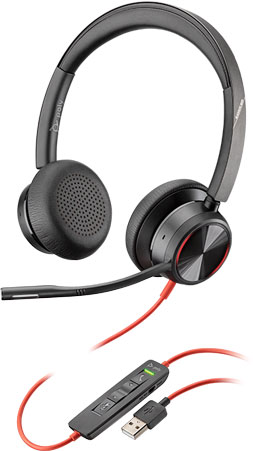 Questions to ask when shopping for USB headsets for VoIP phones
Our headset experts have come up with a list of questions to ask when looking for a USB headset.
Does the USB port support headsets?
How many USB ports does the phone have? What are you using them for?
Are there wireless USB headsets?
Are there VoIP phones that support USB-C headsets?
Does the USB port support headsets?
Always check that a VoIP phone's USB port supports headsets. Many VoIP phones have a USB port but not every USB port works for headsets. Just because a phone has a USB port does not mean you can use a headset with it. Sometimes it can be a bit confusing, like how Poly VVX 450 has dual USB ports that the manufacturer says are for "media and storage applications." Does that mean you can use them for USB headsets like Poly Blackwire 8225? The answer is yes.
How do you know if the USB port is compatible with a headset? Most manufacturers have compatibility guides like these (external links):
If you can't find the information there, check the phone's datasheet, which you can find under the product description on IP Phone Warehouse or on the manufacturer's website.
How many USB ports does the phone have? What are you using them for?
Some VoIP phones have only one USB port, but some have multiple USB ports. As with a computer, you need to make sure you have the ports you need for every application. What do we mean?
Take Yealink T43U as an example. This VoIP phone has dual USB ports, both of which support many devices. Let's say you want to use the phone with an expansion module to add feature keys. The Yealink EXP43 expansion module connects via USB: that's one port down. And let's say you want to connect the phone to your network via Wi-Fi. T43U doesn't natively support Wi-Fi. You need to use a Yealink WF40 or WF50 dongle to connect it to Wi-Fi: that's the second port. Suddenly, if you want to use a Yealink UH34 Headset to take advantage of its enhanced integration with Yealink phones, you've run out of ports.
So before you invest in a USB headset, make sure you have an open port for it based on what you believe will be the most common scenario for how you'll use the phone.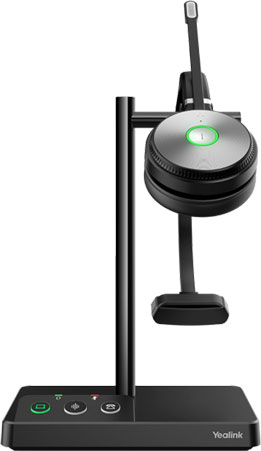 Are there wireless USB headsets?
Yes, there are headsets that connect to your VoIP phone via USB but are still wireless. It might sound like a contradiction, "wireless USB headset," but it's not. The Yealink WH6X Series of DECT Headsets, for example, has a base station that connects to a VoIP phone via USB. The headset communicates with the base via DECT, which gives it excellent audio quality with an extended wander range. So for a headset like Yealink WH62 Mono UC, you get the plug-and-play convenience of a USB headset with the worry-free wandering of a wireless headset.
In fact, the WH6X Series goes one better, because it connects via USB to both a VoIP phone and computer simultaneously. You switch between the two by pressing a button on the base.
What's particularly great about these Yealink headsets is that you never need to worry about EHS cords. It can be very difficult to figure out which EHS cable is compatible with which VoIP phone. With USB, you never have to worry about it.
Are there VoIP phones that support USB-C headsets?
We've been talking about USB headsets but really we've been talking about "USB-A" headsets. USB-A is the form of plug that we still mostly think of when we hear "USB": rectangular and non-reversible. USB-C is the smaller, pill-shaped and reversible plug.
USB-C is steadily gaining in market-share. Almost all VoIP phones that supports USB headsets have USB-A ports, but it's only a matter of time before USB-C ports start appearing on them. To the best of our knowledge, the Poly CCX Series are the only phones with USB-C ports that support headsets available today.
When it comes headsets, there are two potential advantages for USB-C. First, the plugs are reversible, so you don't need to worry about which side of the plug is which. Second, you might be able to use the headset with your smartphone, provided the smartphone has a USB-C port.
Related Blogs