Wireless Headsets are oh so convenient. No cable, no fuss. But using them with all your business communications devices can be sometimes tricky.
Most workers would want to use the same headset for all their calls, regardless of what device those calls come in on. So many workers today are faced with the situation of wanting to use a wireless headset for both their desk phone and their computer.
The scenarios in which this would happen are increasingly common. Your office might use Zoom for video conferencing and you need to join on your computer. Or maybe you need to join a group call on Microsoft Teams, which your company uses as a meeting platform, and you use Teams in your web browser. Or maybe your business uses RingCentral for telephony, in which case being able to use the RingCentral softphone on your PC is highly convenient.
If you receive calls both on a VoIP phone and on a computer, can you use the same wireless headset for both without awkwardness?
Yes. There are two methods for connecting a wireless headset to a phone and computer simultaneously:
For DECT headsets, certain base stations offer multi-device connectivity
For Bluetooth headsets, you can use Bluetooth, either directly or through a base station
Let's examine both ways. We cover limitations to both methods, which you should be aware of.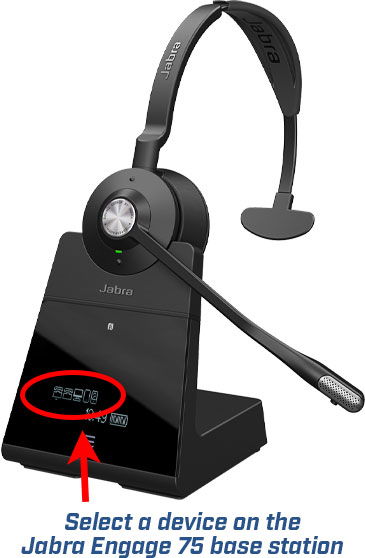 Using a base station to connect your DECT headset to a phone and a computer at the same time
In the world of wireless headsets, DECT headsets offer several advantages over Bluetooth headsets. In particular, they have a much greater wireless range, which makes them highly desirable for workers.
But there's a problem: no computer (that we know of) natively supports DECT. So how do you use a DECT headset with a computer?
You connect to a computer through the DECT headset's base station. (Recently, manufacturers have also started to release USB DECT dongles, which connect headsets to computers more directly. We're not going to cover those here.)
Some DECT base stations offer multi-device connectivity. That is, the base station connects to two or more devices at the same time and allows you to switch between them.
For example, Jabra Engage 75 has a base station that can connect to a computer and a phone at the same time. Actually, it does more, because the base station also supports Bluetooth, letting you use a DECT headset via Bluetooth with a smartphone or tablet. To switch between devices, you simply select the device you want to use the headset with on the touchscreen display on the base station.
This method depends on the base station supporting multi-device connectivity. If the convenience of using one DECT headset with phone and computer at the same time appeals to you, make sure the headset you want has a base station that supports this feature.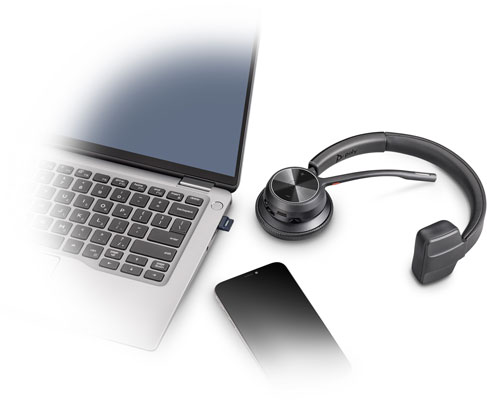 Using Bluetooth to connect your Bluetooth headset to a phone and a computer at the same time
There are two ways to use a Bluetooth headset with multiple devices: through the headset itself or through a base station.
Most Bluetooth devices released today support simultaneous connectivity to multiple devices. You can use this feature to connect to your VoIP phone and computer at the same time.
First, you need to ensure that your headset does, in fact, support multi-device connectivity. This information will be listed on the headset's datasheet, which you can find on our website or the manufacturer's website.
Second, you need to connect the headset to the two devices. To connect a Bluetooth headset to a VoIP phone, you'll need to ensure that the phone supports Bluetooth. The phone might support Bluetooth natively or it might require a USB Bluetooth dongle. To connect one to a computer, you'll need a USB Bluetooth dongle. Many Bluetooth headsets come with a USB dongle. For example, the models in the Poly Voyager 4300 Series like Poly Voyager 4310 UC come with a BT700 USB Bluetooth dongle (either USB-A or USB-C).
Connect the headset to the two devices, just like you would connect any other Bluetooth device. When a call comes in, if it doesn't automatically route to your headset, select the headset as the audio device.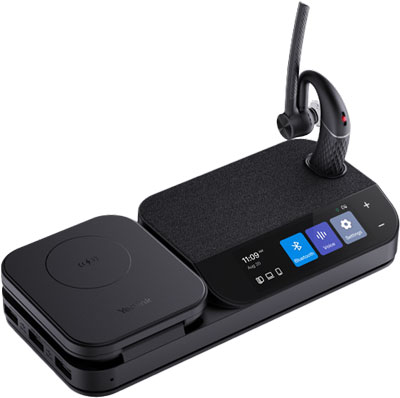 The new Yealink BH71 Workstation offers a second method for using a Bluetooth headset with multiple devices. BH71 is a Bluetooth earhook headset that you can use with mobile devices like any other Bluetooth headset.
But it also can come with a workstation. This base station connects directly to multiple devices like a computer and VoIP phone, similar to what we talked about under DECT headsets above. The headset communicates with the base station, which has a touchscreen display to let you switch between devices. It streamlines the multi-device process.
And, while we're at it, we should mention the BH71 Workstation is also a Qi wireless charging pad, three-port USB hub, speakerphone, and headset charger.
Related Blogs