Our team of experts has assembled what we think are the six best Wi-Fi VoIP desk phones of 2023. Want to know what they are? Check out our brand new video!
Introduction to Wi-Fi VoIP desk phones
Wi-Fi VoIP Desk Phones are an increasingly popular solution for professional business communications. Let's break down that term.
A desk phone is still prized for work, not just for its familiarity, but also because having a dedicated device for your communications streamlines your workflow. You get the keypad, the speed dial buttons, the speakerphone, the display to show you who's calling. Desk phones are valuable.
VoIP phones communicate using internet technologies, rather than traditional telephones, which run over a separate system called the Public Switched Telephone Network (PSTN). If you want to learn more about VoIP phones, check out our clear, detailed VoIP Phones Buyer's Guide.
VoIP phones connect to a VoIP phone system, whether that's an on-premise IP PBX or a cloud phone service (also known as a hosted VoIP service) like Zoom, Vonage, 8x8, Dialpad, etc. The VoIP phone system controls all the communications features for the phone.
In other words, you can't just connect a VoIP phone to the internet and expect it to work. It won't. The phone must be connected to a VoIP phone system, which it does via standard internet technologies like Ethernet or Wi-Fi.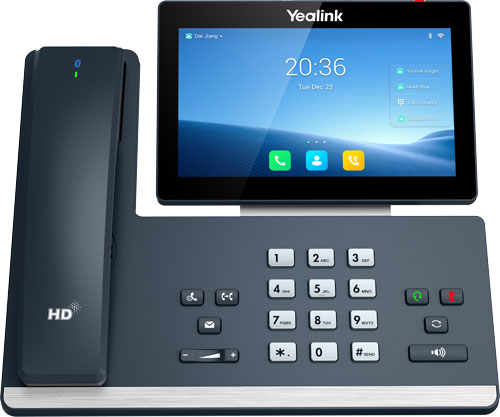 That brings us to Wi-Fi phones. They're simple to explain: they connect to the network via Wi-Fi vs an Ethernet cable. When it comes to Wi-Fi support, there are two varieties of VoIP phone.
Some have built-in Wi-Fi radios, which means that the phone natively supports wireless network connectivity. All our expert recommendations for Wi-Fi VoIP phones have built-in Wi-Fi radios.
Some VoIP phones have a USB port that you can plug a Wi-Fi dongle into, thus enabling Wi-Fi connectivity. The phone without the dongle won't support Wi-Fi. With the dongle, however, you get excellent wireless network connectivity. These dongles are almost never included with the base phone, so you have to buy them separately.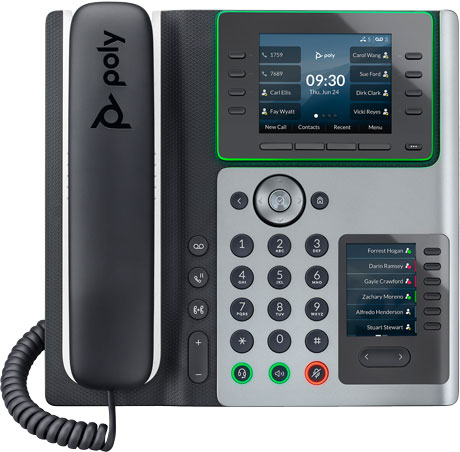 Advantages of Wi-Fi VoIP desk phones
The primary advantage of using a Wi-Fi phone is flexibility. You don't need to worry as much about placement, because you don't need to worry about running Ethernet cables anywhere. A bonus advantage is that, because you're not running cables anywhere, Wi-Fi phones make for a tidier, less cluttered workspace.
Wi-Fi phones are great for office workers, because of this flexibility. But they're particularly prized by home office workers. Home office Wi-Fi phones mean there's no need to run cabling around your house. You can use the same Wi-Fi network you already have. Simple.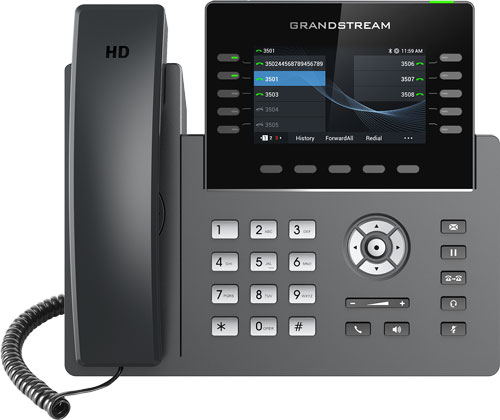 Concerns with Wi-Fi VoIP desk phones
There are two primary concerns to address when using a Wi-Fi VoIP desk phone. These concerns apply equally whether you're using it in the home office or the regular office:
Wi-Fi signal strength and stability. We all know that Wi-Fi signal strength can be fickle. If you're using Wi-Fi for business communications, even small hiccups in connectivity can be devastating. So you'll have to ensure your Wi-Fi signal is strong where the phone is located.
Power supply. For almost all Wi-Fi phones, you'll need to use an external power supply to power the phone. Power Over Ethernet (POE) will be disabled. Most VoIP phones don't come with power supplies in the box; they need to be bought separately.
Related Blogs