Open-plan offices, let's be honest, have a mixed reputation. They're intended to promote collaboration and creativity. But for many people, the chaos and noise are distracting.
VoIP phones reduce distractions in the open-plan office. In particular, they help to create what American Express calls: Small Spaces for Thinking.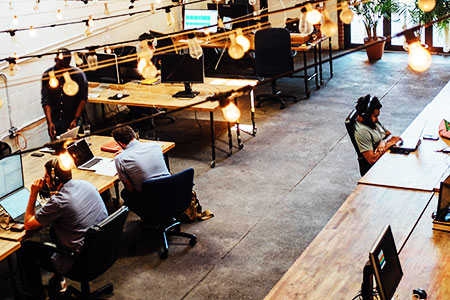 Small Spaces for Thinking
To be productive, it is important to find space to think. But in the open-plan office it can be hard to find physical space apart from other people.
When you're on a call, a VoIP phone can create the illusion of space with advanced background noise reduction technologies. For you and the person on the other line, you'll sound like you're in a room by yourself.
In a similar fashion, using a noise-cancelling headset can help you feel like you're in your own space.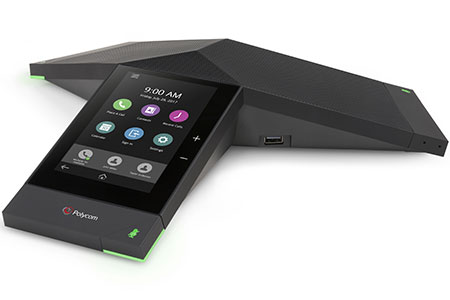 Background Noise Reduction
When searching for background noise reduction, you can't do better than a Polycom VoIP phone with Acoustic Fence and NoiseBlock, or a Yealink VoIP phone with Acoustic Shield.
Polycom Acoustic Fence
Polycom Acoustic Fence is a set of technologies designed to create a virtual "fence" around a conversation. All noise outside that "fence" is cancelled out using advanced echo cancellation techniques.
It uses multiple microphones to determine what is a speaker's voice and what is extraneous sound. It then blocks out all that other sound.
All of the new Polycom VVX 50 Series IP Phones like Polycom VVX 350 IP Phone support Acoustic Fence.
Polycom NoiseBlock
Polycom NoiseBlock is a second noise reduction technology to provide space to think.
Using NoiseBlock, a Polycom phone listens for when people are talking and when they're not. It mutes the microphones when no one is talking. This gets rid of a huge amount of distracting noise.
In particular, NoiseBlock is effective against those little noises that you don't really pay attention to when you make them but are really distracting on calls: bag crinkling, paper shuffling, pen tapping, key tapping, wrapper opening.
Polycom Trio 8500, an ideal conference phone for group calls in huddle rooms, supports Acoustic Fence and NoiseBlock.
If you're looking for an inexpensive, portable device for professional audio, Polycom VoxBox, a Bluetooth and USB speakerphone, also supports NoiseBlock.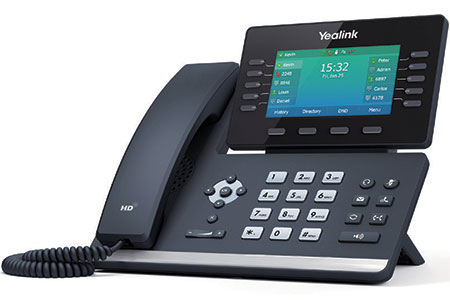 Yealink Acoustic Shield
The new Yealink Acoustic Shield technology provides incredible background noise reduction.
It uses an array of microphones to determine what sound is being produced by the speaker and what is just background sound. It then intelligently "shields" the phone from the background sound.
The result is clearer communication for you and your contact. It creates that small virtual space that helps so much in the open-plan office.
You can find Acoustic Shield on Yealink T5 Series Phones, including the Yealink SIP-T54W Wireless IP Phone. Yealink T54W has other excellent features, including built-in Wi-Fi to let you position it wherever you want in the office.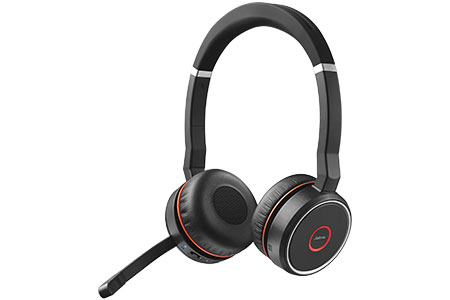 Noise-Cancelling Headsets
For many open-office workers, headsets are a necessity. They allow you to focus and concentrate by blocking out distractions.
The Jabra Evolve Series of headsets was specifically designed for the open office. We're going to use Jabra Evolve headsets to investigate how to create small spaces for thinking.
Active Noise Cancellation
There are two types of noise cancellation: passive and active.
Passive noise cancellation refers simply to blocking out sound. Every stereo headset, because the earphones cover both ears, provides passive noise cancellation. In many scenarios, passive noise cancellation is more than enough.
For the open-plan office, however, you should look to active noise cancellation, like you find with Jabra Evolve 80.
Active noise cancellation refers to technology that counters noise, thereby eliminating the noise from being perceived. What does that mean?
Jabra's active noise cancellation technology uses advanced microphones to sense low-frequency background noise. It then produces low-frequency sounds of its own that counteract the noise it's picking up. From your perspective, the two cancel out.
Active noise cancellation can really help you focus in the open-plan office.
Busylight
Headsets like Jabra Evolve 75 have a simple feature that helps you get privacy in the open-plan office: a built in "busylight."
Placed on the earphone and sometimes at the end of the microphone boom, a busylight illuminates when you're on a call or otherwise occupied. It gives coworkers a simple visual signal that you need space.