When it comes to office phones, the receptionist puts it through its paces more than anyone else. Because theirs is the first voice most callers will hear, it's vital that a receptionist's phone work well for them. Put another way, the receptionist's phone is probably the most important phone in the office. (Sorry, executives, but you know it's true!)
So what features should you look for in a VoIP phone for receptionists?
A quick note: in this blog, we cover topics that are specific to receptionist phones or administrative assistant phones. This means we're not covering topics like VoIP phone system compatibility or whether you should go with a Wi-Fi VoIP phone. If you want a thorough guide to VoIP phones in general, check out our clear, detailed VoIP Phones Buyer's Guide.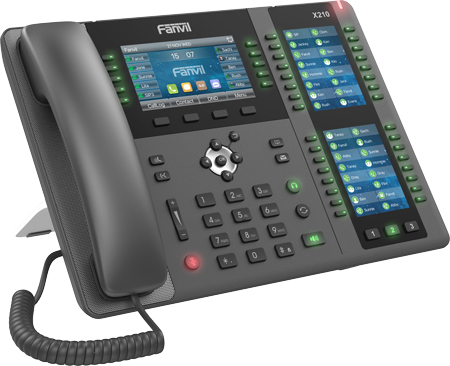 VoIP Phones for Receptionists Quick Buyer's Guide
We've broken down this buyer's guide for receptionist VoIP phones into four topics:
Keys
Expansion Modules, Attendant Consoles and Sidecars
Headset Support
Touchscreen Display
Keys
Let's start with the most important part of the receptionist's VoIP phone: the keys. There are a bunch of keys on a phone, of course, but we're talking about the ones on the side of the display, which are variously called line keys, multi-function keys, multi-purpose keys, DSS keys, BLF keys, speed dial keys and a bunch more besides. To learn more about VoIP phone keys, check out our blog: What is a DSS key on a VoIP phone?
These customizable keys let a receptionist dial an extension with just one press, streamlining their work process, especially for transferring calls. The keys have multi-color lights: green for open, red for busy. These lights let the receptionist check the status of the line, so they'll know at a glance if an extension is busy. For example, a receptionist in a clinic with multiple doctors might need to guide patients to the correct extension without disturbing the current session in progress. You can see why having many keys can be vital.
Depending on the size of your business, the receptionist will need more or fewer keys. At the upper end, a VoIP phone will likely have 16 keys around the primary display. Some phones support multiple pages of extensions on the main display. For example, Yealink T43U has eight line keys. You can program one of these keys to be for flipping through up to 3 pages, which means the phone actually comes with 21 potential keys.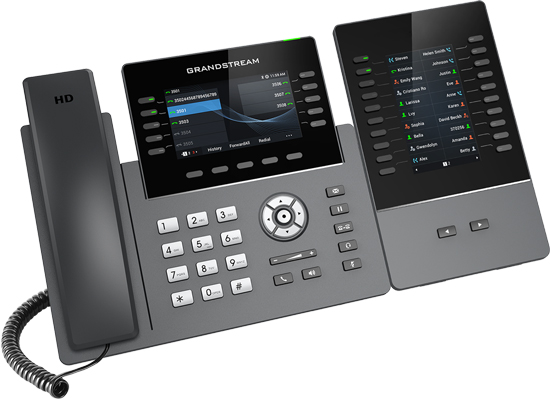 Expansion Modules, Attendant Consoles and Sidecars
You don't need to buy a phone with all the keys out of the box. You can also get an Expansion Module, which is also known as an attendant console or sidecar. An expansion module is a device that attaches to a phone to give it more keys. For example, Yealink EXP50 adds 20 additional keys to a compatible Yealink T5 Series IP Phone. EXP50 supports three pages of keys, too, which means a single module adds 60 keys. And you can daisy-chain up to three of them to one phone, adding 180 keys in total. EXP50 works with many Yealink phones, including Yealink MP58, Microsoft Teams Edition. If your business uses a Microsoft work environment, having extra keys for Teams extensions might be a real selling point for a Yealink solution.
Some phones have secondary displays with extra keys that function as built-in expansion modules. These are most often referred to as integrated sidecars. For example, Fanvil X210 comes out of the box with an incredible 42 keys: 10 next to the display and 32 in the integrated sidecar. Because the sidecar supports three pages of extensions, you get 106 keys in total.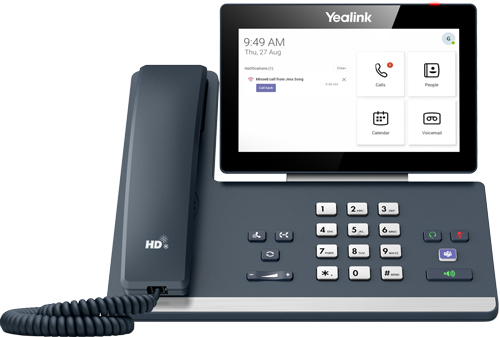 Headset Support
Depending on their preference and how many calls they must take, a receptionist might want to use a Headset. There are few headset options. The big difference between them is wired vs wireless.
Does the receptionist need to get up and walk around? Then a wireless headset lets them monitor the phone while away from their desk. There are two primary options for wireless headsets: Bluetooth headsets and DECT headsets. Some VoIP phones now natively support Bluetooth while some require an additional USB dongle. DECT headsets typically communicate with a base station, which connects to the phone, although USB DECT headset adapters are starting to appear on the market.
If the receptionist tends to stay at the desk, a wired headset, which is generally less expensive, will work just fine. For wired headsets, you also have two choices: RJ9 or USB. RJ9 headsets plug into a port on the back of the phone that's basically the same as a phone's handset jack. USB headsets use, well, a USB port. For more, check out our blog: Using a USB headset with a VoIP phone.
You'll want to make sure that the VoIP phone supports the headset you want to use. For example, Grandstream GRP2615 supports traditional RJ9 wired headsets and wireless Bluetooth headsets. It also has a USB port, but this USB port is not used for headsets. Instead, it's used to connect to a Grandstream GBX20 Expansion Module. So it makes an excellent administrative assistant VoIP phone because you can get lots and lots of keys, but if you need to use a USB headset, you'll need to look elsewhere.
Want to learn more about headsets? Check out our comprehensive Headsets Buyer's Guide.
Touchscreen Display
A receptionist needs to use the phone a lot, so you want it to be ultra-simple to use. For many people, especially younger workers who grew up with smartphones and tablets, touchscreen displays are the most familiar, easy to use interfaces.
For example, Yealink T57W not only supports Wi-Fi network connectivity and expansion modules, but it also has a large 7-inch touchscreen display, which makes it a joy to use. The extensions are easier to read, caller ID is clearer, and so on.
Have any questions about VoIP phones for receptionists? Get in touch! Our experts are waiting to hear from you.