In recent months, Poly has released two solutions for video conferencing in large rooms: Poly Studio E70 and Poly Studio X70.
These devices feature exquisite optics and advanced intelligence, enabling professional grade video calls without needing to worry about connecting a whole slew of peripherals. They share many features, including dual 4K Ultra HD cameras and support for automatic speaker tracking and group framing.
But they're named so similarly, some people are getting confused. How are Studio E70 and Studio X70 different?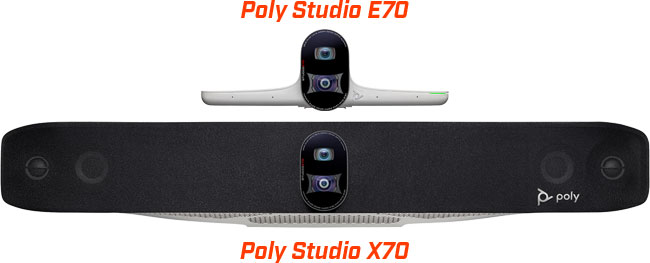 Poly Studio E70 vs Poly Studio X70
The biggest difference between the two is that the Studio E70 is a camera while Studio X70 is a video bar.
This means that Studio X70 has professional grade microphones and speakers for use on a video call, while E70 is intended to be used with external microphones and speakers. Additionally, Studio X70 can also act as a SIP or H.323 video conferencing codec or be used with cloud video conferencing platforms like Zoom, GoTo and RingCentral.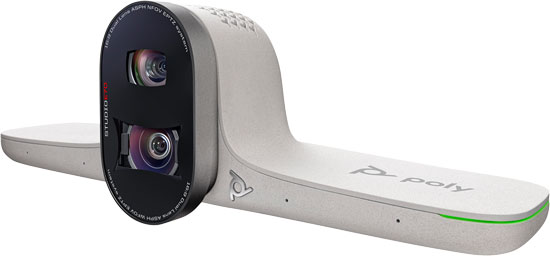 Studio E70 is Poly's new top-tier video conferencing camera. It provides a more affordable alternative to the well-loved Poly EagleEye Director II camera system. In fact, it upgrades your experience in several ways. For example, EagleEye Director II uses two separate 1080p Full HD PTZ cameras and connects via HDCI. Studio E70, on the other hand, integrates two 4K Ultra HD cameras in one device and connects via USB to Poly G7500 and Poly Microsoft Teams Rooms on Windows Solutions. (Support for standard USB connectivity will come in a future software release.) The cameras don't need to physically pan, tilt or zoom: they do it electronically. The ePTZ camera actually out-performs many traditional PTZ cameras, in part because of the leeway afforded by its two ultra-large 20 MP sensors. Studio E70 is significantly smaller than EagleEye Director II and can even be mounted upside down on the bottom of a display using an optional display mounting kit. (Don't worry: it flips the image.)
E70 is much smaller than X70:
Poly Studio E70: 12.63 in (W) × 4.02 in (H) × 5.51 in (D)
Poly Studio X70: 33.08 in (W) × 5.33 in (H) × 4.62 in (D)
Why is it so much smaller?

Studio X70 is the highest-end model in the Poly Studio X Series of video bars. It includes the dual 4K cameras but adds HD microphones with 25-ft range and a stereo speaker array. The array is composed of two mid-range speakers and two tweeters with aluminum cones. It has fine-tuned bass ports for extra richness in the audio. The microphones ensure that people in the back are heard as clearly and at the same volume as the people in front.
As it's a Poly device, you know the audio will be top-notch. NoiseBlockAI dynamically mutes and unmutes the microphone to eliminate the transmission of noise like the rustling of paper or the crinkling of wrappers when no one's talking. Acoustic Fence senses how far away sounds are coming from and eliminates sound beyond a set distance. Imagine having a wall around your conversation to block noise without a wall actually being there: that's Acoustic Fence.
The video bar is a full video conferencing codec with SIP and H.323 support. It has a variety of connectivity options, including Bluetooth 5.0, which lets you share content using Apple AirPlay, Miracast or the Poly content app. Studio X70 has two HDMI video outputs and supports dual displays, so you can have, for example, people in one screen and content in the other. Both people and content have a maximum resolution of 4K Ultra HD (3840 x 2160 px). To reduce network load, it supports ultra-efficient H.265 video compression. It has dual Gigabit Ethernet ports and supports 802.11 ac Wi-Fi with multi-channel concurrency.
You can manage the video bar using the Poly TC8 Touch Display, a dedicated 8-inch tablet. Poly offers a Studio X70 and TC8 bundle, or you can buy the touch display separately.

What Features Do Studio E70 and Studio X70 Share?
All this said, the two devices share many features, starting with dual 4K Ultra HD cameras with individual 20 MP sensors. One camera is wide-angle with a 120° horizontal field of view; the other is narrower with a 70° horizontal field of view. The two cameras cover all situations. If people are seated closer to the camera, the wide-angle picks them up. If people are seated farther away, the narrower lens makes sure they're seen in lifelike detail.
They use AI-powered intelligence to improve on the standard video conferencing experience. Poly DirectorAI technology uses their beamforming microphone arrays to provide pinpoint accurate speaker tracking and group framing, as if there is a director controlling the video during a call. The real-time automatic transitions have been optimized, using smooth pans and zooms or a subtle dissolve cut to deal switch between speakers, reframe the group and so on.
Both devices also have motorized electronic privacy shutters that automatically close when they're not in use. They automatically open when it's time to go.
Future Software Releases
According to Poly's product roadmap, both devices are going to get even better soon. On top of the current DirectorAI technologies, Poly intends to add presenter tracking plus support for Zoom Smart Gallery and Microsoft Front Row.
While for now Studio E70 is used with Poly G7500 Video Conferencing System and Poly Microsoft Teams Rooms on Windows Solutions, standard USB connectivity for use as a peripheral for other platforms is coming.
They both have built-in air quality sensors, which will be able to be used to measure CO2 levels.
Related Blogs