Let's face it: Video Conferencing Equipment can be confusing when you're trying to get all the cameras, microphones, speakers and cables to connect to right things. Will it be compatible? Does this work with that?
Video Bars are an increasingly popular solution for simple, professional video conferencing. But there's often been a limit to how big of a room you can use a video bar in. The microphones don't quite have the reach you need for a large conference room, the speakers aren't quite powerful enough, the camera doesn't quite provide the detail so the whole group can be seen.
Enter the brand new Poly Studio X70 Video Bar.
Designed for large rooms, Studio X70 gives you the convenience of an all-in-one, plug-and-play video bar with advanced audio performance and dual 4K Ultra HD cameras.
Studio X70 is available in two ways: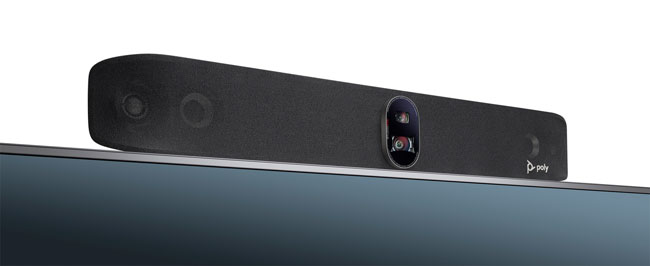 Poly Studio X70 Video Bar
Poly Studio X70 is a class-leading video bar that integrates dual cameras, specially tuned stereo speakers, powerful microphones backed up by advanced audio enhancements and video conferencing codec in a simple to use device. One video bar for everything.
There's so much to talk about. We'll take it feature by feature.
Dual 4K Ultra HD Cameras
Studio X70 has two built-in 4K Ultra HD cameras, which each have 20 MP sensors. This elite kind of detail is especially important in large rooms, where there are more people who might be farther away.
The two cameras have different lenses: wide and narrow. The wide-angle lens has a 120° horizontal field of view, making it ideal for situations where people are sitting closer to the video bar. The narrow-angle lens has a 70° horizontal field of view, giving it extra reach when people aren't as close.
If you require even more coverage, you can connect additional cameras via USB. When you're not using it, the motorized electronic privacy shutter protects your security.

Poly DirectorAI
The video comes with Poly DirectorAI technology.
DirectorAI enables extremely accurate automatic speaker tracking, which means the camera frames the active speaker when they start talking. It also enables group framing, which means the camera will frame the whole group no matter where they're sat around the room.
Poly has focused on improving the smoothness of the transitions between the different modes, lending a more natural experience to your video calls.
In addition, the video bar supports dual displays.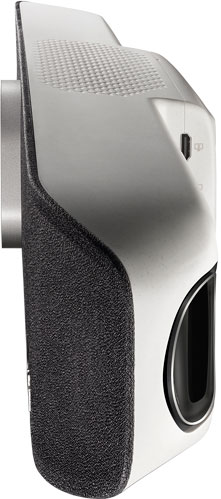 Audio Excellence
It's no surprise that Studio X70 offers first-class audio quality: it's a Poly product, after all. It supports class-leading audio enhancing technologies.
NoiseBlockAI senses when your side of the conversation is silent, dynamically muting and unmuting the microphones to eliminate noise like the rustling of papers, coughing and so on.
Acoustic Fence senses the distance of how far sounds are coming from and cuts out sounds beyond a certain distance. The effect is like there's a wall around your conversation.
The video bar has a second-order gradient microphone array with 25 ft reach. The multi-element stereo speakers include aluminum cone tweeters and custom tuned bass ports for extra richness in the audio. In other words, the mics and speakers are powerful enough to cover the board room with HD audio.

Wireless Connectivity for Sharing Content
Studio X70 supports Wi-Fi and Bluetooth. You can use the HDMI ports for wired connectivity. But you can also use wireless.
You can use Apple AirPlay and Miracast, as well as the Poly content sharing app, allowing you to share content from smartphone or tablets. This allows everyone, even guests, to collaborate.
It supports full 4K Ultra HD content sharing, giving you the same detail for your content as you get for your calls. The video bar supports whiteboarding to improve collaboration.
Native Video Conferencing Apps
Studio X70 supports SIP and H.323, the two most popular open video conferencing standards today, which means you can use it with a huge range of standards-based platforms. To learn more about SIP and H.323, check out our Video Conferencing Buyer's Guide.
On top of SIP and H.323 support, the video bar has native applications for numerous key platforms like Zoom and GoTo, which means you don't need a computer for collaborate. Poly Video App Mode lets you use it with pretty much every cloud service provider.
You can also use Studio X70 as a USB peripheral via Poly USB Device Mode. To learn more about Poly USB Device More, check out our blog: " What Is Poly Device Mode?".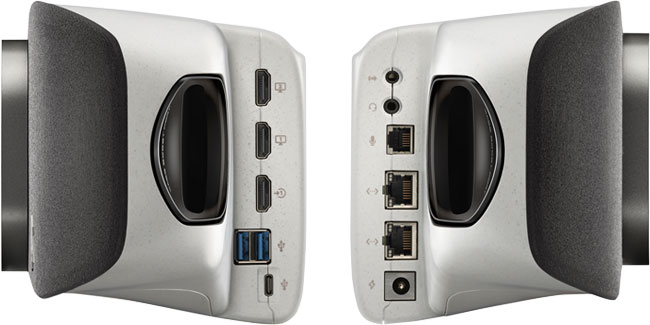 Upcoming Features
When you buy Studio X70 today, you're not getting a device with its features set in stone. Poly is working to provide you with an even better experience with regular updates.
Here are a couple of the features that Poly is working on now:
Presenter Mode. Presenter Mode is dynamic speaker tracking, which means the speaker can move around as they talk like a teacher in a classroom. Studio X70 will keep the speaker framed and focused perfectly. For more on Poly Presenter Mode, check out our blog, "Poly Presenter Mode: Video Conferencing Walk & Talk".
Air Quality Sensors. Studio X70 will be able to measure CO2 and VOC levels to maintain the health of your team.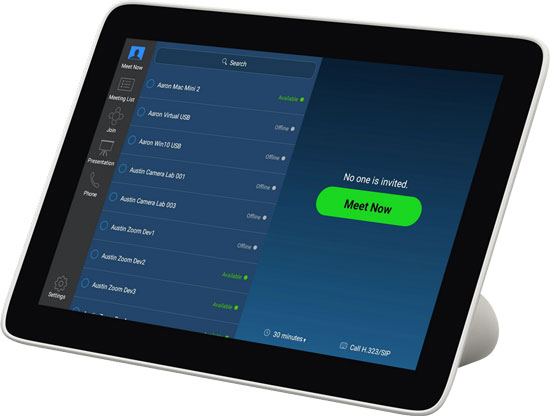 Poly TC8 Touch Display
If you want a simple touchscreen control unit, Studio X70 is available in a bundle with the Poly TC8 Touch Display or you can purchase it separately. TC8 is an 8-inch tablet that provides a dedicated controller for your video meetings.
You can, for example, have the TC8 located centrally to control the cameras when you're in a call. You can also use it for scheduling, managing meetings and more.
Related Blogs