Everyone knows Yealink makes some of the most popular business phones on the market. And everyone knows Yealink makes incredible video conferencing equipment, including full systems for Microsoft Teams.
But did you know that Yealink also makes headsets for professional hands-free communications?
With HD audio, Microsoft compatibility, and much more, Yealink headsets make business communications sense.
Don't believe us? Let's take a closer look at the Yealink UH33 Headset.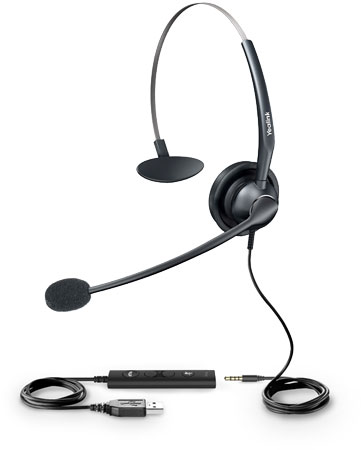 Plug-and-Play Headset
Yealink UH33 is a plug-and-play headset with dual connectivity: USB for computers and 3.5mm for mobile devices.
The headset has a 4-foot cable. This cable ends in a 3.5mm plug, which you can connect to a smartphone or tablet.
The package includes an inline controller. The controller has call management buttons: call answer/end, volume, and mute.
You can plug the 3.5mm cable into the inline controller. The controller has a 3-foot cable that ends in a USB-A (standard USB) plug, which you can connect to a laptop or desktop computer.
Thus, you can have professional audio on the go via 3.5mm or professional audio at the desk via USB.
Either way: it's a plug-and-play solution.
Note that when you connect via 3.5mm you don't have inline call controls — only when using USB.
Professional Audio
Yealink UH33 is a monaural headset with a comfortable over-the-head wearing style. Mono headsets allow the user to stay in touch with what is happening in the office without needing to take the headset on and off constantly.
The headset has a noise cancelling microphone that offer wideband HD audio.
The speaker also offers wideband HD audio, so voices will sound rich and natural, enhancing the conversation experience.
ActiveProtection technology acts to limit injury to ears — a serious benefit for long-term headset users.
The microphone boom bends 330° for simple adjustment. Remember that you want a headset microphone to be only a finger's width from your mouth for optimal performance.
The soft ear cushion and lightweight headband give you all-day comfort.
Compatibility
USB headsets are compatible with most softphones. Many IP phones now feature a USB port for use with a headset. UH33 works beautifully for either situation.
UH33 is certified for use with Skype for Business, so you get full call control with Microsoft's unified communications platform.
It is compatible with both Windows and macOS computers.
Yealink UH33 is compatible with the following Yealink IP Phones:
T41S
T42S
T46S
T48S
T53
T53W
T54W
T57W
T58A
VP59
For the T40 Series phones, make sure that they are updated to v. 82 or higher.
Related Blogs