Microsoft Teams Certified headsets integrate seamlessly with the Teams platform and provide an immersive experience to your desktop.
Microsoft requires that the headset has specific features to be certified, including:
Has a dedicated Microsoft Teams button with indicator light to activate the service
Can receive Microsoft Teams notifications
Has integrated call controls, including answer/end call, mute/unmute and volume up/down
Offers wideband audio quality with exceptional echo or distortion reduction
Supports firmware updates to improve features over time
Registers automatically by the Teams client
The convenience of using a wired headset is its plug-and-play functionality, allowing you to benefit from quick pairing and anywhere use.
So you must be wondering what the best Microsoft Teams wired headsets are? We've put together our top three picks. Read on to find out more!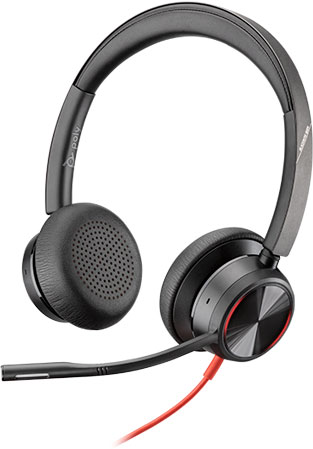 Poly Blackwire 8225 Microsoft Teams
Poly Blackwire 8225 Microsoft Teams Edition is a top-of-the-line wired headset. Poly produces some of the best headsets on the market due to their constant innovations in headset technology. Blackwire 8225 features Advanced Hybrid Active Noise Cancellation, which uses four microphones to sense and eliminate the sounds that you should and shouldn't hear.
On top of this, the Blackwire uses two additional mics to sense how far away sounds are coming from, creating a virtual fence around the speaker to eliminate any extra noise that may surround you. Acoustic Fence technology blocks out noises from barking dogs to high-speed blenders. This virtual perimeter ensures you're heard loud and clear but the many noisy distractions while working from home or in a loud open office are not.
This is the ultimate wired headset for noisy environments as its active noise cancellation gives the wearer a distraction free environment, along with tuning out unnecessary noise for the person on the other end. The cord on the headset features an inline call controller. The headset has a busylight to let your coworkers know when you're on a call.
Blackwire 8225 is a great headset if you're looking for something that provides professional quality that offers wired plug-and-play connectivity.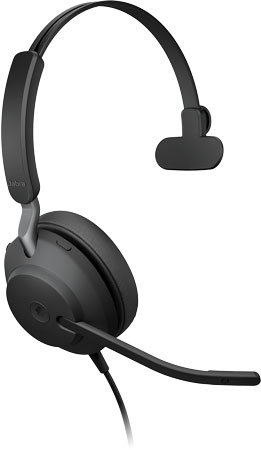 Jabra Evolve2 40 MS Mono
Jabra Evolve2 40 MS Wired Mono is a USB Microsoft Teams certified headset. Evolve2 40 meets the Microsoft Open Office standard for noise reduction and features a dedicated Microsoft Teams button. While this is still a monaural headset, it features a foamy earpad and angled design to cancel 48% more noise around you. If you love the wearing style of monaural headsets but feel as if they do not provide enough noise canceling you must try this headset.
Jabra is becoming a leader in headset innovation as they are constantly pushing out new features. The larger speaker and Jabra's most advance digital chipset make for a headset that delivers professional audio. Three digital MEMS microphone array isolates the wears voice to provide improved audio quality for the person on the other line. Keep your Jabra headset up to date and upgrade firmware straight from Jabra Xpress adding future value to your headset.
The Evolve2 40 provides users with all day comfort and enhanced teams collaboration. Call controls on the headset provide the wearer a tap to launch teams button with busy light. As Jabra continues to improve their products, they are becoming a go-to brand for people looking for headsets of the highest quality.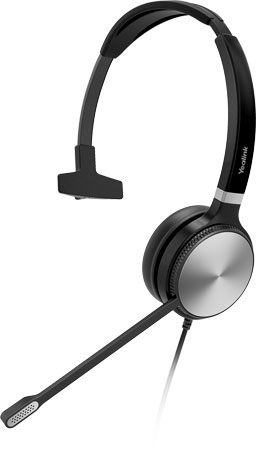 Yealink UH36 Teams Mono
Yealink UH36 Mono Microsoft Teams Edition is a professional communications headset from Yealink for those workers who are in the office and on the go. Wired connectivity allows the user to plug-and-play from any device. HD voice gives the wearer ultimate sound clarity while Dynamic EQ optimizes audio levels automatically, adjusting the sound based on what you are listening to. Pair this with wideband audio and noise cancellation, and both the wearer and person on the other line are provided with a crystal-clear audio experience.
The monaural design feature one leatherette cushion to provide the fit you like. The inline call controller assists you in efficiently managing phone calls. USB and 3.5 mm connectivity allows you to use this headset with PC and compatible Yealink desk phones.
This budget friendly headset provides the wearer with some of the latest in audio technology without breaking the bank.
Related Blogs