Microsoft requires that office headsets have certain features and meet certain audio standards to ensure a streamlined experience and professional performance. These requirements include:
Dedicated Teams button with LED indicator light to launch the service
Support for Teams notifications
Call controls, including answer/end call, mute/unmute and volume up/down
Wideband audio quality with no echo or distortion
Support for new features via firmware updates
Automatic device registering by the Teams client
To be a Microsoft Teams Certified headset, it needs to be a great headset and work seamlessly with the service. Workers love the convenience of a wireless headset, whether that's DECT or Bluetooth.
What are the best wireless headsets for Microsoft Teams?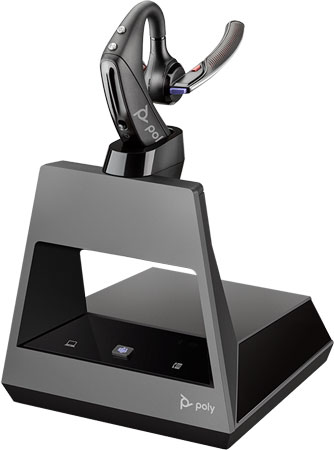 Poly Voyager 5200 Office Microsoft Teams Edition
Poly Voyager 5200 Office Microsoft Teams Edition is an incredibly popular Bluetooth headset. The ultra-lightweight mono earhook design means all-day comfort wherever you need to be. It uses a 4-microphone design to reduce noise and provide exceptional voice clarity.
The Microsoft Teams version has a dedicated button for launching the service both on the headset and on the base station. The base of the Teams version also has two other buttons on it for switching between your desk phone and computer. Because the headset uses Bluetooth, you can use it with your smartphone or tablet, too. In other words, Voyager 5200 Office works with all your devices.
On top of that, Voyager 5200 is as good in the office as it is on the road. For when you're using it outside, the headset has WindSmart, which uses six layers of technology to greatly reduce the amount of noise you transmit. It works for more than wind: it also reduces traffic noise, conversations around you and more. P2i coating protects it from moisture.
It offers 7 hours of talk time. If you need more, there's an optional charging case that holds two full charges: an extra 14 hours.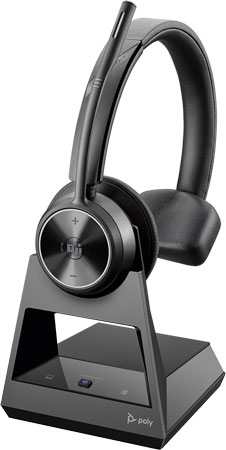 Poly Savi 7310 Office Microsoft Teams Edition
Poly Savi 7310 Office offers ultra-secure DECT communications for incredible wireless performance in the office. What do we mean by ultra-secure? It meets the highest current standard of security put forward by the DECT Forum, meeting DECT Security Step C. Among much else, it means military-grade FIPS 140-2 listed 256-bit AES encryption.
On top of that, Poly has designed it so you can deploy twice as many of the headsets in a given space without worrying about wireless signal loss compared with other DECT headsets.
Acoustic Fence technology means that the headset greatly reduces background noise. It establishes a virtual perimeter, eliminating sound beyond a certain distance. Because of its exceptional noise cancelling performance, the headset meets the Microsoft Teams Open Office standard. Its on-call indicator light lets coworkers know when you're on a call.
Savi 7300 Office headsets come with a 2-way base station that can connect to both a desk phone and computer at the same time. Switch between the two by tapping the capacitive buttons. Or launch Teams by tapping the Teams button. There's a Teams button on the in the center of the headphone, too. Visit our blog Poly Savi 7300 Office Series: Ultra-Secure Wireless Headsets for additional information on the 7300 Office series headsets.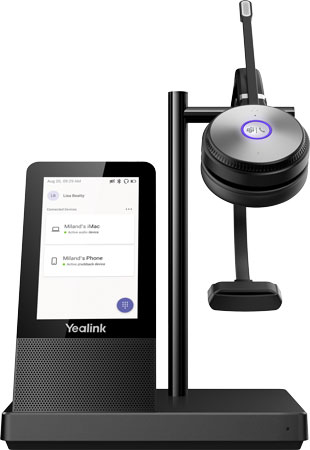 Yealink WH66 Microsoft Teams Edition
Yealink WH66 Microsoft Teams Edition is a professional DECT headset for first-class communications in the office. With HD audio quality and Acoustic Shield to reduce distractions, WH66 offers elite performance. Its integrated busylight reduces distractions from coworkers, perfect for busy workspaces. It has a dedicated Microsoft Teams button on the headset.
The headset's base is a selling point in itself. It has a 4-inch touchscreen display that you can use for dialing numbers and other common operations. It has a speakerphone for when you need it. When you buy this headset, you get two hands-free options. The base has a couple extra ports to act as a USB hub: connect more devices to your computer through the base.
If you want to make your life even better, get the optional Yealink WHC60 Wireless Charging Stand. This Qi-compatible smartphone charger plugs directly into the base, so you can charge your phone as you work.
Yealink WH62 Microsoft Teams Edition
Yealink WH62 Microsoft Teams Edition is a cost-effective wireless headset that includes Acoustic Shield noise reduction and HD wideband audio performance. Lightweight yet durable, WH62 is designed for longterm use in the office. And with 13 hours of talk time on a single charge, it offers all-day use, too.
The base has three buttons for Microsoft Teams, phone and computer: dual connectivity with your office devices. Conveniently, the base has a ringer so you can hear when you have a call even when you don't have the headset on.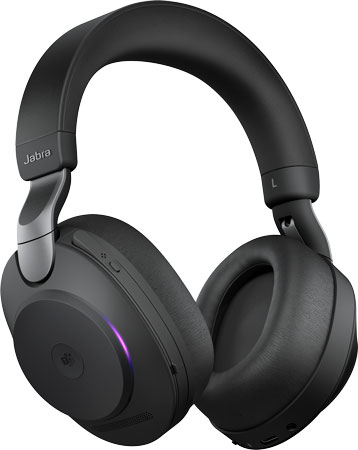 Jabra Evolve2 85 Microsoft Teams Edition
Jabra Evolve2 85 MS is an elite Bluetooth headset with a luxurious over-the-ear design and Active Noise Cancellation (ANC). The digital hybrid ANC system Jabra devised uses 10 microphones to cancel out noise. The dual 40 mm speakers mean the headset offers hi-fi audio quality, so you can use it for music and media, too.
For convenience, the headset can automatically detect when you're wearing it. And it also features HearThrough technology, so you can listen to what's happening around you without taking off the headset. It has call controls built into the headphones, including a dedicated Teams button. The on-call indicator shows a purple light to let colleagues know when you're on a Teams call.
It provides up to an amazing 20 hours of talk time on a single charge when using Active Noise Cancellation or 30 hours without ANC. The headset has been weighted for balance. Combined with the memory foam earcups, it's incredibly comfortable.
Related Blogs