Updated March 25, 2021
Big things are happening with Microsoft Teams. Recently, they announced that they have more than 13 million daily users and more than 19 million weekly users, an incredible achievement for a service that has only existed for two years.
Teams integrates phone calling, video conferencing, workplace chat, and file sharing in one cloud-based application.
New features are regularly being added: one-click meetings in Outlook, proximity detection for conferences, companion mode for mobile, and many more.
To take full advantage of the ever-expanding call capabilities of Teams, you need a Microsoft Teams compatible headset.
Why do you need a professional headset? Here are four reasons:
Business-class audio quality. Headsets give you the best possible audio quality on calls.
Softphone integration. Teams is wonderful as a desktop app, no desk phone required, but you still need a USB headset so you're not relying on inferior internal computer microphones and speakers.
Noise cancellation. Especially for open office or mobile users, you need noise cancellation to clarify the sound.
Simplicity. Reduce the number of devices to worry about and streamline your workflow: when you have a call, use a headset. You can get a single headset that will work across all your devices: desktop, laptop, tablet, and smartphone.
For an in-depth look at headsets, check out our Headsets Buyer's Guide >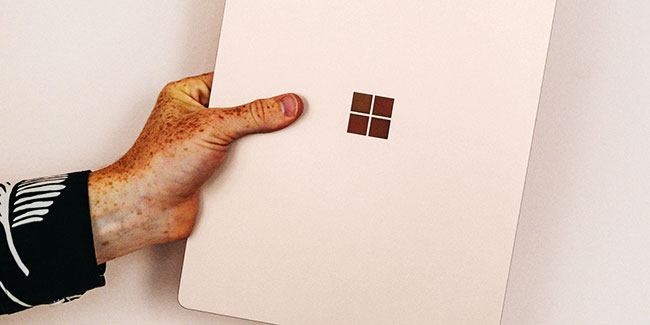 What Headsets Work with Microsoft Teams?
Microsoft has worked with the leading manufacturers to develop headsets for Teams.
With these headsets, you get a native Teams experience with no additional configuration required: plug-and-play.
The headset must offer professional audio quality to pass Microsoft's tests. If the headset itself supports call control, it will be able to control Teams calls.
Here are four recommended headsets for Microsoft Teams:
Jabra Evolve 65t True Wireless Bluetooth Earbuds
Jabra Engage 75 Stereo DECT & Bluetooth Wireless Headset
Plantronics Blackwire 5210 USB-A Mono USB & 3.5mm Wired Headset
Plantronics Voyager 8200 Stereo Bluetooth Wireless Headset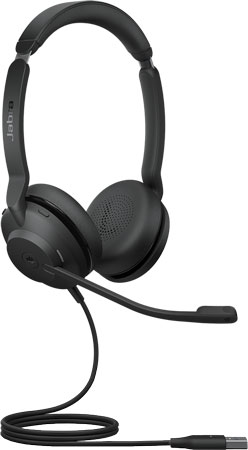 Jabra Evolve2 30 MS
Jabra Evolve2 30 MS is a plug-and-play USB headset with an advanced digital chipset. It gives you enterprise-class audio performance at an amazing price-point. This Microsoft Teams Certified headset has a dedicated button for launching the service on the headset itself, making it ultra-convenient. It also has call control buttons on the headset.
The headset has a 2-microphone array that it uses to sense what sound comes from your mouth and what is just background noise. This means your voice comes through crystal-clear.
A subtle design note that shows Jabra's attention to detail is that the earcups of the Evolve2 30 have been precisely angled to sit more comfortably on your ears. Add to this the soft padding, and the earcups naturally dampen noise.
For workers in busy offices, the headset has an on-call indicator to let people know when you need to focus.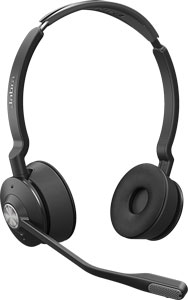 Jabra Engage 75
Jabra Engage 75 Stereo is a premium wireless headset that integrates seamlessly with Microsoft Teams.
Engage 75 uses the wireless DECT protocol to offer incredible wireless range: up to 490ft!
Because it uses DECT, it can reduce spectrum density, which causes signal loss in offices with too many Bluetooth and/or Wi-Fi devices. It uses DECT Security Level C with 256-bit AES encryption and 128-bit authentication to protect your communications.
On top of that, it can also connect via Bluetooth, so you can use it with your smartphone or tablet.
Where Engage 75 really shines, though, is in audio quality. The advanced noise-cancelling microphone helps the headset to meet Microsoft's Skype for Business Open Office requirements.
And its dual enhanced speakers provide incredible sound quality.
You can control calls on the headset. It has an integrated busylight to provide a visual signal for when you don't want to be disturbed.
Its battery lasts all-day: up to 13 hours. If you're running low, you can charge from 0% to 40% in just 30 minutes.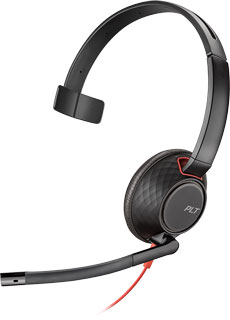 Plantronics Blackwire 5210
For everyday use with Microsoft Teams, Plantronics Blackwire 5210 offers plug-and-play USB connectivity. You can also connect using 3.5mm.
To use USB, you plug the headset's cord into the included controller. The controller connects via USB to your computer or desk phone. True to its name, it also gives you inline control for your calls.
Blackwire 5210 is a monaural headset that is lightweight and powerful. The soft earpad gives you passive noise cancellation. The microphone is precision tuned to reduce background noise.
The headset supports rich, natural wideband audio with integrated enhanced digital signal processing to further clarify sound quality.
Plantronics has developed Dynamic EQ technology, which adaptively optimizes sound quality for voice calls, music, and media.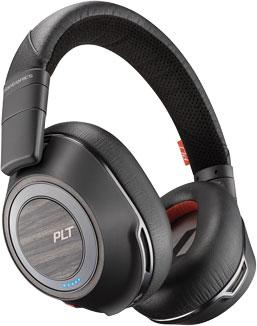 Plantronics Voyager 8200
Plantronics Voyager 8200 is a luxurious, boomless wireless headset for Teams that's as good in the office as it is on the road or on an airplane.
The boomless design gives you perfect sound quality without having an awkward microphone in front of your face.
How does it work? There are dual-paired omni-directional microphones in the headphones to pick up your voice. Enhanced noise canceling minimizes distractions like wind.
In fact, Voyager 8200 uses dual-mode active noise canceling technology. You can choose what setting suits the situation.
The headset gives you immersive high-resolution audio using an isolated stereo design. But if you want to hear what's going around, the OpenMic button lets you hear what's happening around you.
Voyager 8200 is a Bluetooth device, so it is compatible with all sorts of devices. Plantronics includes a USB adapter for connecting to your computer.
The headset gives you up to 24 hours — one full day — of calls or music.
Related Blogs