RingCentral is well-known as one of the leading business communications service providers today. RingCentral Rooms is their video conferencing app for Windows and macOS.
RingCentral has worked closely with manufacturers to provide you with video conferencing devices that seamlessly integrate with RingCentral Rooms. These devices include solutions for every size of conference rooms, from huddle rooms to large board rooms.
One of the manufacturers that RingCentral works with is Poly. They offer three kits for different size conference rooms:
The kits feature one of Poly's well-loved Studio X Series Video Bars, plus a Poly TC8 Touch Controller. All you need to do is connect the video bar to your network and to a display, then connect the controller to the video bar (either directly or through the network). Sign in, select your conference room, and you're good to go.

Setting up RingCentral Rooms on Poly Studio X30/X50 Video Bar
The setup is the same for Poly Studio X30 and Studio X50. Here are the step-by-step instructions when using one of the RingCentral Edition kits:
Connect Poly Studio X30/X50 to the network via Ethernet, to a display via HDMI and to power via the included power supply
Connect Poly TC8 to the network via Ethernet (note: TC8 is powered via PoE)
The two devices will automatically pair through the network
Launch the RingCentral Rooms app on TC8
Sign in
Select the room to which you want to assign the Studio X30/X50 and TC8
Enter the pairing code that appears
And you're done! It really is that easy.

How do you use an existing Poly Studio X Series Video Bar with RingCentral?
What if you already have a Poly Studio X Series Video Bar and TC8? Can you use it with RingCentral? Yes. Do you need to buy one of the Poly RingCentral Edition kits? No.
All you need to do is set up the video bar with RingCentral Rooms.
First things first: Update the video bar to the latest firmware version. (RingCentral may not be supported on video bars running older firmware versions.) After that, follow these directions:
Go to the video bar's web interface by entering its IP address into your web browser
Go to General Settings > Provider
Under Choose a Provider, select RingCentral Rooms
Save, and the device will reboot
Then all you need to do is use the process listed in the section above to sign in. You're done!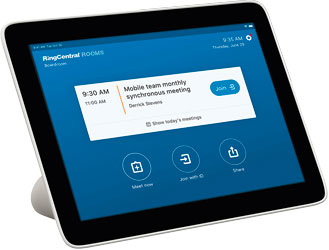 In this way, you can use an open edition (i.e., not one of the Microsoft Teams, Zoom or RingCentral editions) device for RingCentral. In other words, you can use an existing Poly Studio X30 or Poly Studio X50 with RingCentral.
Or you can buy a new open edition one. Here are the open edition equivalents of the RingCentral edition SKUs listed above:
This process also lets you use a Poly Studio X30 or Poly Studio X50 with many other service providers, including Microsoft Teams, Zoom, StarLeaf, GoToRoom, BlueJeans, Dialpad and more. Again, you should always update the video bar to the latest firmware before attempting to connect it to the service. (Note also that Poly Studio X70 doesn't yet support as many services, including Microsoft Teams.)
Related Blogs