Video conferencing is exploding in popularity.
As Blair Pleasant notes in a recent article on No Jitter:
"Many years ago, Cisco's John Chambers announced that 'video is the new voice.' While he was early in his prediction, he saw video communications overtaking voice communications. We're not there yet, but we're certainly on our way…"
As more businesses adopt the technology, the demand for better solutions increases.
In particular, businesses demand simplicity.
Why spend all that time managing a complicated system when you should be spending your time collaborating?
What you need are the radically simple, professional video conferencing solutions offered by Poly.
Poly Studio X Series makes HD video conferencing as easy as possible.
Imagine an all-in-one video bar with 4k camera and HD speakers and microphone. That's just the start.
Let's take a look.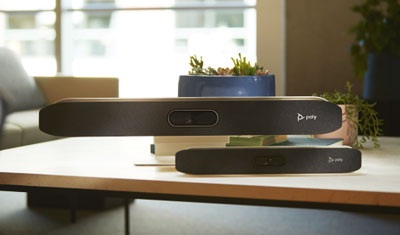 Poly Studio X Series Video Bars
Studio X50 comes in four packages, two with the Poly TC8 Controller and two without:
Poly has also announced Zoom Rooms editions of the Poly Studio X Series.
These models come pre-configured for Zoom Rooms, so you get an incredible video conferencing experience with seamless Zoom integration.
Check back soon for a full blog on the Zoom Rooms editions!
In this blog, we're looking at the SIP and H.323 edition.
Studio X video bars connect to standards-based video conferencing services without the need for a PC or laptop. They can also connect to third party video conferencing platforms using Poly Partner Mode and Poly Device Mode.

Poly Studio X30 Video Bar
Poly Studio X30 is an all-in-one video bar for huddle rooms, small enough to fit in a backpack yet powerful enough for a top-end professional experience.
Studio X30 features the legendary Poly sound quality with options for fullband audio. The acoustic chamber is designed to fill the room.
The beamforming 3 MEMS microphone array has a reach of 15ft, perfect for smaller offices and groups of up to 4 people.
On top of that, you get dedicated technology to improve audio quality.
The big breakthrough is NoiseBlockAI, which uses cutting-edge machine learning to greatly reduce background noise.
Studio X30 comes with a 4k Ultra HD camera, which has a 120° field of view, so everyone can be seen in lifelike detail even in the constrained space of the huddle room.
The 4k sensor and Poly's advanced technology enables speaker tracking with smooth panning and automatic group framing, as if you had a movie director for your conference — with no extra effort.
X30 supports 4k UHD resolution for video of people at 30fps and 4k UHD for content sharing at 15fps. Starting at 1080p Full HD, you get 60fps.
To keep your video feed from hogging all your resources, it supports ultra-efficient H.265 (HEVC) video compression.
Because the video bar has HDMI input and output, it connects directly to an HD display.
If participants want to share content, they can do so wirelessly: Studio X30 supports Bluetooth 5.0 and 802.11ac Wi-Fi with multi-channel concurrency.
You can even share content using Miracast or AirPlay.

Poly Studio X50 Video Bar
Poly Studio X50 brings big-time performance to small and medium offices of up to 10 participants.
It also works brilliantly in the classroom!
Studio X50 offers many of the same features as the X30 but with a few extras that really make it stand out.
To start, you get amazing stereo speakers, which make the conference that much more immersive.
You also get extended audio pickup with a next-gen beamforming microphone array that improves comprehension and reduces noise.
The second-order gradient microphone array has a reach of 25ft, enough for a classroom or board room.
The camera supports 5x digital zoom to pick out faces in larger rooms. You still get the speaker tracking with smooth panning and automatic group framing, too.
Studio X50 also supports dual HD displays, which is particularly important when you want to share content.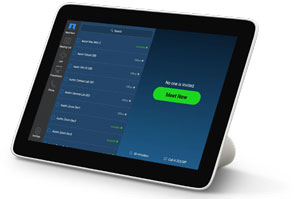 Poly TC8 Controller
Along with the new Studio X Series, Poly has released the TC8 Controller.
This intuitive touch control for video conferences is an 8" tablet with high-resolution display.
Instead of using a laptop or PC, all you need to manage your conference is this simple controller.
TC8 comes ready to connect to standards-based video conferencing systems, including cloud video services.
The Poly Video App lets you initiate or join meetings, as well as share content — right from the TC8. You can adjust the camera, change video layout, and much more.
It integrates with your calendar, giving you one-touch meetings.
When you buy a Poly Studio X30 or X50 package that comes with a TC8, the tablet will be pre-paired with the video bar, so you can be up and collaborating right away.
The TC8 controller is also, by the way, compatible with the Poly G7500 video conferencing system.
Related Blogs