As Yealink expands their portfolio of business communications tools, more and more professionals are choosing Yealink Office Headsets. With their expansion, they're also ensuring compatibility with existing devices. This is, however, an on-going process.
In this blog, we want to answer some questions that people having been asking us:
Are Yealink wireless headsets only used with Yealink phones?
Can you use a Yealink wireless headset with a third-party VoIP phone?
Can I use a Yealink wireless headset with my existing phone?
Yes, you can use Yealink wireless headsets with third-party phones. For example, you can use a Yealink Bluetooth headset with any VoIP phone that supports Bluetooth.
However, what if you wanted to use a Yealink DECT headset with a third-party phone? Can you do that?
Yealink has just released the Yealink EHS60 Wireless Headset Adapter. EHS60 lets you connect newer models of Yealink WH62 and WH63 DECT Headsets with a wide range of third-party VoIP phones from companies like Poly, Cisco and Grandstream.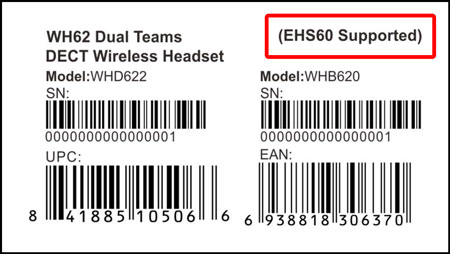 Important note
As of publishing (March 2022), Yealink EHS60 is only compatible with newer models of Yealink WH62 and Yealink WH63. It is not compatible with older models. To ensure compatibility, look for the headset's product sticker. If it's compatible, the sticker will have "(EHS60 Supported)" on it.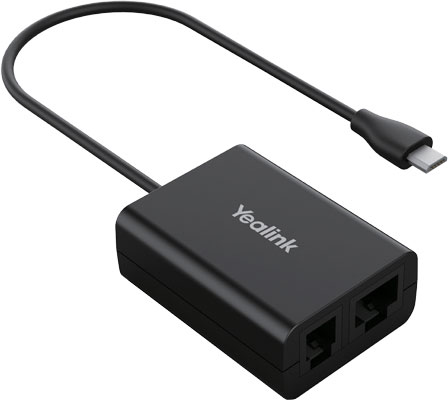 Yealink EHS60 Wireless Headset Adapter
Yealink EHS60 is a plug-and-play device that acts as an interface between your headset's base and a third-party phone. The headset communicates with its base and the base connects to the phone.
EHS60 lets you extend the lifetime of your current phones while obtaining the excellent audio quality of a Yealink headset with the convenience of DECT, including extended wireless range and reduction of spectrum density in the office.
Most importantly, it can enable remote call control features like call answer/end, mute, call hold and volume adjustment.
And it's really easy to use!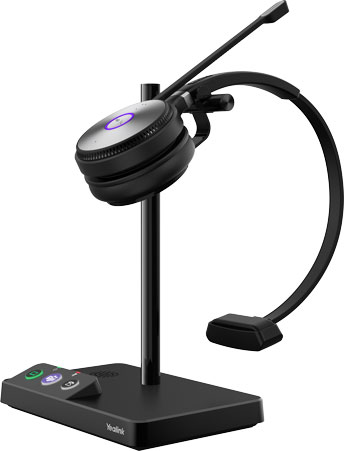 How to use Yealink EHS60
The first thing you'll need to do is make sure the WH6X base has the right firmware, which you do using Yealink USB Connect. For more on using that free headset management app, check out our blog: Yealink USB Connect makes managing your devices ultra-simple.
Then it's a simple two-step process:
Plug EHS60 into the WH6X base's Phone port. Note: there are two Micro USB ports on the bottom of the base. One of these ports is labeled "PC" with the USB symbol, while the other is only labeled with the USB symbol (i.e., there's no text). In their documentation, Yealink refers to the second one as the "Phone" port.
Connect EHS60 to the phone using the appropriate cable(s) follow the instructions in the included user guide.
The adapter comes with three cables for connecting to phones from various manufacturers:
Cable A. Avaya, Grandstream and Fanvil
Cable B. Cisco
Cable C. Poly (used together with Cable A)
Refer to the EHS60 user guide for instructions on where to plug in what cable.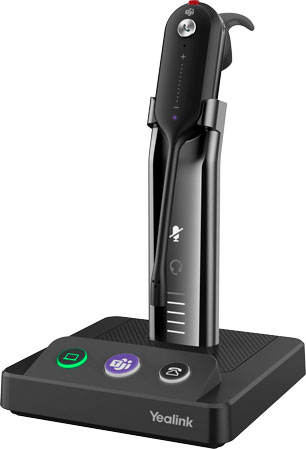 Yealink EHS60 Compatibility
As of March 2022, Yealink EHS60 is compatible with the following third-party phones:
Avaya 16xx Series; 96xx Series; J1xx Series
Cisco 6945; 7821, 7841, 7861; 7942G, 7945G, 7962G, 7965G, 7975G; 8811, 8841, 8845, 8851, 8861, 8865
Digium (Sangoma) D40, D60, D65, D80, D85
Fanvil X3 Series
Grandstream GRP Series; GXP16xx Series; GXP17xx Series; GXP21xx Series
Poly VVX Series; SoundPoint IP 320, 330, 331, 335, 430, 450, 550, 560, 650, 670
Curious about Yealink headset compatibility beyond the EHS60? We cover it thoroughly in our blog: Is your Yealink headset compatible with ____?
Related Blogs