Wireless headsets are incredibly convenient to use: no cables, no worries. But getting them to work with your desk phone can be a worry.
For example, do you have to use a Yealink DECT headset only with Yealink phones? No. The Yealink EHS60 Wireless Headset Adapter provides a plug-and-play method for connecting a Yealink wireless headset with a third-party phone when other methods, like USB connectivity, aren't available. You retain excellent audio quality and call controls.
We've covered the EHS60 in detail in a previous blog: How to Connect Yealink Wireless Headsets with Third-Party VoIP Phones Using Yealink EHS60. But there are no visuals to help in that post.
So we made a how-to video!
Dylan shows you how to connect a Yealink WH63 UC headset to a Polycom VVX 310 phone using the EHS60 adapter. Check it out!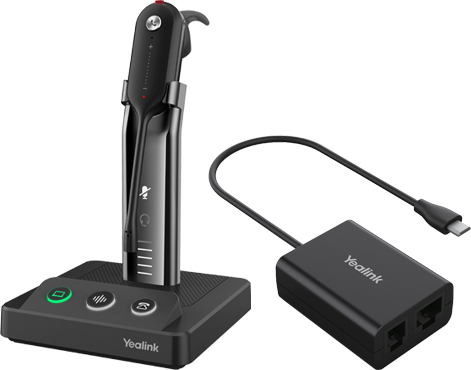 Yealink EHS60 Compatibility
As of December 2022, Yealink EHS60 is compatible with the following third-party phones:
Brand
Models
Avaya
16xx Series; 96xx Series; J1xx Series
Cisco
6945; 7821, 7841, 7861; 7942G, 7945G, 7962G, 7965G, 7975G; 8811, 8841, 8845, 8851, 8861, 8865
Digium
(Sangoma)
D40, D60, D65, D80, D85
Fanvil
X3 Series
Grandstream
GRP Series; GXP16xx Series; GXP17xx Series; GXP21xx Series
Poly
VVX Series; SoundPoint IP 320, 330, 331, 335, 430, 450, 550, 560, 650, 670
Related Blogs