Plantronics Savi 8200 Series provides the open office with a powerful, feature-packed wireless headset. Savi 8200 headsets feature an unprecedented wireless range, advanced noise cancellation, fullband multimedia audio, and much more.
With Savi 8200 headsets, you can connect to and switch between your smartphone, computer, and deskphone (only Office series models connect with deskphones) with just the tap of a button. They use the wireless DECT protocol with eight discreet security measures to provide professional communications.
But we're getting ahead of ourselves.
Plantronics Savi 8200 Series headsets come in mono or stereo. If you use a Microsoft communications solution like Skype for Business, Savi 8200 also comes in Microsoft certified models:
Let's take a deeper look.
Plantronics Savi 8200 Wireless Business Headsets
Plantronics Savi 8200 headsets were designed to meet the challenges of the open office and the demands of elite users.
They feature Plantronics's best audio yet. Savi 8220 gives you hi-fi stereo audio fit for an audiophile with active noise cancellation to block out background noise. Studies show that increasing audio quality improves how well you understand speech, so Savi 8200 headsets can improve productivity in the workplace.
Savi 8200 headsets also improve productivity by expanding what you can use the headset with. Your headset can connect to all your devices at once: computer, smartphone, and deskphone (only Office series models connect with deskphones). To switch between the devices, you just press a button. You can also conference two of the three devices while using the headset, so you can talk with someone through your phone and your PC at the same time.
The headsets use DECT to communicate with the base. The base connects to your computer using USB and your deskphone using the included telephone interface cable.
Using DECT enables an unbeatable wander range: 580ft line of sight or 180ft in a typical office environment. Just compare those numbers against a Bluetooth headset and you'll see the value of DECT!
But the headset makes sure you don't get too carried away with the extended range. It provides voice alerts in your ear when you're out of range. It also alerts you when you speak with the microphone muted.
The noise-cancelling microphone is at the end of a flexible boom that makes it simple to position correctly. (Pro tip. The ideal distance for a headset microphone is two fingers' distance from your mouth.)
Plantronics has developed Close Conversation Limiting technology to block out nearby voices, particularly important in open offices. SoundGuard DIGITAL protects your ears against loud noises above 118dBA and detects and limits signal changes to eliminate sudden increases.
Savi 8200 headsets secure your communications. They meet the latest DECT wireless standards. Among the eight discreet security measures are 64-bit authentication keys, an improved random number generator, and subscription verification.
Enable remote call control with a Plantronics EHS Cable or the Plantronics HL10 Headset Lifter.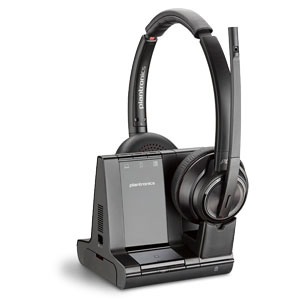 Savi 8200 vs Savi 700
The Savi 8200 Series replaces the Savi 700 Series as Plantronics's premier DECT business headset. What are the differences between Savi 8200 and Savi 700?
Extended Wireless Range. Savi 700 headsets could reach a respectable 350ft of wireless range in best conditions. Savi 8200 headsets have an unprecedented range of 580ft line of sight or 180ft in the office.
Call Control. Savi 8200 headsets add call control on the headset itself, increasing mobility.
Better Audio Quality. Savi 8200 headsets are great for listening to music with a fullband multimedia frequency response range of 20Hz to 20kHz.
Improved Battery Life. Both models of Savi 8200 feature up to 13 hours of talk time and up to 50 hours of standby time. Previously, only the 710 and 720 could reach 13 hours.
Advanced Bluetooth. Savi 700 headsets support Bluetooth 2.1. Savi 8200 headsets support Bluetooth 4.2, including A2DP, AVRCP, HFP, and HSP. A2DP enables stereo audio with better sound quality. AVRCP enables call control on your headset. HFP and HSP improve connectivity with mobile phones.
Improved Noise Cancellation. Savi 700 headsets feature excellent noise cancellation. Savi 8200 headsets go a step further with Close Conversation Limiting technology, improving call experience in open offices. Savi 8220 offers active noise cancellation, as well.
Ringer in the Base. The Savi 8200 base has a built-in ringer.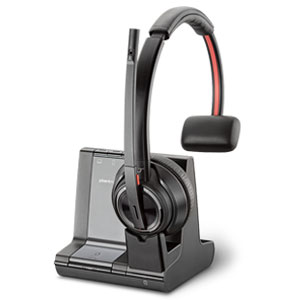 Wireless Spectrum Density
Let's take a moment to talk about one significant advantage about DECT: it can help with wireless spectrum density.
Every wireless technology uses specific sections of the wireless spectrum. For example, FM radio channels go from 88.1 to 107.9 in the United States. The spectrum for FM radio is 87.8 MHz to 108.0 MHz.
Have you ever wondered why FM channels are always odd? There might be 98.1 or 98.3, but there's never 98.2 between them. If you had channels for every 0.1MHz, the channels would start interfering with each other. The spectrum would be too dense.
If enough devices are using a single wireless technology, they interfere with each other, leading to signal loss or audio corruption.
The same goes for offices. Our devices are increasingly wireless, so spectrum density is becoming a real problem. Having too many Bluetooth headsets in a single space means they will start interfering with each other.
Using different wireless headset technologies in the same space allows you to increase headset density without the problem of spectrum density, because they operate on different spectrums.
Bluetooth is more widely used than DECT, so using DECT headsets like the Plantronics Savi 8200 Series can be a real advantage in the office.
Related Blogs