When you buy a Poly video conferencing device, you don't get just why you buy. You get a video conferencing solution that improves over time as Poly updates firmware and adds new features.
Poly just released VideoOS 3.4.0, which adds useful new features for the following devices:
Let's look at a standout feature: Poly Presenter Mode.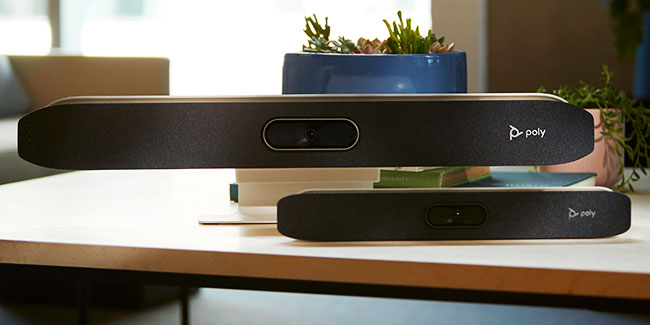 Poly Presenter Mode
Presenter Mode enables dynamic speaker tracking of the main speaker in a video conference, so they can move about the room as they talk.
In a classroom, a teacher naturally moves around as they talk to their students. As education migrates to remote learning, the necessity for more natural forms of communication becomes more imperative.
Presenter Mode lets the teacher act as they would act in the classroom, making it easier for them to teach and giving the students a better experience. Importantly, dynamic video with a moving subject is more engaging to the viewer, helpful for retaining students' attention.
It's useful in numerous situations, not only for education. For example, using Presenter Mode for a business presentation provides a professional video experience that can set you apart from the competition. And the fact that dynamic video is more engaging is as true for adults as it is for children.

How do you get the best performance with Poly Presenter Mode?
Poly has a few recommendations for getting the best out of Presenter Mode:
Speaker direction. The speaker should face the camera when presenting.
Lighting. The speaker should be well lit. There should not be harsh backlighting from lights or windows.
Camera distance. The camera should be within 10 feet of the speaker.
Camera position. The camera should be placed at eye level with the speaker.
Audience. If members of the audience are visible, ensure they don't speak.
Background noise. Reduce background noise as much as possible.
The speaker needs to be talking for around 3 to 5 seconds before the camera will start tracking their movement. Note that for Studio X30, Presenter Mode is a preview feature. It might be changed or removed in future VideoOS releases for the Studio X30.
Related Blogs