Polycom and Zoom, the popular unified communications service, have partnered to put together all-in-one bundles for getting started with professional cloud video conferencing.
Polycom Trio Zoom Rooms bundles include options for small, medium, and large conference rooms. They come with a Polycom Trio conference phone that's been optimized for Zoom Rooms, a Polycom video camera, and a Dell OptiPlex PC with Zoom Rooms software preinstalled to act as a video conferencing server.
Let's dig in!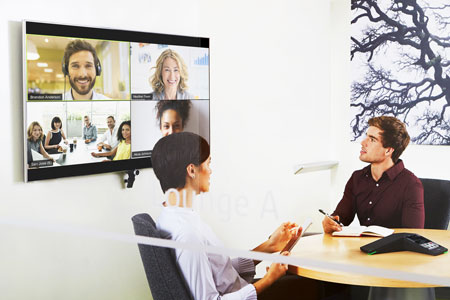 Polycom + Zoom
Polycom conference phones are famous for their best-in-class audio quality, a true workplace revolution. Polycom's instantly identifiable three-point design enables 360° audio pickup. Polycom engineers have built out proprietary technologies that further enhance audio quality and reduce background noise.
Building on Polycom's quarter century of expertise, Polycom Trio conference phones have raised the bar for workplace collaboration, becoming the go-to solution for conference room VoIP phones.
Trio is a collaboration hub. More than a conference phone, it also controls video conferencing and content sharing. Because it's so powerful, Trio deserves a top-class video conferencing platform to go with it.
That's why Polycom partnered with Zoom.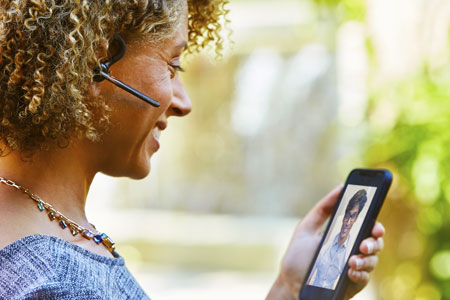 Zoom Rooms
Zoom Rooms creates easy to manage collaborative spaces using a cloud-based video conferencing platform with excellent audio and video. Major companies rely on Zoom, including Uber, Slack, Pandora, Specialized, Ticketmaster, Box, and Sonos.
Why do so many businesses choose Zoom as their UCaaS platform?
First off, the quality of the audio and video. One word suffices: professional. HD video and HD audio and everyone can tell the difference when you use Zoom.
But there's more. Rather than forcing you to worry about controlling your system, Zoom Rooms lets you connect to their service and go. They control the tough stuff.
Zoom Rooms also integrates with all your devices, important in today's world. Conference and share content wirelessly using smartphone, tablet, or laptop. If external or traveling employees need to be part of the call, they can connect securely.
It's simple to schedule meetings, because Zoom Rooms integrates Google, Office 365, and Microsoft Exchange calendars for booking rooms, checking room status, reviewing meeting lists, and more. And when the meeting is supposed to start, it's just one-click to begin.
Zoom Rooms centralizes management of your conferences. Everything, including analytics, is accessible from a single admin portal.
Because Zoom Rooms is a UCaas platform, it's far more scalable than premise-based options. As your company grows, you don't need to worry about updating your video conferencing equipment.
Polycom Trio Zoom Rooms bundles make it even simpler for you, because you get everything you need for a professional Zoom video conferencing deployment.
What Polycom devices do you get with the bundles?
Polycom Zoom Rooms Bundles
Polycom Trio 8800 IP Conference Phone is designed for medium-to-large conference rooms. The sensitive microphone array has a 360° pick-up range out to 20ft. Polycom HD Voice provides class-leading wideband audio quality and Polycom NoiseBlock greatly reduces background distractions. With the Zoom Rooms bundles, Polycom has optimized Trio for Zoom, so the five-inch touchscreen displays the Zoom interface. This reduces learning time and makes for a seamless conferencing experience.
Polycom Trio 8500 IP Conference Phone packs the same crystal-clear audio quality into a smaller frame, making it ideal for small-to-medium conference rooms, including huddle rooms. The microphone array captures voices out to 14ft.
Polycom EagleEye IV USB Camera provides 1080p video, and all you need to do is plug it in. The camera has a varifocal lens for 12x lossless optical, so you'll be able to capture all the faces in the room or pick out the speaker's face with the same camera. It pivots in all directions, giving you a ±170° panning range and 120° tilting range. The generous 72.5° x 44.8° field-of-view is broad enough for medium-sized rooms, while the 1080p Full HD detail makes sure no one's expressions are ever lost.
Polycom EagleEye IV Mini USB Camera also provides 1080p video. This incredibly compact camera gives you 24-bit true color video. Designed for the huddle room, the camera has a wide 82° diagonal field-of-view and nearly 30° tilting range.