Zoom is quickly becoming one of the most popular solutions for dispersed workplace communications.
Zoom Rooms makes video conferencing — face-to-face collaboration at a distance — as simple as tapping a button.
If a worker is on the go, they can use their smartphone for a secure business conference.
If someone needs to work from home, Zoom makes it easy for them to join in the video meeting.
If teams that work at separate branches need to touch base on a project, they can setup a quick Zoom meeting from a huddle room.
If a manager needs to share content with their team during a video conference, it takes just a single button tap.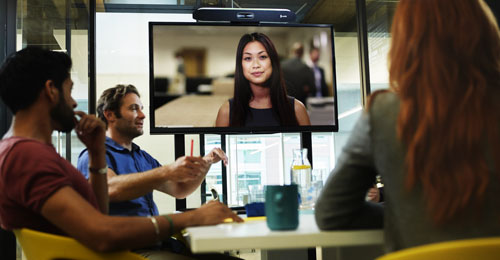 Zoom Rooms Simplifies the Video Meeting Process
Zoom focuses on three areas to simplify what can be a confusing technology:
Setting up a meeting
Initiating a meeting
Sharing content in a meeting
Zoom integrates with calendar services, including Microsoft Office 365 and Google Calendar. Booking a meeting is thus familiar and accessible to every employee.
You can schedule a meeting on the web or on the Zoom app, sending an invite via email, instant, message, through the Zoom apps, and more.
Starting a meeting is as easy as clicking a link in an email or tapping a button on your smartphone.
With certified Zoom Rooms devices like Yealink conference phones or Poly Trio conference phones, you get the familiar Zoom interface. When you want to launch a meeting, you tap the button.
That's it.
Sharing content is much the same. From a smartphone or tablet or laptop — any team member can share content with just a single click or tap.
Zoom Rooms Video Meetings
Zoom Rooms is a VCaaS (video conferencing as a service) solution for business.
It provides cloud-based HD video connectivity, including with existing SIP or H.323 systems using Conference Room Connector.
What equipment is required for a Zoom Rooms setup?
Display
Camera
Speaker
Microphone
Controller
Computer
Of course, these components don't need to be separate: a laptop can serve as all of them at once.
But let's take a deeper look at some of the recommended hardware for Zoom Rooms.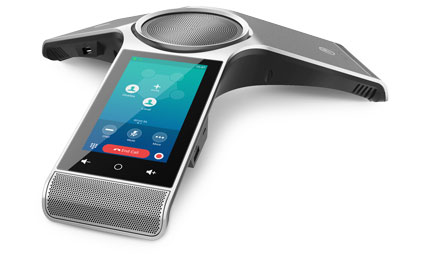 Yealink Solutions for Zoom Rooms
Yealink partnered with Zoom to provide a native HD video conferencing experience in Zoom Rooms.
Yealink builds kits that come with camera, conference phone, controller, and computer — all you need to operate a professional video meeting except for the display.
Yealink CP960-UVC30 comes with a 4k camera, conference phone, and mini-pc with Zoom Rooms preinstalled.
The CP960 conference phone has a smartphone-like touchscreen display that takes on the Zoom interface. It acts as the controller for the meeting, including one-touch meeting start.
It uses a three-microphone array to provide 360° audio pickup out to 20 feet — more than enough for the small office or huddle room. The 10W speaker provides Optima HD sound quality for maximum comprehensibility.
One of the great features of CP960 is its built-in 802.11ac Wi-Fi radio, which means you don't have to worry about Ethernet drops in the huddle room or similar less formal spaces.
The kit includes a UVC30 video conferencing camera. This highly compact camera provides amazing detailed video, up to 4k Ultra HD in resolution.
The high-res sensor and intelligent design allows the camera to offer auto-framing based on facial recognition. It's like having a director controlling the camera — automatically, effortlessly.
The kit also comes with a mini PC with the Zoom Rooms app already installed — making it that much easier to start conferencing.

Poly Solutions for Zoom Rooms
Poly — the merged company of Poly and Plantronics — also partnered with Zoom to provide solutions for Zoom Rooms.
Take for instance the Poly Studio X50 Video Bar bundle with TC8 Controller.
Studio X50 is an all-in-one video conferencing solution for up to 10 participants: camera, speaker, and microphone.
The 4k Ultra HD camera provides incredibly detailed video, using the available resolution for automatic people framing.
It uses a next-generation beam-forming microphone array to provide extended pickup with up to fullband audio quality. The stereo speakers offer rich, boardroom-quality audio.
In addition, the video bar connects to two displays, so your Zoom Rooms video conference will be that much more effective.
The TC8 controller is a dedicated touchscreen interface for controlling the conference.
It is an 8-inch HD tablet with integrated stand that lets launch or join a video meeting, adjust the camera, change participant layouts on the display, share content, and more.
And it can be powered via PoE to keep the workspace neat.
When you buy the bundle, the Studio X50 Video Bar and TC8 Controller come pre-paired.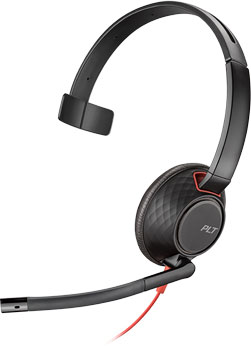 Poly Headsets for Zoom Rooms
When video conferencing from home, using a headset greatly improves the conferencing experience — and not just for yourself.
Headsets provide professional audio quality, so the conference members will be able to hear you better.
Thankfully, Poly makes a range of plug-and-play USB headsets that are compatible with Zoom Rooms.
Poly Blackwire 5210 is a mono USB headset that lets you stay in touch with what's happening around you. Because it has dual connectivity — USB and 3.5mm — you can also use it with a smartphone or tablet if you're on the go.
It offers excellent audio performance, including noise cancelling microphone and integrated digital signal processing.
Poly Voyager Focus is a wireless Bluetooth headset that comes with a USB dongle for connecting to a computer.
Voyager Focus is a stereo headset that improves focus while working.
Active noise cancellation clarifies your voice for a high-end professional sound. The padded headphones provide hi-fi stereo quality audio, so it works as well for a Zoom conference as it does for music.
Related Blogs