Zoom Rooms is one of the most popular platforms for video conferencing.
Yealink is working with Zoom to provide a business class experience — HD audio and video, professional features, network integration and more.
The goal is to provide your business with a native Zoom experience in the office. What does that mean? It means streamlined installation using certified endpoints and software. The user interface will be familiar across devices. The endpoints will fit specific, common business scenarios, so you're not trying to pound that square peg into a round hole.
Yealink has just announced three new additions to their line of Yealink Zoom Rooms Kits. Learn more about Zoom Rooms in our blog: Simple, Professional Video Communications With Zoom Rooms.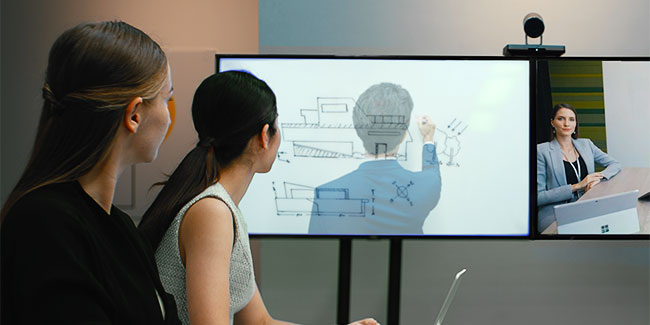 Yealink Zoom Rooms Kits
In this blog, we're going to take a deep look at the new Yealink Zoom Rooms Kits:
The systems share two primary components: CP960 conference phone and MCore mini PC. Let's take a look at these first: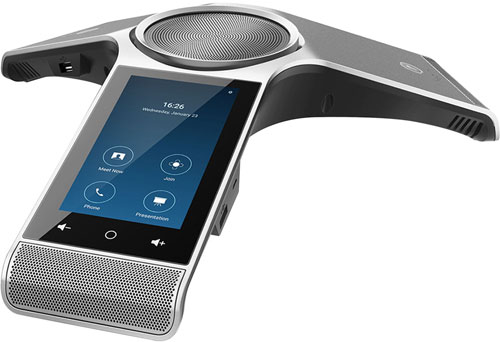 Yealink CP960 IP Conference Phone, Zoom Rooms Edition
CP960 is a professional conference phone that acts as microphone and speaker for your Zoom calls — and the control center.
The conference phone has a smartphone-like capacitive touchscreen, which means you can manage meetings using the phone.
It captures audio in 360° out to 20 feet. Noise Proof technology creates a virtual perimeter around the conversation to eliminate background noise. Wi-Fi and Bluetooth support equal wireless convenience.
This model of CP960 comes with Zoom Rooms Controller preinstalled, which streamlines the onboarding process. Using CP960 also means a one-cable installation: you just run the cable from the conference phone to the network switch.

Yealink MCore Mini PC
MCore is a compact PC similar to an Intel NUC or Mac Mini. It acts as a dedicated computer for running the Zoom Rooms application, which comes preinstalled.
It has all the power you need: 8th-gen Intel Core i5 processor, super-fast SSD hard drive, 8 GB of RAM. It has dual HDMI video output to hook to your displays. MCore supports Wi-Fi and Bluetooth.
All the Yealink Zoom Rooms Kits share a CP960 and MCore. How are they distinguished?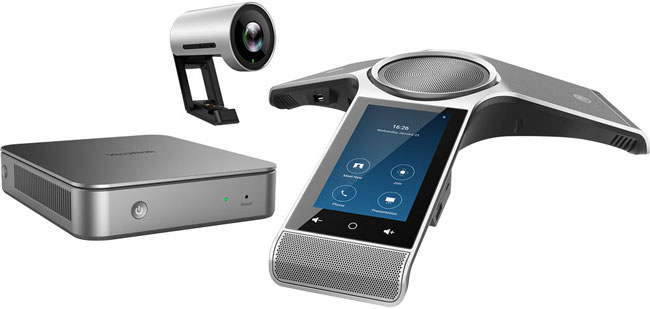 Yealink ZVC300 Zoom Rooms Kit
Yealink ZVC300 solves the problem of Zoom Rooms video conferencing in huddle rooms, which tend to be the most casual areas of the office. You still want a professional experience, though.
ZVC300 combines a CP960 conference phone and MCore mini PC with a UVC30 Room camera.
The highly compact camera uses a 4K Ultra HD sensor for wonderful detail. Yealink tuned it for accurate color reproduction and crisp, sharp imaging.
It supports automatic framing, which detects faces and crops the picture to fit the group. Because of the ultra-high-resolution sensor, you get framing without loss of detail.
Best of all, UVC30 Room is a USB camera — plug and play.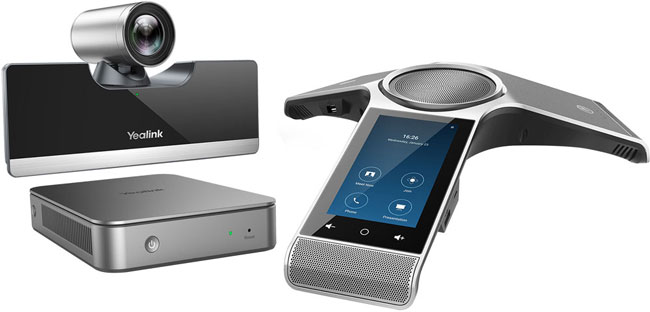 Yealink ZVC500 Zoom Rooms Kit
Yealink ZVC500 is designed for medium rooms — groups of 5 to 11 participants. It comes with the CP960 and MCore, plus a UVC50 camera.
While still a plug and play USB camera, UVC50 improves on UVC30 Room with full PTZ capabilities.
The 1080p Full HD camera uses a varifocal lens for 5x optical zoom, giving you lossless detail on individual faces. Automatic framing means the Zoom call experience will feel as if a director is in the room with you, controlling the camera. But you don't have to do anything extra at all.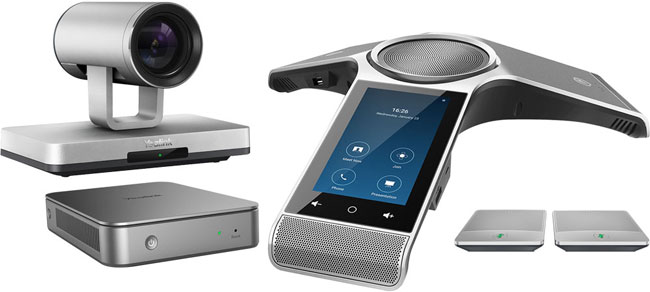 Yealink ZVC800 Zoom Rooms Kit
Yealink ZVC800 is built for large rooms with between 8 to 18 participants.
You get a CP960 and MCore, plus the powerful UVC80 camera and two wireless microphones.
UVC80 has a better panning and tilting range than the UVC50, making it more appropriate for use in large conference rooms where the camera will be farther from participants. Will being farther away harm detail? No.
Because the camera offers 12x optical zoom and 1080p Full HD video resolution — so even faces far away will be seen in perfect detail. And it's still a plug and play USB camera that supports automatic framing!
In addition to the improved camera, ZVC800 includes two CPW90 wireless expansion microphones.
The CP960 has a 20-foot pickup range, which is excellent, but in large rooms you'll need a bit more coverage.
Each CPW90 microphone adds 10 feet of pickup range. Because they use DECT to communicate wirelessly, they have an extended wireless range of over 150 feet while retaining the full HD audio quality of the conference phone.
The microphones offer up to 19 hours of talk time and the package includes a charging cradle.
Related Blogs