Microsoft Teams has become so much more than a group chat application.
Teams includes support for video conferencing for groups from huddle rooms to enterprise board rooms. Video conferencing is the most natural technology for business communications with people in separate places.
Teams lets you conference with people inside or outside your workspace.
Online meetings are simple. Set up meetings with one-touch to join. Escalate audio conferences to video conferences. Schedule meetings and take notes during calls. Chat or hold polls during conferences. Present a webinar for 10,000 virtual attendees.
Microsoft Teams is designed to incorporate and make simple the workplace technologies we expect today.
We sell devices and bundles that are certified to work with Microsoft Teams. Keep your eyes open for products being added! Teams compatible video conferencing equipment is being released steadily.
2019 is a big year for Microsoft Teams.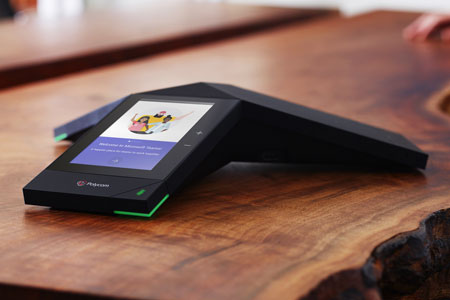 Microsoft Teams Video Conferencing
Video conferencing on Microsoft Teams is a professional experience. Teams supports 1080p Full HD video with high-speed screen sharing. You can video conference with up to 250 people at once.
Teams works across devices: Windows or Mac, Android or iOS. You can stay connected wherever you have a stable internet connection.
Microsoft has been working with hardware vendors to produce Teams compatible equipment.
Polycom + HP SRS Bundles
Polycom and HP have teamed up with Microsoft to provide all-in-one bundles for HD video conferencing with Teams. There are 2 bundles:
The bundles consist of the following items:
HP Elite Slice for Meeting Rooms G2
Polycom Trio 8500 IP Conference Phone
Polycom EagleEye IV USB Camera
The large room bundle also includes two Polycom Trio Expansion Microphones for extending the reach of the Trio 8500.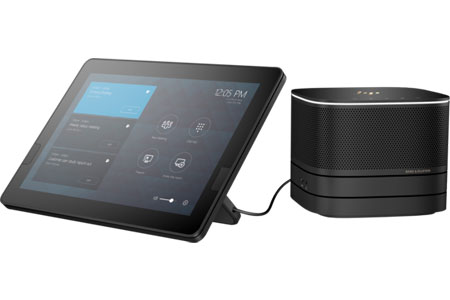 HP Elite Slice for Meeting Rooms G2
HP Elite Slice for Meeting Rooms consists of an HP Elite Slice ultra-small computer and an HP Center of Room Control tablet.
Elite Slice is an incredibly compact computer that acts as the center of your video conference. It runs the software, coming with the Skype Room System application and Windows 10 IoT Enterprise preinstalled. The device is highly energy efficient, so you can leave it always on. Mount it out of the way using an optional VESA mount.
You control the Teams conference using, appropriately, the Center of Room Control. This 12.3" touchscreen tablet displays the familiar Teams interface to reduce friction. It has dual-viewing angles for conferencing in the round and a smudge-resistant glass coating.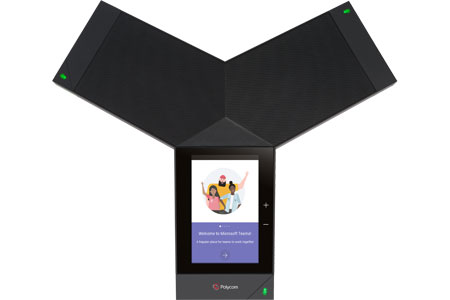 Polycom Trio 8500
Polycom Trio 8500 acts as an elite conferencing microphone. Trio 8500 offers Polycom's legendary audio.
Polycom HD Voice is a class-leading set of audio technologies that provide rich, lifelike audio while keeping voices in the conference distinct. Trio 8500 offers 360° pick-up out to 14ft.
The conference phone also supports Polycom NoiseBlock, which detects non-human noise and gets rid of it, greatly improving the clarity of your conferences. Polycom Acoustic Clarity cancels echoes and provides advanced voice processing.
Trio 8500 features a smartphone-like touchscreen display, which takes on the Teams interface.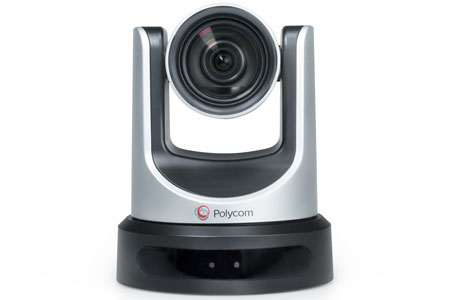 Polycom EagleEye IV USB
Polycom EagleEye IV USB is a professional video camera that's a true plug-and-play solution for HD video conferencing.
EagleEye IV USB features 12x optical zoom, making it suitable for large rooms. It also has a wide 72.5° x 44.8° field of view, so you can use it in small rooms. 340° of panning range and 120° of tilting range make it flexible to deploy properly.
You can even mount it upside down if you want!
The camera takes 1080p Full HD video at a full frame rate. It connects using USB, simple as that. And the remote control lets you pan, tilt, and zoom from anywhere in the conference.
Related Blogs