Microsoft Teams has come a long way in a short time. Starting as a corporate chat application, it's now, among other things, a complete video conferencing solution for business. You can use Teams for video calls with offices, clients, home workers, remote workers and more. It's particularly useful for hybrid workers because they can use it across devices from anywhere.
If you use it for business video conferencing in the office, you require business-class Microsoft Teams video conferencing equipment like the MTR (Microsoft Teams Rooms) systems made by Poly and Yealink.
It can be tough to sort through all the options. That's why our experts have put together this video with the top Microsoft Teams video conferencing devices for 2022:
What types of Microsoft Teams video conferencing devices should you look for?
We just wanted to get into a bit more depth about the types of devices you should consider when shopping for Microsoft Teams video conferencing solutions. There are a few devices that can be considered "core" video conferencing devices. Note that these are sometimes not separate devices, for example, a video bar combines a camera, microphone and speaker in one, which is why they're an increasingly popular choice.
Camera. Look for an HD camera that supports the resolution you want to use for your video calls. For huddle rooms, you'll want a wide-angle camera to capture everyone in the room, even if they're sitting near the camera. For large conference rooms, you'll want a camera with zoom to pick out individual faces. Many cameras now support automatic group framing and speaker tracking, which give you an experience as if a director was in the room.
Microphone. There are two important features to consider with a video conferencing microphone. First, make sure that your microphones cover the whole conferencing area well. For large conference rooms, this will probably require expansion microphones. Second, you'll want microphones that support noise reducing technologies like Poly Acoustic Fence or NoiseBlockAI. These technologies eliminate sound that is not human speech, filtering out all the noises that a group inevitably produces.
Speaker. Look for a speaker that's designed for voice comprehension. The speaker can be a separate sound bar or speaker array. More often, you'll be using a conference phone, speakerphone, video bar or similar device that contains both a speaker and a microphone.
Computer. You need a computer to run the Microsoft Teams Rooms app. This can be a laptop that someone brings in or even a tablet or touch controller. Many companies, however, prefer to have a dedicated computer in the conference room like the Yealink MCore, which is an always available mini PC that offers guaranteed performance.
Display. Look for an HD display that connects to your computer, typically via HDMI. The display needs to be big enough that everyone in the room can see clearly. If the room is small, ensure that the display's viewing angle is sufficiently wide so people on the sides of the room can see it without the colors being totally messed up.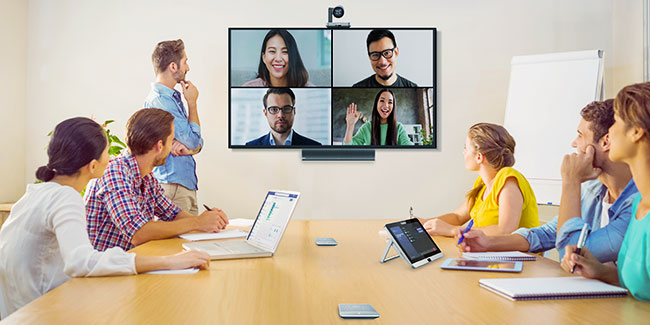 There are a few peripherals to know about that many people appreciate having in the conference room:
Touch controller. A touch controller is simply a dedicated tablet that acts as a central management console for your video calls where you can setup and start meetings, add team members, control cameras and so on. Microsoft Teams certified touch controllers display the familiar Teams UI, making for a frictionless experience.
Dual displays. You might want a second display so you can show speakers and content like graphs at the same time. If you want a dual display setup, make sure the video conferencing system or video bar supports them.
Content sharing device. It can sometimes be tricky to let group members share their content. That's why devices like the Yealink WPP20 Wireless Presentation Pod exist: one-touch sharing via Wi-Fi.
Cable hub. With all these devices, it can be a great help to have a dedicated cable hub to organize your workspace.
For a detailed look at everything video conferencing, check out our clear, expert Video Conferencing Buyer's Guide.
Related Blogs