Remote work is here to stay. It might be a business without a central office whose workplace is now permanently remote. It might be a business developing a hybrid work model in which people work some days in the office, some days at home. Either way: you need a professional remote work system.
Setting up remote workers securely on your private business communications system used to be hard. You were the one who had to worry about port forwarding, NAT traversal, VPNs and so on.
No longer.
To illustrate how simple setting up remote workers with your VoIP Phone System can be, we're going to use Grandstream UCM6300 IP PBXs as an example. Grandstream offers UCM RemoteConnect, a subscription service that makes integrating external workers as simple as can be.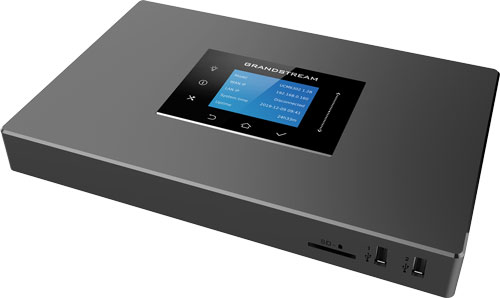 Grandstream UCM6300 with UCM RemoteConnect
The Grandstream UCM6300 Series features two lines of on-premise IP PBXs: one for unified communications and one for just audio calls. We've covered both lines on our blog previously:
UCM RemoteConnect (UCMRC) is a cloud-based, add-on service that enables secure, remote access and management of a UCM6300 Series appliance without requiring complex, hard-to-maintain firewall and NAT traversal arrangements.
Users have full access to their business extensions no matter where they are. This means that users can not only access their extensions for audio calls, but also for video calls, voicemail, calendar, instant messaging and more.
RemoteConnect gives the user multiple device options using the free Grandstream Wave app. Wave is available for Android or iOS mobile devices and Windows or macOS computers. You can also use Wave in either Chrome or Firefox for a browser-based solution.
The service also works with Grandstream endpoints like VoIP phones, video phones and more.
In other words, RemoteConnect fully integrates workers into your VoIP phone system using the full range of business communications solutions available today.

How do you setup Grandstream UCM RemoteConnect?
UCM RemoteConnect is a subscription-based service that's part of the Grandstream Device Management System (GDMS). You purchase a yearly plan from trusted resellers like, well, us. It is available in a variety of packages, starting with a free basic plan and rising to the enterprise level.
Let's take the Grandstream UCM RemoteConnect Plus Plan as an example. The Plus Plan supports up to 50 registered remote users/devices and up to 8 simultaneous remote voice/video calls/meetings with no limit on the number of calls/meetings. It also gives you 1 GB of cloud storage, comprehensive remote admin, automated NAT firewall traversal and more.
To set it up, you'll first need to connect your UCM6300 appliance to your GDMS account. Then login to your UCM6300 appliance using the web GUI and go to the RemoteConnect tab.
You will automatically be signed up with the Basic plan. You can then upgrade to the plan that works best for your business. (If your plan expires, you're automatically downgraded to Basic.)
After you've enabled RemoteConnect, you won't need to manually configure automated NAT traversal, SIP extension sync and basic statistics.
And there is so much more to Grandstream UCM RemoteConnect that we don't have the space in this blog to cover.
Related Blogs