Updated March 24, 2021
It's great to have a fleet of Grandstream VoIP Phones but you have to have some system to manage them. And if that system makes it easy while giving you enterprise-grade features and security, that's even better.
Announced yesterday, Grandstream Device Management System (GDMS) is a free, all-in-one, cloud-based solution for provisioning, managing, updating, monitoring and analyzing Grandstream devices and accounts.
It's a centralized interface, which means the admin can manage the system from a single workstation. Because it's a cloud system, the admin can securely manage devices around the world from anywhere.
And there's no limit on how many devices or SIP accounts you can manage with GDMS.
But we're getting ahead of ourselves.
In this blog, we're going to break down the most notable features of GDMS.
What Are the Features of Grandstream Device Management System (GDMS)?
GDMS is a complete, enterprise-grade solution for managing an IP system composed of compatible Grandstream devices.
To sign up for GDMS, follow this link >
Centralized Dashboard. You can manage the entire system — all the devices — from a single dashboard. The system can be distributed across the globe. In the dashboard, you can access a map to show you where every device on the system is.
From the dashboard you can do all of the below.
Configuring Devices. Through GDMS you can configure devices in four ways:
By accessing a specific device
According to what model the device is
According to what group you've assigned the device to
By uploading the specific configuration file to GDMS
You can configure all the parameters on the device, including network settings, phone settings, account settings, profiles, etc. The same holds true for SIP accounts.
Remember: There is no hard limit on the number of devices and/or SIP accounts.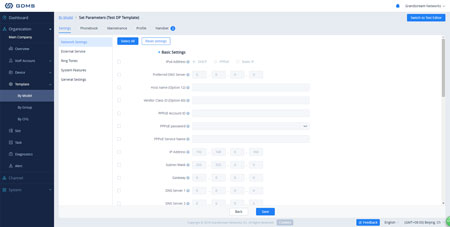 Upgrading Firmware. Keeping devices up to date is one of the primary methods of ensuring security. As with device configuration, GDMS allows you to upgrade firmware in a variety of methods, including batch firmware upgrades of MAC addresses or by site.
You can schedule firmware upgrades so they won't interfere with business hours. You can schedule other tasks like reboot, factory reset and update configuration, too.
Intelligent Alarms & Diagnostics. GDMS lets you set alarms for specific conditions. You can choose from three priority levels what alarms you will receive (high, medium, low), as well as how you're notified (message, email).
To aid in troubleshooting and monitoring, the full diagnostic record of all devices is available. And you can monitor the system in real time.
Security. GDMS provides enterprise-grade security. Features include:
End to end bank-grade TLS encryption
HTTPS protocol and two-way certificate verification
Encrypted key and account password
Detailed privilege settings for users
Multifactor authentication
What Grandstream Devices Are Supported by GDMS?
Here is a full list of all Grandstream devices currently supported by GDMS (accurate as of March 24, 2021):
DP700 Series DECT Wireless IP Phones
GRP2600 Series IP Phones
GVC3210 Video Conferencing Camera
GXP2100 Series IP Phones
GXV3300 Series IP Video Phones
GWN7600 Series Wi-Fi Access Points
HT800 Series Analog Telephone Adapters (ATAs)
UCM Series IP PBXs
WP800 Series Wi-Fi Wireless IP Phones
Support is pending for the following devices:
GVC Series Video Conferencing Cameras (except for GVC3210)
GXP Series IP Phones (except for GXP2100 Series)
GXW Series IP Gateways
Related Blogs